Canada's Minister of Science, The Honourable Kirsty Duncan, visited Dalhousie Friday morning, spending close to two hours touring the university's ocean sciences facilities.

During her tour, Duncan got an up-close look at some of the state-of-the-art facilities housed in the Steele Ocean Sciences Building and spoke with Dal faculty and graduate students about some of the major projects currently underway.

"I came here because I wanted to see the research that's going on here," the minister said following the event. "And to see what's possible for monitoring the ocean."
Discussing research

Duncan's visit came just over a week after Treasury Board President Scott Brison visited Dal to discuss the federal Liberal government's first budget, which includes significant new investments and commitments for science and innovation at universities. Duncan further emphasized her government's commitment on this front during her visit, calling the budget a "very exciting budget for science."  

She drew attention to the budget's $2-billion investment in research and innovation infrastructure and to the biggest top up to the Tri-Council granting agencies in more than a decade.

Doug Wallace, the Canada Excellence Research Chair (CERC) in Ocean Science and Technology at Dal, kicked the morning's event off by escorting Duncan on a tour of his CERC.Ocean lab on the lower level of the Steele Building and of the large container bay next door.

Duncan got to view one of two newly acquired mobile lab units housed in ocean-going-grade shipping containers that allow researchers to set up sensitive equipment before being loaded onto a ship, alleviating the need to do so while at sea in remote areas of the North Atlantic and Arctic. Inside, as well as looking through a microscope at plankton samples, the researchers discussed more modern, genomic approaches to characterizing marine microbes with Duncan.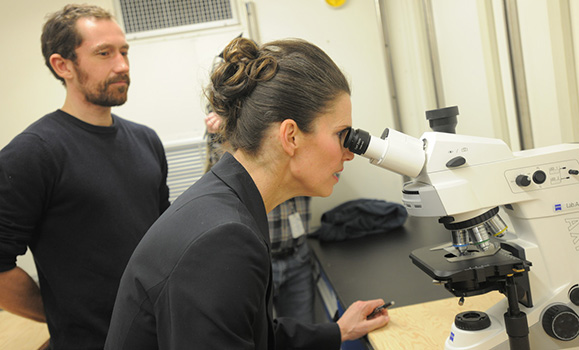 Making connections

Upstairs, Duncan met researchers from the Marine Environmental Observation Prediction and Response Network (MEOPAR) and the Ocean Tracking Network (OTN) — two major international ocean-science networks hosted by Dal. Dr. Wallace, who is also MEOPAR's scientific director, explained how the group's research across Canada enables more informed decision-making by industry, government and communities in the face of marine risk.

Diego Ibarra, a research associate in Dr. Wallace's lab, showcased for Duncan a wave forecast for offshore Nova Scotia made accessible using using OceanViewer.org. The public web-based tool was created by MEOPAR to help democratize ocean data — from temperatures to surface chlorophyll levels — helping close the gap between ocean scientists and others who can make use of the information, such as fishermen, surfers and aquaculture farmers among others.

Next, Sara Iverson, scientific director of OTN, walked Duncan through the importance of tracking marine animals' movements, habitat use, and survival — especially in relation to climate change. She emphasized how providing fisheries managers and others such data can help prevent things like the collapse of fish stocks as well as enhance their capacity to benefit sustainably from fisheries.

"Aquatic animals provide global food security and they generate billions of dollars annually . . . through benefits from fishing, tourism and other services" said Dr. Iverson, "and they're also culturally significant to many communities, First Nations and the public."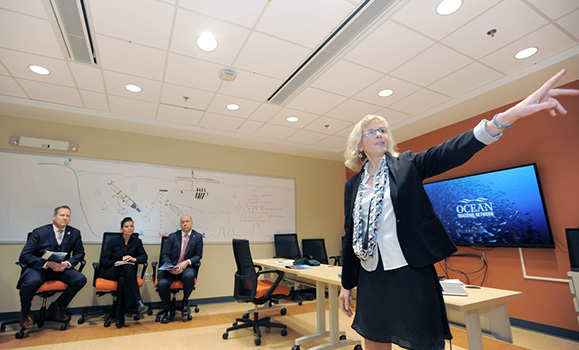 The minister learned about some of the aquatic animal-tracking technology used by OTN and its partners, including implantable acoustic tags capable of tracking movements and other metrics in everything from a juvenile salmon all the way up to Blue whales for up to 20 years. Dr. Iverson said in Canada such technology has helped to revolutionize such things as the management of Pacific salmon populations and to understand the emerging fisheries in the Arctic.

Another type of tag called a biologger —which Oceanography post-doc Franziska Broell described as "Fitbit for animals" — was designed with the help of student researchers in Dal's Faculty of Engineering. Attached to both small and large animals, it can measure speed, prey capture events and other behaviours. Research Associate Damian Lidgard showcased the Vemco Mobile Transciever, which can be mounted to large animals such as seals and their prey. Researchers are currently using them to try to look at the impact of seals on Atlantic cod stocks.

"What that offers in terms of observation is huge," said Duncan.
Pilot control

Duncan was also given the chance to pilot a Slocum Glider — a $250,000 bullet-shaped underwater autonomous vehicle — located off the coast of Vancouver Island, B.C. in real time. "This is the most stressful thing I've done," the minister laughed as she typed out an extended series of numbers, letters and symbols on a keyboard with the help of a technician before successfully reprogramming the rig.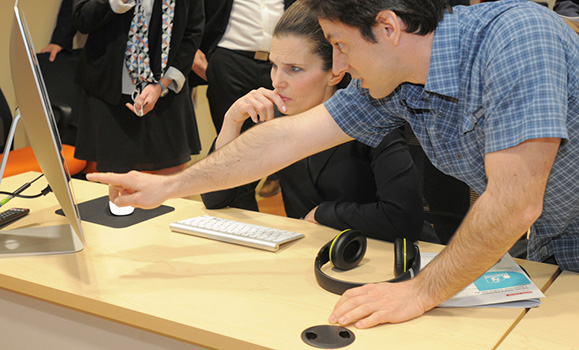 To finish off the tour, the minister was treated to a rare audio recording of a blue whale captured by a glider in the North Pacific the previous summer. The experience of hearing the low rumble — similar to the sound of an engine — impressed Duncan. Such information provided in real time will be used in a joint MEOPAR-OTN supported project involving gliders to prevent whale-ship collisions in the future.
"I'm blown away by what you're doing," she told Dr. Wallace, Dr. Iverson and others as the tour came to an end. "The science is fascinating."