There are many supports available to students studying at a university, from the classroom to student life. But when encountering a challenging situation, particularly one related to university policy or procedure, it may not always be easy to know where to turn for help.

That's why Dalhousie University and the Dalhousie Student Union (DSU) have come together to create a new ombudsperson office for students at the university, set to be implemented this fall.

The details of the office were outlined in a joint announcement to the Dal community on Thursday from Anne Forrestall, acting vice-provost student affairs, and Dan Nicholson, DSU president.

"Sometimes, for students, the processes can be confusing, or it might appear that there are so many options that it's overwhelming," says Nicholson, speaking with Dal News. "The idea is that the ombudsperson can help with that: they know all the options and can lay things out for students in a clear, comprehensive way."

A place to go for guidance

As explained in the memo, the ombudsperson "will provide an accessible, independent, impartial and confidential office through which students may pursue the fair and equitable resolution of any university-related concern." That could mean anything from an academic disciplinary issue to a dispute with particular university office or service.

The ombudsperson will be able to facilitate discussions or referrals between students and appropriate university offices/administrators. As well, based on trends in student complaints, they will be encouraged to make recommendations related to university policy, regulation or procedures.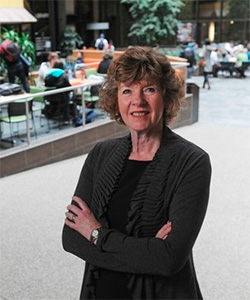 "It may be that we identify some gaps in existing policies and procedures, and we hope that if there are things that need to be fixed that we do find them," says Forrestall (left). "But what the position really adds is a place where students know they can go for help.

"We have so many people who work hard every day supporting students, but if you don't know where to start — especially in a time of crisis or need — it can seem daunting. When you create an office of the ombudsperson, you give that position visibility: it's a place someone can go, even just to ask questions."

Dalhousie previously had an ombudsperson office on campus as recently as 2012-13, but it was a part-time position staffed by students. In contrast, the new ombudsperson will be a regular, full-time position, with the university seeking to hire an individual with a background in conflict resolution/management and experience in university administration and/or procedure.

Collaborating with the ombudsperson will be a joint Ombuds Advisory Council, with three representatives appointed by university administration and three appointed by the DSU. The ombudsperson will report to the council each semester and meet with its members regularly. The council will approve the ombudsperson's priorities and deliverables, support strategic planning, and review the ombudsperson's reports and make recommendations.

The ombudsperson will also report annually on its activities to the presidents of the university and the DSU and to Senate through the Senate Learning and Teaching Committee. The ombudsperson will be an employee of the university, reporting through the Provost's Office but will carry out its responsibilities independent of all student, staff, faculty and administrative bodies.

A collaborative process

While an ombudsperson for Dalhousie was recommended in both the Restorative Justice and External Task Force reports of last year, discussions between university administration and the DSU about the position date stretch back to the spring of 2014. It was later that year that Forrestall and then-DSU President Ramz Aziz launched a formal working group to discuss what an ombudsperson role for Dalhousie would look like.

"We had good, frank conversations about the issues that are important to students, and ended up on the same page about what we needed," says Forrestall. "We didn't start out on the same page, necessarily, but we got there in terms of what this role could be."

The process continued through 2015 in further consultations with various stakeholders towards developing a formal position description and terms of reference. Those are now being finalized, and it's expected that the position will be posted publicly for competition soon with an expected start date of Fall 2016.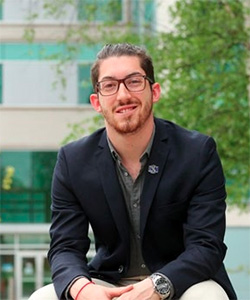 Nicholson (right), as the DSU's current president, says he's pleased to have been part of bringing about a change that the student union and its members have advocated for over several years.

"We have a very strong committee of students that have been involved in making this happen," he says. "The conversations with the university have been collaborative and productive, and we've come to an agreement that makes this important position a reality."

There are still a few details to sort out ahead of the fall — including where, on campus, the ombudsperson will be based — but all parties are pleased that the vision of a university ombudsperson is finally coming to fruition.

"I hope in a couple of years it's a household name, where students coming in their first year immediately know about this option available for them to go and get clarity on any situation they have," says Nicholson. "And hopefully it helps those students who feel confused about where to go where you need help."