The McCain fireside lounge was bustling with scholarship earlier this month at the annual Faculty of Arts and Social Sciences (FASS) book launch.

The event, held on March 2, celebrates books and book chapters from FASS faculty that have been published over the past year. Many of the books were on display as faculty members, students, staff and special guests perused the publications.

"To come celebrate all of this wonderful work by our faculty in FASS, it's just great to be a part of it, to celebrate what the institution is all about," said President Richard Florizone, who dropped into the event together with Provost Carolyn Watters.

"The work coming out of the faculty continues to be high profile," said Jure Gantar, acting dean of FASS. Also in attendance at the event was Political Science Professor and Chair Frank Harvey, who earlier that same day was announced as the Faculty's new dean, taking the helm in July.

"These are the kinds of events I love to attend," he says, noting he used to help organize the event when he was associate dean of research for FASS. "The research accomplishments in this Faculty: they're wonderful."

Sci-fi and global connections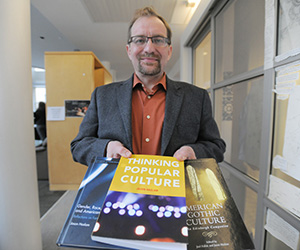 Jason Haslam (English) was proud to display three works of his that came to fruition this year. His book Gender, Race and American Science Fiction is something he's been working on for over five years.

"I was interested in both how popular culture and science fiction can reinforce certain biased perspectives, but also challenge them," says Dr. Haslam, whose courses include a first-year pop culture class and a graduate course on American utopias. "I look at some African American authors, some queer authors who challenge our representation of gender."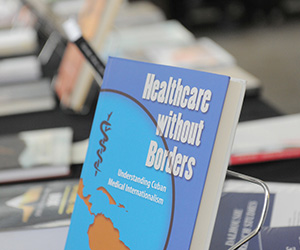 John Kirk, a faculty member of in Dal's Department of Spanish and Latin American Studies and one of Canada's most prominent experts on Cuba, had two books in the event. José Martí, mentor de la revolución cubana is an analysis of the socio-political thought of the early leader of Cuba's independence movement. The other, Healthcare without Borders: Understanding Cuban Medical Internationalism, is the result of a decade of research into Cuba's international medical collaborations.

"Cuba currently has more medical staff working in developing countries than all G-7 countries combined," says Dr. Kirk. "It really is the greatest story never told. I hope [readers learn] about the many facets of Cuba's medical collaboration with an open mind, and try to understand the enormous contribution of Cuban medical personnel."

Political movements and poetry

Also with two books in the launch was Howard Ramos from the Department of Sociology and Social Anthropology. Social Movements, a collaboration with Suzanne Staggenborg (his former graduate supervisor), is a revised third edition in which Dr. Ramos co-authored all chapters with a focus on Canadian social movements and events.  Protest and Politics: The Promise of Social Movement Societies is an edited collection, together with Kathleen Rodgers of McGill, that explores the "social movement society" thesis.

"The thesis argues that argues that in recent time the lines between mainstream electoral politics and contentious protest politics have blurred and this has meant that protest politics is now part of the normal means of doing pursuing and contesting power," explains Dr. Ramos, whose research on social movements spans nearly 20 years.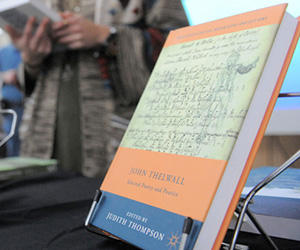 Another publication on display was the first modern collection of John Thelwall's poems, compiled by English prof Judith Thompson.  Bringing back to life Thelwall's work is something Dr. Thompson is greatly passionate about.

"He's an interdisciplinary figure, the first modern speech therapist, a poet and much more," she says. "He was a neglected figure who gave a voice to the voiceless—politically, poetically and therapeutically. He lived about 200 years ago and for a variety of reasons including political repression, a lot of it was blacklisted or lost." Dr. Thompson is currently working on a biography of Thelwall she hopes to display at a future FASS book launch.

Family connections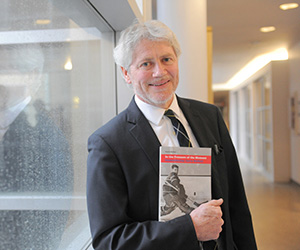 A popular selection was David McNeil's book about his father's time in the NHL. Gerry McNeil was a goaltender for the Montreal Canadiens who controversially quit. His time in the NHL may not have been long, but it was certainly timely — he was part of the first televised hockey game and won a Stanley Cup.

When the 1990s rolled around, David realized his father wouldn't be around forever and made a point of recording Gerry's memories. David, who wasn't yet born when his father played in the NHL, heard stories about Maurice Richard and Jacques Plante. Dr. McNeil says the book is not only a tribute to his father but also "to the news writers and photographers of the time." He says "the book is largely about the media history."

Many cheerful faces could be seen throughout the afternoon and academics caught up on what their colleagues were working on now. This annual event continues to be a favorite for many.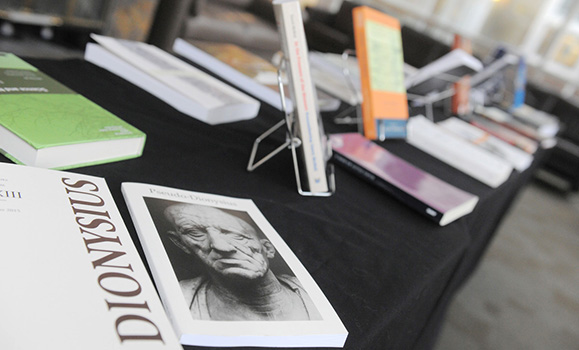 For the full list of publications from FASS in 2015, visit the Faculty's website.