Deo Butoyi slips into the Monday evening clinic at Dalhousie's Faculty of Dentistry quietly, and matter-of-factly takes his place in the dental chair. He is wearing a plaid shirt, jeans and sneakers. He pulls on the blue protective glasses that will shield his eyes during treatment.  

It all happens wordlessly, with a few gestures from Dental Hygiene students Laken Brimicombe and Shannon MacFarlane to explain what they need Deo to do.

Deo is a recent immigrant from Burundi. He speaks "some English," as he describes, but is still more at ease communicating in Swahili and Kirundi. He arrived in Halifax in the spring of 2015 with his twin brother. After their parents were killed as the result of political conflicts in their home country, Deo and his brother ran away and spent 15 years in a refugee camp on the border between Tanzania and Burundi before getting the chance to come to Canada.

Getting his teeth cleaned might seem a small thing, given what Deo has been through. But through his interpreter, Janet Niyonkuru, with whom he speaks Kirundi, Deo says that he is happy to be having his teeth cleaned so that "bacteria cannot damage my teeth."

Laken says that Deo is a "quiet but very appreciative" patient. This is his second visit to the clinic and Shannon estimates that it will take a total of three-to-four treatment sessions to complete the debridement and oral health care needed. Laken and Shannon take turns, with one working on the teeth, a few at a time, and the other helping with suction and charting. They both say they look forward to working at the Monday evening clinics.

A partnership with ISANS

The School of Dental Hygiene has worked with the Immigrant Services Association of Nova Scotia (ISANS) since 2012 to provide dental health care to new immigrants to Nova Scotia. Dental Hygiene students are challenged by more complex cases, develop their skills and learn about giving back to the community. At the same time, Nova Scotia's new immigrants receive what is often badly needed oral heath care.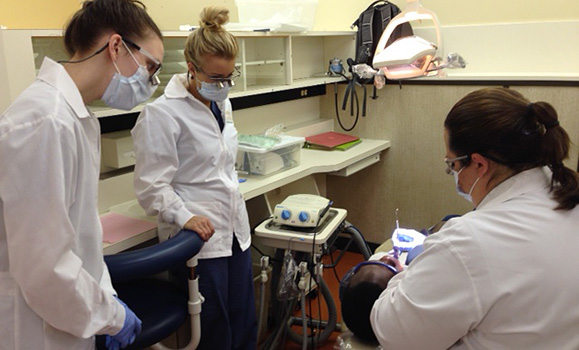 At first, the new immigrants came primarily from one country at a time, such as the Republic of Congo, Bhutan and Kosovo, and ISANS provided an interpreter who would accompany the new immigrants — usually a group of 20 — on their visits to the clinic. As time has gone on, however, the immigrant population has become much more diverse, with many more languages spoken.  

It was becoming increasingly difficult for ISANS to provide enough interpreters for all the languages the different immigrants speak and deal with the additional challenges of helping patients verify their medical histories and convey dental-specific vocabulary.

Finding interpreters in-house

Making the observation that the Faculty of Dentistry comprises a diverse mix of people of different cultures and languages, Kore-Lee Cormier, supervisor of patient services, suggested that a good supply of health-trained volunteer interpreters might be found within the walls of the Dentistry Building.

Dr. Cynthia Andrews, assistant professor in the Department of Dental Clinical Sciences and also the coordinator of interprofessional education, sent out a request for multilingual student volunteers and was soon able to compile a list of over 30 third and fourth-year dental students who speak 20 different languages between them, from Arabic to Yoruba. Students from other health professions heard of the interpreter project and also volunteered their time.

At one particular night at the clinic this past January, Dinesh Thapa from Nepal, who is studying for his master's in Pharmacology at Dalhousie, was interpreting for a Nepalese patient and the two hygienists who were providing care. "I always like to help," Dinesh says, simply, when asked why he volunteered.

Abdullah Alawady is a third-year Dentistry student. Originally from Kuwait, Halifax is now his home. "If doing this helps, I am glad to be helping," he says. He circulates among six or seven Arabic-speaking clients, interpreting as needed.
"It's comforting to people to be able to speak in their own language," he says, "and it makes it easier for the students working on the patient if I can help explain some of the procedures."

Susan Keating-Bekkers (DipDH'91) is on duty this particular evening. She worked part-time in the Faculty of Dentistry for 12 years and now volunteers at the Monday night clinics. She also helps to fund the ISANS clinic.

"I wanted to see it continue and for it to be a sustainable program," she says. "As soon as it started, we could all see the need for it. Plus the clinical learning the students get is exceptional. It's a win-win for everyone: the students benefit from the experience they gain and oral healthcare is delivered to an underserved population."