Dalhousie professor Barb Hamilton-Hinch has been taking her students to visit the lands of the former community of Africville on the northernmost tip of the Halifax peninsula for about five years now.

And for five years, she's noticed the same reaction from many of her pupils.

"When they hear about the stories, they can't believe that something like that happened within Halifax and that it's so close to the university," says Prof. Hamilton-Hinch, who designs and teaches courses on diversity and inclusion in Dal's School of Health and Human Performance.

Africville, a close-knit community made up primarily of African Nova Scotians, was situated on the shores of the Bedford Basin for more than a century until city officials uprooted about 400 residents and bulldozed their church and homes in the area in pursuit of "urban renewal," industrialization and integration during the 1960s.

That many Dal students — even some of those born and raised in Nova Scotia — are unfamiliar with this dark chapter in Halifax's history and about African Nova Scotian heritage more generally reinforces the need for more educational initiatives like this, says Hamilton-Hinch.

"Most of us go back five to eight generations," she says, noting her own African Nova Scotian lineage. "And that history gets lost because as soon as people see someone who is Black they assume they are not from here. That's why it's so important for students to understand and see the strong history that exists of African Nova Scotians."

Connecting with community

Prof. Hamilton-Hinch will be taking her students to visit Africville on Friday, but this time as part of a larger African Heritage Month outing organized by Dal's Office of Human Rights, Equity & Harassment Prevention (HREHP) and other partners across the university, including the DSU's Equity and Accessibility Office, the Global Health Office, and the Black Student Advising Centre.

About 50 or so students from Dal — and a few from Saint Mary's University and Mount Saint Vincent University — will participate in this Friday's Africville Remembered event, which will include a tour of the Africville Museum (built in 2011 with compensation funds a year after then-mayor Peter Kelly's official apology) and a traditional oral storytelling circle held in the Collaborative Health Education Building (CHEB) on Carleton Campus.

Shakira Weatherdon, HREHP's Education Advisor, says the intention is to create an event that will foster conversations about African Nova Scotian history in much the same way as The Blanket Exercise has helped students learn more about Aboriginal history in an interactive and engaging way.

"We'll be sharing and hearing stories about what life was like in Africville and starting to really draw connections to some of the impacts and remnants of that recent history," says Weatherdon, noting that two former residents of Africville — Joyce Marsman and Sheila Lucas — will be on hand to tell stories.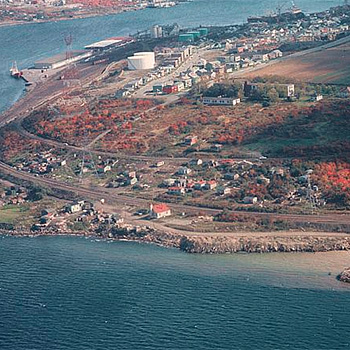 "Many of our students and staff drive past there, take buses past there," she says of the land, which was used after the dislocation for a variety of developments, including as an exit ramp for the Mackay Bridge, a new container pier, and a seaside park that until recently was used controversially as an off-leash dog park. "Many people see this or have heard something about this, but we have many people who don't know what happened."
(Left: Africville by air, ca. 1965. Bob Brooks, Nova Scotia Archives photo)

Learning history

Second-year Social Work student Nirupa Varatharasan says she first learned about Africville in a detailed way in two of her Social Work courses last year, and will be attending this week's event to fill in the gaps in her knowledge.

Originally from Toronto, Varatharasan says she doesn't remember ever learning about Africville in high school — or if she did, it wasn't emphasized. Varatharasan says she also didn't get to know much about it during her first stint as a Dal student about a decade ago when she studied Science as an undergrad and Community Health and Epidemiology at the master's level.

"I'm hoping to learn a bit more about the history, the people, the culture, and the long-lasting impacts of what happened at Africville from the perspective of the people who either lived there or have a personal connection, not something that I read out of a history textbook," she says.