You may have thought about buying an electric car at some point. You may even be one of the more than 11,000 Canadians who own one. But chances are you haven't built one.

Gregory MacDonald and Grant Poulain have. The second-year Mechanical Engineering students had the opportunity to create a new battery pack for a Toyota Rav4 vehicle, a conversion from gas to electric, as part of their work with the Faculty of Engineering's Electric Vehicle (EV) Lab and its director, Lukas Swan.
Greg worked on the car as part of a co-op term, while Grant did so as summer employment. In both cases, the six-month project required a tremendous amount of work as nearly all systems were redesigned, but the end result was well worth it.

"This was such a big project," says Grant, especially considering where the two students were in their Engineering education. "Going into it you don't know how it's going to work out, but the most exciting thing is working through each problem and seeing it come together." Grant shares.

The students were inspired by the design and the sustainability aspects of the project. "Electric cars and renewable energy go hand in hand because electricity generated by wind turbines can charge the car," says Greg. "Environment and renewable energy is a career path I'd like to pursue, and electric vehicles is a great start down that path."

Built with precision

To ensure that the EV would function with great performance and safety, the component layout and control strategies were carefully designed, built and tested. Dr. Swan gave the students the freedom to work through the process and provided feedback on the technical aspects of the rebuild. Grant was focused on the battery pack design, while Greg was responsible for controlling the battery packs in a safe way during the discharge and charging cycles.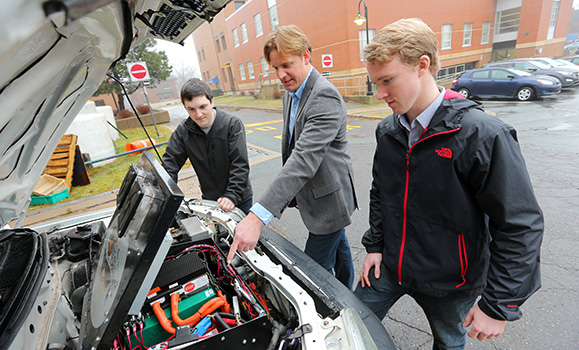 Grant (left) and Greg with Dr. Swan (middle).

"Greg and Grant were tasked with a big job," explains Dr. Swan. "The battery, controller, charger, battery management system and user display system all had to be envisioned, conceptualized and brought to fruition for the EV to function properly.

"A project such as this one provides the opportunity for a multitude of engineering skills to be mastered: design, fabrication, commissioning, testing, debugging and documentation all come into play."

The vehicle was provided by EV enthusiast and Prince Edward Island resident Harry Smith. Smith loaned the vehicle, bought all of the supplies and paid student stipends to permit this teaching and learning project. In return he received his now customized Toyota Rav4 back as a fully functioning EV with 150 km range. But before the car was returned, the team tested it all over Halifax and beyond to ensure they were delivering a high-quality, reliable vehicle.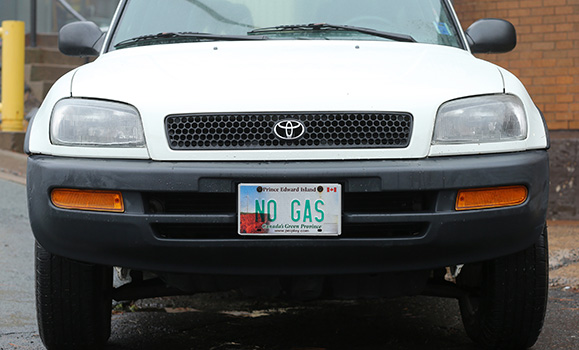 A Dal first

This is the first time an EV project involving a full size car was completed at Dalhousie Engineering. To accommodate the project, a new lab space of 1,000 square feet was renovated, complete with the installation of a vehicle lift.

 "The goal with the EV Lab is that future projects of this scale will occur more frequently," Dr. Swan explains. "This experience greatly benefits the students, and produces useful vehicles. It is inspiring a new class of engineers dedicated to sustainable technologies industry. We want to do more advanced vehicle builds of electric cars. And we intend to start taking them racing across North America."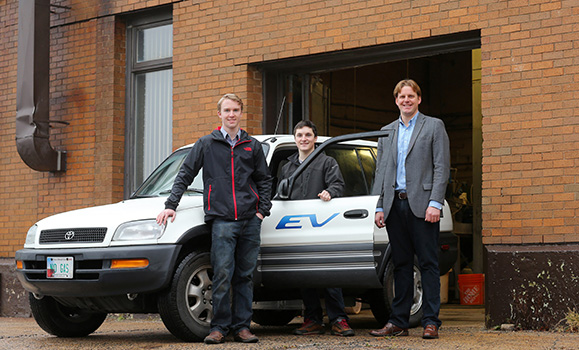 Both students agree say they came away from the project with a vast set of new skills and enjoyed the project immensely.

"Learning about the components of the car was fantastic," says Grant. "I knew a lot about gasoline vehicles coming into this but after this project I now know more about EVs than gas-powered cars.

 "We are grateful for the opportunity to get to do this," he continues. "We had so much fun the entire time we worked on it. It was awesome."