There is one question Norma Williams has kept coming back to time and time again throughout her career when faced with a challenging situation: What are we doing about it?

It's a straightforward question, but the reasons for asking it have rarely been so for Williams, who has spent the majority of her career assisting organizations on issues of diversity and equity.

"My upbringing taught me to look for solutions and look to a way forward that is inclusive rather than exclusive," says Williams, who joined Dal last month in the newly created role of executive director for diversity and inclusiveness.

Growing up as an African Nova Scotian woman, Williams had a personal window into understanding how people were treated differently because of their race, gender or other characteristics irrelevant to their knowledge, skills or ability.

Williams's determination to be part of the solution rather than part of the problem developed early on in her life, in large part thanks to the influence of her family.

Her mother became the first African Nova Scotian secretary after being taken under the wing of community activist Dr. Pearline Oliver, who fought tirelessly in the 1940s and 1950s to break down barriers for African Nova Scotians in the realms of education and employment. Williams's mother later went on to become the women's editor of the New Glasgow Evening News.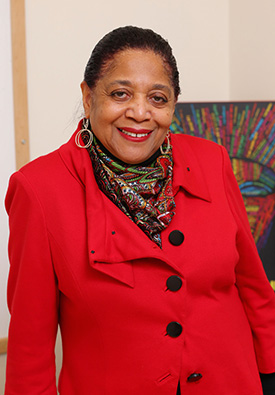 Her late great uncle, noted Halifax lawyer and rights activist James R. Johnston (1876–1915), also served as a source of inspiration, having been the first Nova Scotian of African descent to graduate from Dalhousie in the late 1800s. (Today, Dal hosts a national chair in Black Canadian Studies that bears his name.)

"All around me have been great examples of people who have persevered," says Williams.

Creating inclusive workplaces

This unique perspective and her extensive work on anti-racism, diversity and equity initiatives throughout her career make Williams an ideal candidate for her new role, which is dedicated to supporting the university's efforts to make Dalhousie a more diverse and inclusive place in which to work and study.
 
Williams dove into this kind of work head-first after finishing her undergraduate studies at Dal, taking on a position at the Nova Scotia Human Rights Commission in the early 1980s. A secondment to work on personnel and staff programming for the province piqued her interest in human resources and so she later enrolled in the public administration certificate program at Dal.

Once finished, Williams remained immersed in education, only this time on a professional level as anti-racism project officer at the Halifax District School Board and then as co-ordinator of race relations, cross-cultural understanding and human rights at the Halifax Regional School Board (an amalgam of three school boards in the region). With an interest in curriculum, she then pursued her Masters in Education at Mount Saint Vincent University before working as a staff trainer and human resources manager in various government departments.

In her new role, which reports to President Richard Florizone, Williams will support the university community in cultivating an inclusive and respectful climate and culture for all students, staff and faculty.

"I'm thrilled to have Norma joining us at Dal," says Dr. Florizone. "It it is terrific to have her knowledge and energy to help us to move diversity and inclusion to new levels at Dal."

Overall responsibilities for the position will include: consultation, implementation and review of the recommendations arising out of several internal and external reports ("Belong," Backhouse Task Force, Restorative Justice, national Truth & Reconciliation); working with partners to build capacity to address climate and culture issues on campus; and the development of a long-term plan for diversity and inclusiveness across the university. Further details will take shape as the work advances.

A brighter future

Williams says the hardest part of working on diversity issues is accepting that change takes time. She laments the fact that First Nations, African Nova Scotian and disabled individuals are still not getting employment opportunities consistent with their knowledge, skills, abilities and numbers in the province and that acceptance of LGTBIQ individuals in workplaces is still not what it ought to be.

While Williams, her mother and many others have managed to move beyond the confines of a limiting work life, others have not yet had the same opportunities, she says. She brings up the 1951 poem "Harlem," part of the suite Montage of a Dream Deferred in which American writer and activist Langston Hughes ponders the implications of setbacks such as these in his one-of-a-kind voice:
What happens to a dream deferred?

Does it dry up
Like a raisin in the sun?
Or fester like a sore—
And then run?
Does it stink like rotten meat?
Or crust and sugar over—
Like a syrupy sweet?

Maybe it just sags
Like a heavy load.

Or does it explode?

"To me that's always been a place that I go back to because the question is, what happens to a dream deferred?" says Williams. "And within the diverse communities of Nova Scotia there have been many dreams deferred. I believe we can all play a part in ensuring a better Nova Scotia for all."

Williams says returning to Dal all these years later has been revealing and heartening in many respects. She says she's noticed a greater level of general interest to move forward from outdated systemic practices and some of the initiatives people asked about and wished for at Dal when she was a student are gaining traction in a positive way.

"It's not over, but it's certainly moving forward," she says. "So from that perspective returning to work at Dalhousie at this time gives me the sense that together we can make a positive change.  What is occurring at Dalhousie can give rise to a present and future state where all, to quote Martin Luther King, are judged by the content of their character."