Alzheimer's disease may not always be top-of-mind for many students, but it's rare to find someone who hasn't been touched by the disease through the diagnosis of a parent, grandparent or other relative.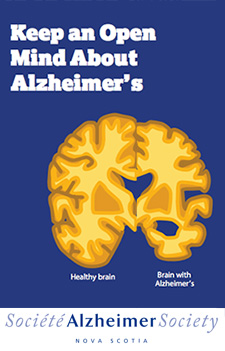 Every January is marked as Alzheimer's Awareness Month, with Alzheimer Societies across Canada engaging people in discussions about the disease.

"We have a campaign, and its purpose is to increase awareness, increase education, reduce stigma and make people aware of services available," explains Wenda MacDonald (PhD'89) manager, client services/research liaison with the Alzheimer Society of Nova Scotia.

This year's lineup includes a "fantastic array of public offerings around some books and movies" adds MacDonald. Many of those events are being hosted in partnership with NTE Impact Ethics (Faculty of Medicine), an interdisciplinary research team at Dalhousie focused on the intersection of health, bioethics and public policy. The program of events includes a public lecture and two film screenings with panel discussions featuring community experts, including several Dal faculty.

"There is still a lot of stigma around the disease" says Linda Bird, director of programs and services with the Alzheimer Society of Nova Scotia. "Sometimes it even stops people from seeking help," adds MacDonald. The two are familiar with the consequences of the stigma, hearing from clients about customer service personnel calling persons with dementia "stupid" if they forget something, which causes that person to isolate themselves further.
Addressing stigma

Darce Fardy has been fortunate to not experience much of this stigma, likely because of the openness with which he speaks about his Alzheimer's disease. As a lifelong journalist who spent 40 years with the CBC, when he was diagnosed he said to himself, "This seems to be a good story, I must write about it." He now writes columns in the Chronicle Herald about his experiences, articles which have gained him a significant following. Fardy says he receives emails from across the country, mostly from families of persons with dementia who find the columns very helpful.

Fardy will be on the panel discussing the film Wrinkles on January 18 at the QEII Royal Bank Theatre on the main floor of the Halifax Infirmary (1796 Summer St. entrance). As part of a moderated discussion, he will be joined by fellow panelist Dr. Melissa Andrew, an associate professor of geriatric medicine at Dalhousie and a member of the Alzheimer Society of Nova Scotia's research advisory committee.

The other events include a screening of the film Still Alice on January 11 with a panel discussion (also at the Royal Bank Theatre), and a public lecture from Margaret Lock, a renowned medical anthropologist and the Marjorie Bronfman Professor Emerita in Social Studies in Medicine at McGill University, on January 25 at Paul O'Regan Hall (Halifax Central Library, 5440 Spring Garden Rd.).

Fardy says he'd never heard about Alzheimer's disease in his youth, "but all of our grandparents were what we used to call 'out-of-it' towards the end."
Dr. Andrew still sees some signs of this approach today: "Some cultures tend to normalize dementia," she explains, "saying it's just a part of getting old, and others would medicalize it more [and are willing to treat it]. Sometimes we'll see patients coming in at a very late stage and not that there is a cure but there are things that could have been done to mitigate symptoms, or we could have provided services."
Challenge and community

The progress made since Fardy was a child has been extraordinarily positive. "There are pills to take. But there are also things you can do. Stay active, which I do. And I read a lot, I read two newspapers a day and I've always got a book going."

Bird says one of the major challenges for persons with dementia is "having an understanding community." She points out that "the research shows that if you get families involved early in the disease and they start to think about the future, they make better choices and more informed decisions as they go through the disease."

"And they do have a better quality of life" adds MacDonald. While involving the family helps with the journey there are still challenges in "getting a cohesive picture of what is happening and what supports there are at all phases along the journey," she says. The Alzheimer Society of Nova Scotia's work with the provincial dementia strategy seeks to fill these gaps and expand services across the province to better service rural areas.

Eager to learn more about Alzheimer's disease? Attend one of this month's events or visit the Alzheimer Society of Nova Scotia's website.