It's known as the little bright light on campus.

This past Thursday evening, the Dalhousie Art Gallery held an opening reception to mark the beginning of its 62nd Student, Staff, Faculty and Alumni Exhibition. Now in its seventh decade, the exhibition is an annual celebration of the creativity of the Dalhousie community.

The reception brought together several of these like-minded creators for light refreshments, a keynote speech from Richard Brown (professor in the Department of Psychology and Neuroscience and associate dean, research, in the Faculty of Science), and the main attraction — the art.

"The essence of the show is the opportunity each year we give to the makers, creators and doers of Dal and King's to engage with the larger community in a way that they might not otherwise have," said Michele Gallant, registrar/preparator, during her opening remarks. "It's also an opportunity for the rest of us to see what our friends and colleagues get up to in their off hours."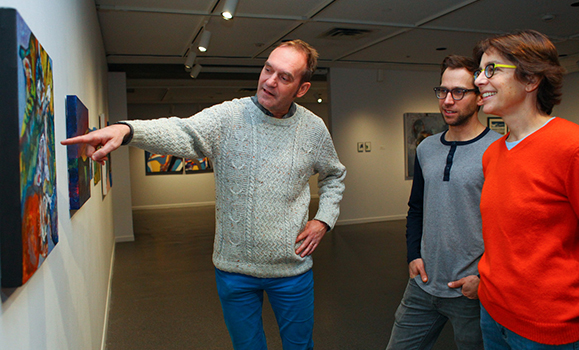 Gallery Director Peter Dykhuis (left) checks out some of the exhibition's work with gallery staff Wes Johnston and Michele Gallant.

The annual exhibition welcomes submissions from across the Dal community each November. This year's exhibition boasts 86 separate entries of artwork from 48 different students, staff, faculty and alumni. The pieces came from individuals with a range of different educational backgrounds, including Health Informatics, Architecture, Biology, Medicine and International Development.

"It's interesting because there is no visual arts program here; there are arts programs and creative programs, but none specifically for visual arts," says Wes Johnston, education and outreach coordinator for the gallery. "In a way, we're kind of a connector for different departments who have creative projects or creative outputs."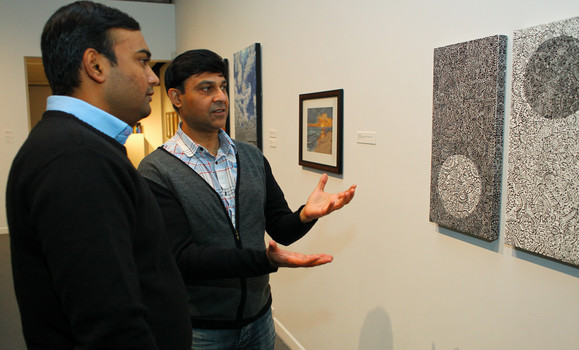 Artist Athar Qureshi (on the right), master's student in Health Informatics, shows his work to friend Sayog More.
Among the artists showing throughout the exhibition is Rochelle Owen, director of the Office of Sustainability. Her piece, A Labrador Loop, was a series of photographs and a map that chronicled a 10-day trip with her brother to visit their father.

"I call my art 'basement art,' because it's mostly me in my basement with an X-acto knife putting it all together," Owen says.

While Owen used photographs, the exhibition features a wide variety of media, including oil on canvas, watercolour, mixed media and miniature architecture replicas. For Angela Glanzmann, artist and gallery assistant, the diversity in pieces demonstrates how art is everywhere.

"It's incredible that people have such varied interests and talents. You'll see a neuroscientist put out this beautiful painting and it's really exciting to see that different layer of people's personalities and interests within the Dal community," Glanzmann says. "I think art and art galleries are really important because they can engage us with our culture and heritage, and bring communities together to allow people to look at things in different ways."


The 62nd Annual Student, Staff, Faculty and Alumni exhibition runs through December 20, during regular gallery hours. Visit the Art Gallery website for more details.

There will also be a special artist talk on December 17 with Mark Gilbert, a postdoctoral fellow with Dalhousie's HEALS program (Health and Education through the Arts and Life Skills) hosted by the Division of Medical Education. The talk is in conjunction with the screening of Midge Mackenzie's documentary Saving Faces, part of the exhibition, which features Dr. Gilbert's paintings of medial patients before and after facial surgery. Full details.