This year's annual fundraising campaign from the Dalhousie Medical Research Foundation is taking health care to heart.

Proceeds from the 2015 Molly Appeal campaign will help a dedicated group of surgeons, cardiologists and scientists at Dalhousie Medical School in New Brunswick and Nova Scotia tackle the deadly problem of heart disease.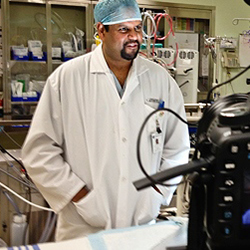 "Heart disease is making a huge impact on our society today and, unless we do something now to change the future, the burden will become almost impossible to bear," says Dr. Ansar Hassan, a cardiac surgeon at the New Brunswick Heart Centre and professor at Dalhousie Medicine New Brunswick in Saint John. "It is essential to not only provide more effective care for the people who need our help now, but we must also strive to reduce the burden of heart disease in the future by developing better ways of preventing, diagnosing, treating and reversing it."

In the Maritimes, 90 per cent of the population has one or more risk factor for heart disease, while 40 per cent has some degree of heart disease already, and 20 per cent die from it. At the same time, the Maritimes is home to the oldest population in Canada, another key factor that increases the region's heart disease rates.

"We are seeing more and more patients who are older and who have multiple complex medical problems that may make them frail," notes Dr. Jean-François Légaré, a cardiac surgeon at the Maritime Heart Centre and professor at Dalhousie Medical School in Halifax. "This means many of the people we're treating face high risks of complications"

Funds raised through the Molly Appeal will help Dal researchers develop more sophisticated, evidence-based methods of assessing and preparing our patients before surgery and caring for them afterwards. Every dollar raised through this year's Molly Appeal will support collaborative projects that will improve the quality of cardiac care in the Maritimes in the immediate future, while laying the scientific groundwork for longer-term advances in the treatment and prevention of heart disease.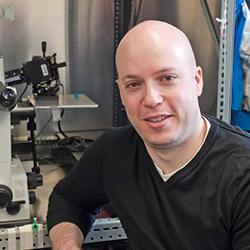 "This year's Molly Appeal will enable us to collect, store and analyze blood and tissue samples from hundreds of cardiac surgery patients in the Maritimes," says Dr. Robert Rose, a heart researcher and physiology professor at Dalhousie Medical School in Halifax. "Combined with clinical information about their disease, this will provide our scientists with an incredibly rich resource for studying the biological mechanisms of heart disease."

The researchers are shedding light on many factors that contribute to heart disease, including genetics, diet, high blood pressure, inflammation, stress, and electrical and mechanical problems in the heart. At the same time, they want to know how gender and frailty influence the nature, progression and outcomes of heart disease.

Meet some of the researchers supported by this year's Molly Appeal campaign

Our researchers in Saint John, N.B.

Safer surgery for heart-disease patients:
Cardiac surgeon Dr. Ansar Hassan and his colleagues want to ensure the best possible heart-surgery outcomes for patients at risk of complications. They're developing and testing pre-operative decision-making processes and post-operative follow-up interventions to ensure frail, elderly or obese patients receive personalized care that supports their health and quality of life.

Fuel-efficiency and the heart:
Dr. Thomas Pulinilkunnil is examining how excess intake of proteins, fats and sugars alters fuel metabolism inside the cells of the heart, leading to metabolic disorders, diabetes and heart disease. At the same time, he's exploring how age and frailty contribute to these disorders. He hopes his work informs healthier public policy and leads to more effective strategies for preventing, diagnosing and treating metabolic heart disease.

Toxic fat overload:
Lipid scientist Dr. Petra Kienesberger is investigating what happens to heart muscle cells when fat accumulates to excess levels in and around the heart and throughout the rest of the body. She is identifying the toxic signals that these typically inflamed fat tissues send to the heart, and how these signals could be interrupted to protect the heart.

Proactive medicine:
Interventional cardiologist Dr. Sohrab Lutchmedial is seeing more and more patients who've had heart attacks in their 30s and 40s. He is determined to avert a public health disaster in the future by working with youth, schools, families and physicians to reduce elevated cardiovascular risk factors among high school students in New Brunswick.

Hands-on help for heart disease:
As a translational scientist, Dr. Keith Brunt develops and tests practical solutions to pressing problems in cardiovascular disease. He is particularly involved in creating and adapting technologies to improve patient outcomes, from home-based systems and applications for improving patients' blood-pressure control to nanotechnologies for delivering disease-modifying drugs directly to the heart.

Our researchers in Halifax, N.S.

Insidious scarring:
Cardiac surgeon and heart researcher Dr. Jean-François Légaré is exploring how high blood pressure triggers the recruitment of immune cells to the heart which, once there, promote the formation of scar tissue that leads to heart failure. Dr. Légaré and his team want to identify signals that could be blocked or altered to prevent cardiac scarring.

Keeping the beat:
Dr. Robert Rose wants to use proteins produced naturally in the body to treat and even prevent the sluggish and irregular heartbeats that develop as we age or become frail. He and his team are exploring how these proteins could be used to prevent arrhythmias, minimize heart-attack scars and forestall heart failure.

Frail or fit for surgery:
Cardiac surgeon Dr. Greg Hirsch knows that frailty rather than age is a better predictor of how well a person will do after heart surgery. He and his colleagues are looking for more accurate ways to assess frailty and predict surgery risks and to work with patients to empower them to make the decisions that are right for them.

Tapping into a feedback loop:
Dr. Alex Quinn wants to open the door to new therapeutic possibilities for cardiac arrhythmias. Current treatments range from electrical devices like implantable pacemakers and defibrillators, to invasive procedures like catheter ablation and surgery. Dr. Quinn aims to target mechanical processes that influence the heart's electrical activity.

Fixing short circuits:
Cardiac electrophysiologist Dr. John Sapp is leading long-term international studies to see if catheter ablation works better than aggressive drug therapy for treating the short circuits that cause dangerous arrhythmias, which in turn can trigger sudden death. At the same time, he and his colleagues are pioneering new ways to make the ablation procedure safer and more effective.

On the trail of a culprit gene:
Dr. Karen Bedard wants to identify gene changes associated with arrhythmogenic right ventricular cardiomyopathy (ARVC), one of the most common causes of cardiovascular death in young people. She hopes her work will lead to tools for diagnosing the disease, which turns heart muscle cells into fat and fibrous tissue and kills people before they even know they're at risk.

Frailty, age, sex and hearts:
Dr. Susan Howlett wants to know how frailty affects heart function and overall health in men and women as they age. She and her team are shedding light on the biological mechanisms of frailty and testing potential ways of protecting the heart and overall health from frailty's detrimental effects.

Mending Broken Hearts:
Popular wisdom says you can't mend a broken heart—but Dr. Kishore Pasumarthi is determined to try. He and his research team are exploring groundbreaking cell transplant and gene therapy technologies, to see if they can improve the function of hearts that have been damaged by heart attack or compromised by frailty.