Dalhousie School of Nursing Professor Margot Latimer is looking for your vote — but she's not running for office.  

Dr. Latimer and First Nation Health Director Sharon Rudderham head up a groundbreaking community-based Aboriginal health research team which uses knowledge translation tools to promote its research results.

The team's Aboriginal Children's Hurt and Healing (ACHH) art project is one of several projects across Canada selected to compete for $35,000 in crowdfunding through Operation Blue Sky and HeroX.
 
"We could win!" says Dr. Latimer. "But involvement in the competition is about more than the money. It's about acknowledging to Aboriginal communities that we have heard them, and that this is an important issue."
Latimer and her team have conducted community-based research demonstrating that Aboriginal children express pain differently from non-Aboriginal children, and therefore may not receive the same levels of health care when they seek help. To highlight this research, Dr. Latimer's project provided art sessions for the children, led by Mi'qmaq artist Alan Syliboy. Later the children described their artworks, and their real feelings, on video.
 
"Because they are very stoic about pain, health practitioners often don't pick it up," explains Dr. Latimer. "Aboriginal children will sit quietly in an emergency room for hours, and others will be seen before them. Their pain is not recognized and so they are fearful when they come to the health-care system, and there is a lot of distrust and frustration resulting in repeat visits and persistent pain."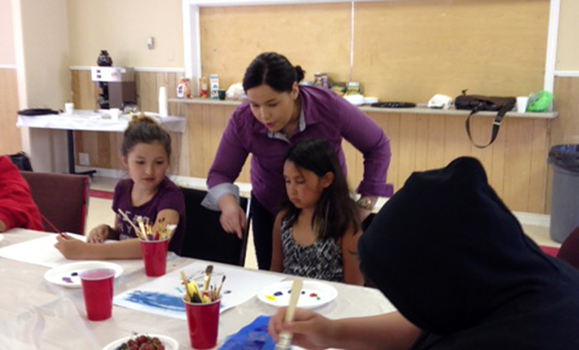 Dr. Latimer's research has uncovered historical and cultural components of pain, and how pain is expressed. Because of the history of the Canadian residential schools, Aboriginal children learned to suppress their feelings, a cultural adaptation which has become inter-generational. Dr. Latimer says when western-trained health professionals learn this, they are shocked. She recently gave a presentation on her research at a meeting of the International Forum on Pediatric Pain.
 
"They were overwhelmed and people were crying," she says of the audience's reaction to her presentation. "People came up to me afterwards to say it was incredible and our work is so necessary."

Dr. Latimer says winning the $35,000 prize would allow her to disseminate the ACHH team's research, along with the videos and children's art, more widely to universities and to teams of health professionals. She hopes this will lead to a real improvement in care for Aboriginal children and their families.
 
To support Dr. Latimer and her team in the competition, which closes on October 28, visit the Operation Blue Sky website.