With the federal election just a few weeks away, the Dalhousie Student Union (DSU) has stepped up its efforts to encourage students to get out and vote.

More than 60 per cent of 18-to-24-year-old Canadians passed up the chance to cast a ballot in the last federal election in 2011.

John Hutton, VP of academic and external relations for the DSU, says his team wants to increase awareness around issues facing students and send a message to young people at Dal that their votes matter.

"There were about 6,000 votes across 15 ridings that made the difference between a minority and a majority government in the last federal election," says Hutton, who is also the chair of the organizing committee for the election campaign. "Regardless of who you think should win, your vote does make a difference."
A chance to engage

As the centrepiece of its efforts, the student union will be hosting an all-candidates debate on youth and student issues for the Halifax riding Dal calls home.

Hutton expects a full house of about 500 students and community members for the event, which is being held next Monday in the Student Union Building's McInnes Room.

The debate will be organized around a series of video questions submitted to the DSU by students ahead of the event. "They'll ask the question to the candidates and the candidates will have to respond to it on the spot," explains Hutton, noting the contenders will take turns answering questions first. Each answer will be followed by a rebuttal period.

Hutton says he's received a variety of questions so far on a range of topics, including graduate research funding cuts, tuition levels, the environment, and youth unemployment.

Dal's Agricultural Campus will be holding its own forum for candidates in the Cumberland-Colchester riding next Tuesday. The event will include a formal question-and-answer period as well as informal conversation.

All candidates in both ridings have agreed to take part in the events.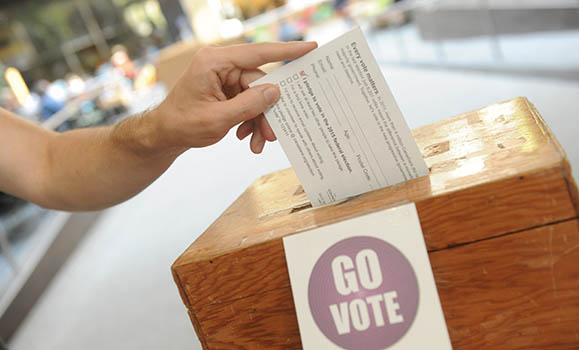 Hutton says by getting involved and voting, students can help ensure elected officials address the issues facing them.

"Politicians will respond to people who vote, so one of the best ways to make yourself heard on the issues is to cast a ballot," he says.

Voting and beyond

Mark Coffin, a Dalhousie alumnus and democracy activist, says even if turnout remains low among youth and students this time around, it's wrong to assume it is due to apathy.

Coffin, who started a group called Springtide Collective in 2012 that is dedicated to boosting civic engagement in the political process, says voting statistics only tell part of the story.

Coffin points to a recent study published by Samara Canada – another non-profit also working to reconnect citizens to politics – that shows when it comes to political engagement outside of voting (attending rallies, volunteering for political parties, organizing protests), young people are disproportionately well represented.

With recent polls suggesting all three major national parties have a similar level of support among voters, Coffin admits there is more at stake in the upcoming federal election than others in the recent past.

He says there could be an opportunity to push the electoral reform agenda and look at new types of electoral systems such as proportional representation, which has been shown to improve turnout in other countries.

"Is there a competitive race? Does my vote actually matter a lot? In this election, yes," he says.
When, where and how to vote

In addition to helping ensure students are well informed about the issues, the DSU also wants to do its part to help ensure they know exactly when, where and how to vote.

Under new election rules introduced in mid-2014, voter ID cards no longer count as proof of residence and the practice of vouching has been eliminated. Vouching used to let a voter with proper ID vouch for the identity of another person who may have just moved to a riding recently and not yet have proof of address.

With so many students from out of province, this change could lead more students at Dal to skip the voting process if they think they don't have the proper documents. But Hutton says students in residence who are new to Halifax and want to vote locally will be given a form that shows proof of residency.

The university also recently passed a motion to allow academic leniency on Election Day on Oct. 19 for students so they can take some time off from classes to go and vote.

Election Day polls are located on the main floor of the SUB – on Studley Campus – and will be open from 8:30 a.m. to 8:30 p.m. The DSU hopes to recruit some volunteers to help run Tiger Patrol shuttles to transport students on the Sexton Campus to the polls, says Hutton.


Out-of-province students who wish to cast a vote for a candidate in their home riding instead of Halifax will be able to do so by special ballot between Oct. 5 and Oct. 8 at one of two temporary Elections Canada offices on the main floor of the SUB and in the atrium at LeMarchant Place.

Dal is one of 40 post-secondary institutions across the country participating in the pilot project, which is also designed to help provide students and others in the community with help in registering before Election Day. Those wishing to vote by special ballot are required to provide the proper identification for the riding they wish to vote in.

"If you are from Calgary and you want to vote for a candidate in Calgary, you can do that right here," explains Hutton.

Lastly, advanced voting – separate from the special-ballot polls mentioned above – happens off-campus from Oct. 9 to Oct. 12. Voters can check the locations of advanced polls on their voter identification card, or by going online and typing in their postal code.
Visit Elections Canada online for more information on other voting options and the list of accepted ID.