Established in the 1960s from a merger of Pharmacy and Nursing schools, the Faculty of Health Professions is one of the largest faculties at Dalhousie and one of the most diverse faculties of its kind at any university in Canada. As we begin our Know Your Dal spotlight, here are five things you might not know about the Faculty of Health Professions, commonly referred to as "FHP."
1) We train a huge range of health care professionals — from audiologists to sonographers and everyone in between

Dalhousie's Faculty of Health Professionals trains many of the health care professionals working in Nova Scotia and in Atlantic Canada, including:  audiologists and speech-language pathologists, health administrators, health promotion specialists, kinesiologists, nuclear medicine technologists, occupational therapists, orthoptists, pharmacists, physiotherapists, radiological technologists, respiratory therapists, recreation therapists, nurses, social workers and sonographers.

2) We reside in 12 different buildings and three different campuses

With more than 3,000 students and almost 300 faculty and staff, we need a dozen different buildings to accommodate our faculty. Some of us are based in the Forrest Building, the heritage brick building on the Carleton Campus. (FYI: In the 1880s, the Forrest Building was actually the entire Dalhousie Campus). FHP's schools are also located on South Street (Health and Human Performance) and in the Mona Campbell Building (Social Work). Other FHP schools are located in downtown Halifax, such as the School of Health Administration and the School of Human Communications Disorders.  And some of our schools, such as Health Sciences and Vision Science, are located in hospitals, at the QEII Health Sciences Centre and the IWK.

3) We're moving to a state-of-the-art health education building

Students from FHP will be studying under one roof early next year with the opening of the state-of-the-art Collaborative Health Education Building (CHEB). The CHEB will be ground-breaking:  instead of studying in separate schools, Dalhousie's nursing, physiotherapy, pharmacy, communications disorders, social work, health promotion and health sciences students, along with medicine and dentistry students, will be learning together. The building was designed to foster collaboration among the diverse schools and students, with features such as a Learning Commons, numerous small meeting spaces, large classrooms and special units for simulation-based education.

4) Our teaching "dummies" are anything but dumb

Nursing students at FHP learn in "sim labs" — labs equipped to teach through simulated and highly realistic health care situations. For example, students practice new skills on medical "mannikens," which are life-like, life-sized and can be programmed to produce a wide range of symptoms:  everything from heart attacks to labour. Simulation is a proven effective way for students to learn and practice their skills in a realistic situation.

5) Our people don't just span campus, but our communities

Faculty, researchers and students at the Faculty of Health Professions are engaged in the community in a variety of ways. Students do practicums in local hospitals and health care settings; our faculty work at Dalhousie and in clinical settings in Halifax; and many of our researchers are involved in community-based health projects with partners in Nova Scotia and around the world. Currently, faculty and students from the School of Social Work are piloting a social work clinic which provides help to community members struggling with issues such as finding affordable housing.

Learn more about the Faculty of Health Professions at its website, and check out Dr. Shaun Boe's pop-up lecture, happening tomorrow from 1-2 p.m. in the Rowe Building on Studley Campus.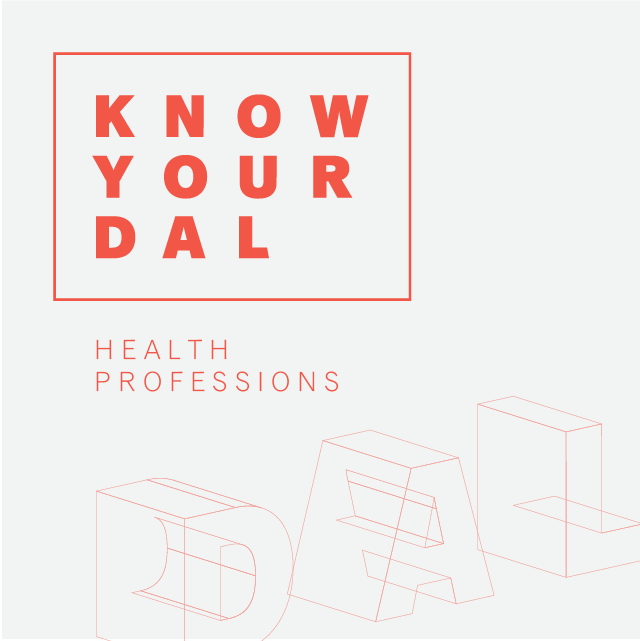 This article is part of "Know Your Dal," a 13-week series highlighting Dal's academic community. For more, including more content to come later this week from the Faculty of Health Professions, visit dal.ca/knowyourdal