The Roseway and Grand Manan basins on the Scotian Shelf are protected feeding habitats for North Atlantic right whales, but new research suggests that these endangered animals have started travelling elsewhere in search of food.

Dalhousie postdoctoral fellow Kimberley Davies and a team of researchers funded in part by the Marine Environmental Observation Prediction and Response Network (MEOPAR) published two new studies that show strong interannual variation in the number of whales that can be found in these protected areas in a given year.

"In Roseway Basin, the more food you have, the more whales you can expect to find. Likewise, whales disappear when food is scarce," says Dr. Davies. "In other words, right whales are driven by their food."

North Atlantic right whales feed on copepods, tiny rice-sized animal plankton in the ocean. When copepods enter their annual hibernation period, they sink through the water column and become concentrated near the ocean floor. Layers of copepods are particularly thick in continental shelf basins of Nova Scotia, like Roseway and Grand Manan. Since it's energetically costly to dive for food, right whales often seek out the hibernating aggregations of copepods to maximize their nutritional intake.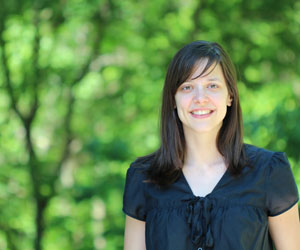 "Back in the 1990s, few whales were sighted in Roseway for 6 years, and we were able to show that this abandonment was correlated with a reduction in copepod supply," says Dr. Davies. "It is worrisome because whale health and reproduction also declined during that period. Since there are only 522 of these animals left, they need consistently good reproduction to recover, and they need a lot of food to do that. Whale distributions have been changing again since 2011, and we hope we are not heading into another period of food shortage."

Vessel traffic is currently banned in the Roseway and Grand Manan basins, but now that whales are leaving these areas in search of food, they may no longer be protected. "We need to determine where new habitats exist, to assess the threats from ships and fishing gear," Dr. Davies explains.
This summer, she will be partnering with the Woods Hole Oceanographic Institution in Massachusetts to simultaneously sample copepods, whale calls and ocean measurements using ocean gliders at a variety of different locations. "Once we identify new habitats, we can use this information to help protect future generations of North Atlantic right whales."

The final report was published as two separate papers in the May and June issues of the Journal of Marine Systems. Many organizations contributed to the study, including the Canadian Whale Institute, Fisheries and Oceans Canada, the Atlantic Zone Monitoring Program, Environment Canada, the World Wildlife Fund and the New England Aquarium.