In the wake of widespread public and community interest following the discovery of misogynistic Facebook posts in Dalhousie's Faculty of Dentistry, on January 9 President Richard Florizone announced the commissioning of an external task force.

Chaired by Constance Backhouse, professor at the University of Ottawa and renowned Canadian expert on issues of sexual harassment, the task force was given a mandate to investigate the culture, practices and policies within the Faculty of Dentistry. It was also asked to consider the university's policies and practices related to harassment and discrimination more broadly.

Six months later, the task force, whose members also included University of Ottawa law professor Don McRae and human rights lawyer Nitya Iyer, has completed its work. Its final report, released Monday morning, is lengthy and detailed, reflecting feedback gathered from meetings with some 150 members of the Dalhousie and public communities, as well as confidential written submissions.

The task force identified a need to address the culture within the Faculty of Dentistry and its permissiveness towards incidents of sexism, misogyny, homophobia and racism. It observed the university's policies for addressing equity issues are as good as or better than other Canadian universities but there are questions about how they may be applied in individual cases. The task force also concluded the Restorative Justice process was a success, while also sharing concerns that were raised about the process. And it concluded that systemic approaches to addressing the issues at hand, with education and research at their core, are key to achieving significant and lasting change.
"Although our task force has been critical at some points in this report, our intention is to be constructive and to provide positive guidance to the Faculty of Dentistry, the university and the many other faculties and universities where such incidents will undoubtedly arise in the future," explained Prof. Backhouse. She was joined by fellow task force members Prof. McRae and Ms. Iyer at a news conference Monday announcing the report's release.
Read the full report: Report of the Task Force on Misogyny, Sexism and Homophobia in Dalhousie University Faculty of Dentistry

The final report makes 39 recommendations directed at the culture within the Faculty of Dentistry, university administration, and the wider context within Dalhousie and across society more broadly.

"I fully accept its recommendations," said President Florizone at the news conference. "I say that because I'm committed to change, because I fully support what the task force has recommended, but I say that also with humility, as the task force and Professor Backhouse have reminded us. These are systemic issues. These are issues that we know other universities face. These are issues that are going to require all of us working together to solve."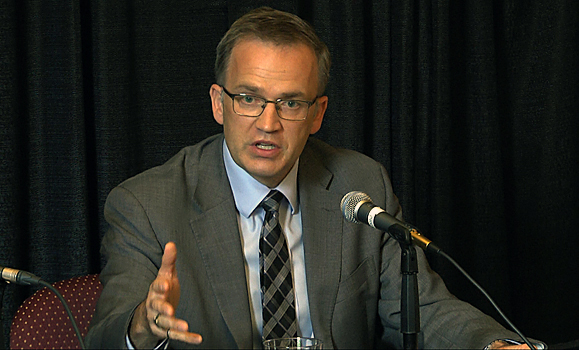 Addressing culture in Dentistry

In presenting the key themes of the task force's report, Prof. Backhouse acknowledged that the Dentistry incident did not happen in a vacuum. It reflects broader systemic concerns that all large institutions, from universities to governments and other organizations, are being challenged to address.

"These are complex problems that cannot be resolved easily," she said. "The people we spoke with disagreed about what caused the problem, how to characterize what happened, how to analyze it, and what strategies would provoke positive change… There are no obvious right answers, though there are certainly some wrong answers."

Those wrong answers, she said, include treating what occurred with the Dentistry Facebook posts as an isolated incident, or the actions of some "bad apples."

"The bad apple theory is never correct in the context of systemic problems that run deeply within large institutions. It is also a strategy of minimal effectiveness. It is an illusion to think that ridding the university of 'bad apples' will somehow leave us miraculously cleansed of inequality."

Indeed, the task force identified reports of various incidents of sexism, misogyny, homophobia and racism within the Faculty of Dentistry, and disparity in how people characterized the size of the problem. Reflecting concerns that were raised in the Restorative Justice report last month, the task force believes the culture in the dental school has been paternalistic, oblivious to changing mores and to what sort of behaviour — in particular, behaviour towards women — is no longer acceptable.

"In order to move forward, the professors, the administrators, the staff and the students have to collectively come to the decision that the way they are doing things is not correct, and they have to change," said Prof. Backhouse.

Some of this work is already underway: the Faculty of Dentistry has started strengthening its culture and practices, including reviewing and updating its Student Code of Professional Conduct, Academic Policy Manual, Clinic Policy Manual and Orientation Week activities. President Florizone committed to ensuring this work continues and to work with the Faculty of Dentistry to ensure the task force's recommendations with respect to its culture are implemented.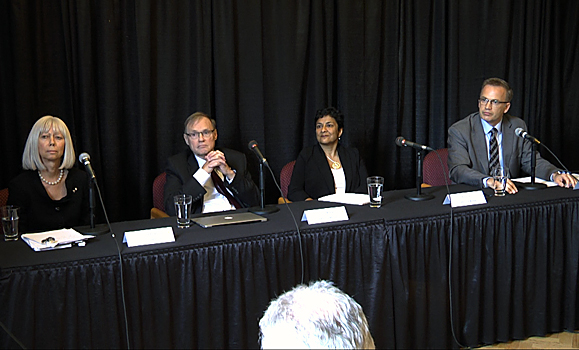 Achieving lasting change

Ultimately, Prof. Backhouse says, "we can fix complaint processes, we can open them up and make them safer, but we still won't win this battle until we go into it systemically."

That means implementing tools and approaches that shift the focus to structural change — within Dentistry, across Dalhousie and beyond. Some of the task force's recommendations include improving working conditions and implementing an improved complaints system within the Faculty of Dentistry; expand and further support Dal's Human Rights Equity and Harassment Prevention Office; draw more on internal expertise on systemic discrimination and continuing to move forward on the recommendations of the Belong report.

President Florizone said he will be working with his leadership team, the Faculty of Dentistry, the Board and Senate to follow through on the report's recommendations. He said it's still too soon to identify concrete timelines, but hopes that some recommendations can be addressed quickly, with the majority in place within the next 24 months.

Those timelines reflects a point acknowledged by Prof. Backhouse: that on the issues raised in the report, there is often disagreement in diagnoses and prescriptions, differences of perspective among stakeholders that have to be worked through. Yet the task force was heartened in its consultations to find virtually unanimous agreement when it comes to goals and objectives.

"Everyone wants a safe campus, a non-discriminatory institution that provides a diverse community with an inclusive setting for education, employment and research," said Prof. Backhouse. "And many told us they would like to see Dalhousie become a recognized leader, an institution that positions itself in the forefront on equity issues."

Prof. Backhouse believes Dalhousie has both the opportunity and the ability to be that leader.

"We were left with the impression of enormous talent and capacity, a surfeit of good will, and a collective desire to improve the equity performance of our universities," she explained. "It was Dalhousie that got put in the spotlight on this one, but these are problems that universities across Canada share, and we are all trying to learn from the experience that Dalhousie went through and work in solidarity with Dalhousie as we move forward to come up with answers."
Read the full report: Report of the Task Force on Misogyny, Sexism and Homophobia in Dalhousie University Faculty of Dentistry
Comments are closed on this article.