What does carbon dioxide do to the ocean? How do baleen whales feed? Is the Aquatron the name of a character from the next Transformers movie? These questions, and many more, were answered at the Steele Ocean Sciences Building during this year's Doors Open Halifax.

Each year the citywide event puts out the welcome mat for many of the Halifax's historical or architecturally significant buildings, allowing the public to tour the spaces throughout the weekend.

For the second straight year, the Steele Ocean Sciences Building was included in the Doors Open Halifax lineup. Visitors on June 6 and 7 were given an inside look at what goes on inside one of the university's newest research facilities. With researchers from Dal's Canada Excellence Research Chair (CERC.Ocean), Ocean Tracking Network (OTN), and the Aquatron all on hand, visitors were in for educational experience.
Something for everyone

More than 1,400 attendees visited the Steele Building over the course of the weekend, admiring its design and chatting with students and researchers about Dal's ocean-related research and technology. Whether they were scientifically curious, family oriented, or just wandered into the building, everyone found something to discover.

"I had never been inside the building and did not know much about the research being done," said Tanis Trainor, a communications and marketing assistant with Dalhousie Student Affairs. "Having the rooms open, like the Aquatron, and showcasing the equipment/vehicles was very effective, in the sense that you could visualize the exhibitors working on a normal day."
Photo essay: Doors Open at Dal

Visitors to the building's atrium could examine museum artefacts like a humpback whale vertebra and a blue shark jaw. (They could also watch a video of Research Associate Brendal Davis tagging a live blue shark with CBC personality Rick Mercer). Ocean gliders were also on display, and guests could take in a real-time review of ocean conditions by researcher Diego Ibarra thanks to the Ocean Viewer system.

Richard Davis, glider team leader with the CERC.Ocean, had great things to say about the event.

"We were able to speak with many people and tell them about our research," he says. "Hopefully we were even able to inspire a young oceanographer in the crowd. All in all we found the event to be a swimming success."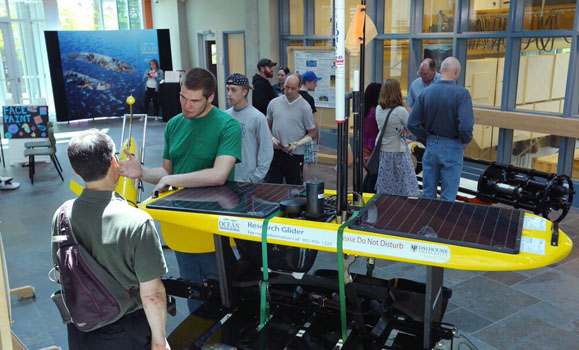 Indeed, there were plenty of entertaining activities for younger visitors: marine touch tanks, lobster tagging demonstrations and, inside the Aquatron's pool tank, Raina the Mermaid. Between swims Raina, a professional educator, discussed ocean conservation with kids.

"The mermaid was a huge hit with my little guy," said attendee Lisa Langille "He was quite interested to know what all of the equipment was and used for and was quite intrigued with the touch tank. It was a learning experience for everyone."
A team effort

The Steele Ocean Sciences Building is a LEED silver candidate, built with sustainability and efficiency in mind. Trees cut down during construction were recycled into seats located in the atrium, cars can drive up the run-off reducing permeable pavement to an electric car charging station, and even the toilets use low flow systems to conserve water. Architecturally, the building was designed to resemble a ship. From the porthole shaped windows, air vents, and wave window decals, the building looks like it is able set sail and bring the research with it.

While the building, unfortunately, isn't actually sea-worthy itself, its container bay holds several 20-foot shipping containers that have been redesigned to act as portable labs. This allows Doug Wallace, the CERC in Ocean Sciences and Technology, and his team to transfer their labs between the ocean and Steele Building.

Doors Open Halifax at Dal was made possible with the help of 15 student volunteers, who spent their weekend sharing knowledge with visitors. Those who took part had nothing but great things to say.

"The kids were really enthusiastic about what kind of creatures we had in the tank and they were eager to point out specimens that they recognized," says Robin McCullough, recent Marine Biology and Oceanography graduate. "I would point out some specimens and asked if they would like to hold it and both children and adults were really in to it."

Want to see more of the weekend's sights? Check out our photo essay.