Last month, nearly 300 scholars, community members, activists, artists and others congregated on campus to discuss community, empowerment and leadership in black Canada.

The occasion was the second biennial Black Canadian Studies Association conference, hosted at Dalhousie by the James R. Johnston Chair in Black Canadian Studies. The event welcomed participants from across Canada, and from as far away as Germany and the United Kingdom.

Afua Cooper, the current James R. Johnston Chair, says the conference's theme was meant to explore the question of black leadership, and at least in part to address the question of whether there's a so-called "crisis" in black leadership in Canada.

"I think it's fair to say the answer is a resounding 'no'," says Dr. Cooper. "We had leaders from all walks of life, around the world, and there is such an excitement about leading, whether in the academic sphere, the artistic sphere, the political sphere."

Over the course of four days (May 21-24), dozens of presenters spoke about research into everything from community activism and political engagement to history and archeology, all centered on the experience of black Canadians.
Engaging keynotes

The conference also featured six different keynote speakers offering a wide variety of perspectives. Among them were Wesley Crichlow of the University of Ontario Institute of Technology, speaking to sexual politics and black leadership in Toronto; community advocate Munira Abukar on her experience running for council office in Toronto; Jamaican sports leader who lead the Jamaican delegation to six Olympics games; and Montreal's Délice Mugabo on anti-blackness in Quebec islamophobia.

The conference's opening keynote was Gervan Fearon, current president and vice-chancellor of Brandon University in Manitoba.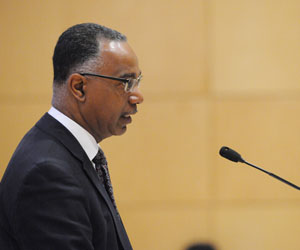 "He's the first black person in Canada to head a post-secondary institution," explains Dr. Cooper. "He talked about his own trajectory as a researcher, a professor and then going into administration. It was one of those moments that summed up what this conference was about. Here, embodied in this person, is what I was hoping to achieve: discussing leadership and blackness and Canada, the possibilities and challenges."

For Dr. Cooper, among the most powerful moments was Saturday's plenary on "Reconstituting African Canadian Identity." The panel, which Dr. Cooper moderated, featured George Elliott Clarke (poet and playwright), Michelle Williams (Dalhousie Law professor and director of the Schulich School of Law's Indigenous Black & Mi'kmaq Initiative) Handel Kashope Wright (director of the University of British Columbia's Centre for Culture, Identity and Education).

"That was just magical," says Dr. Cooper. "The turnout was amazing — over 100 people in the room — and the discussion and atmosphere was simply awesome. That's the only word I can really think of. It was back and forth, great ideas were explored and people really appreciated it."
Inspiring takeaways

Attending the conference on its final day, I found attendees eager to engage with the panelists' thought-provoking papers. Particularly engaging was a session featuring Wilburn Hayden (York University) on the Canadian ethos of race, Ted Rutland (Concordia University) on geography of anti-blackness in policing in Montreal, and Christopher Stuart Taylor on his own work in diversity and inclusion within the Ontario Public Service.

The weekend closed with its final keynote from Lynn Jones, who shared lessons from her 30-plus years in the labour movement and her experiences as a community activist in Nova Scotia. The passion of the Dalhousie Transition Year Program graduate was infectious as she lit up the room with engaging stories and a call to action focused on reparations for black Canadians. With each personal milestone in her story, she repeated, "social progress," a way of noting that it was only by believing she could enact change that change actually happened.

It was a lesson that is echoed in Dr. Cooper's takeaway from the conference as a whole: that individuals who are wondering, "Can I do this?" — particularly in the academic sphere — need to know they can, and there's support available to meet their goals.

"Sometimes as black scholars, our topic of choice isn't really appreciated," says Dr. Cooper, recalling experiences in her own PhD studies in which she was told outright that her work was not important because of its focus on black Canadians.  

"We want to make it an area of scholarly importance. We want to centre this discourse to make it part of the intellectual thought of the mainstream curriculum. All these people who came — whether they're senior scholars or someone who are thinking of doing an MA — they're studying black Canada, and we want people to know this is important."