The release of Belong: Supporting an Inclusive and Diverse University is intended to spark an important conversation in the Dalhousie community. Among some of the university's senior leaders who've been able to spend time with the document, that conversation is already underway.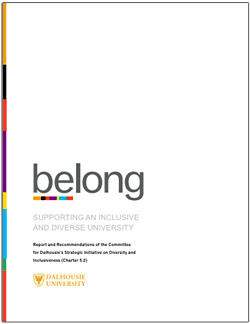 The action report from the university's strategic direction on diversity and inclusiveness was prepared by a committee of students, faculty and staff chaired by Kim Brooks, dean of the Schulich School of Law. As part of Dalhousie's Strategic Direction (Charter 5.2), the initiative conducted outreach with more than 60 groups and reviewed hundreds of submissions along with reports from other Canadian universities. Based on this outreach, the committee identified a six primary themes — Understand, Learn, Respect, Account, Support and Heal — and made 15 broad recommendations for supporting university community where all members are valued and included.
Read more: The full report from Dal's strategic initiative on diversity and inclusiveness [PDF]

Prof. Brooks and her committee shared the report in advance with some key units across the university so they could start to consider its recommendations. Early response from some of those individuals say the report shines a light on important issues and provides a strong outline for moving forward.
(For additional comment from President Richard Florizone, Provost Carolyn Watters and members of the committee, read our Dal News feature on the report.)

"This process has started a vibrant, challenging, important conversation and it is up to all of us to keep it going," says University Librarian Donna Bourne-Tyson.

Brad Wuetherick, executive director of the Centre for Learning and Teaching, echoes Bourne-Tyson and adds that the Belong report does more than merely discuss diversity in abstract generalities.

"There are some high-level ideas and some very specific recommendations,and in all cases they've done a tremendous job in framing the report in such a way that it will actually be useable by the community," he says. "It's starting a conversation that needs to happen and frames that conversation in a productive way."
Building capacity for change

Lisa Delong, human rights and equity advisor in Dal's Human Rights, Equity and Harassment Prevention unit, praises the report's emphasis on shared accountability.

"Traditionally, our office has been thought of as the office that is intended to police these issues, but what we really want to do is build capacity and expertise across the campuses and empower people in a way that integrates themes of diversity and inclusion," she says. "The report reinforces this idea that these themes need to be incorporated into everything we do across our community."

Delong says this "watershed moment" for Dal is an opportunity to rethink the status quo and strive to build a stronger community: "Rather than think about how we fit it into our current structures, we can think about the structures themselves."

The individuals we spoke to had started to reflect on how to put the report's ideas into action in their own units, from enacting specific recommendations to simply being more mindful of the importance of respect.

Dwight Fischer, assistant vice-president, Information Technology Services, notes the importance of university members being consistent in communicating respectful values, regardless of the medium.

"We need to be accountable and responsible in all venues, online and in person, for our words and actions," says Fischer. "We can't be hiding behind veils of privacy or anonymity.."
Ready to support

Bourne-Tyson, whose Libraries unit was named in the report as one of the units accountable for "enhancing and formalizing education on respect and inclusion," says she is looking forward to the task.

"Dalhousie Libraries will be working hard to provide support to anyone seeking more information related to diversity and inclusion, or trying to understand the types of exclusion listed in the report," she says. "We will be energetically supporting related initiatives through Deans' Council and Senate as well."

Wuetherick says that for the Centre for Learning and Teaching, "a huge step will be supporting curriculum development so that inclusion and diversity are outcomes of our programs and students have multiple opportunities to understand diverse perspectives, as well as supporting individual faculty and instructors to create an inclusive classroom environment."

He cautions that moving forward will not be easy. It will require, he says, some "reflection on how we got to where we are." However, he is hopeful that, "we can prioritize the next steps and those steps will help us take further steps."

The steps taken in each of Dal's departments and units may differ, but all agree on the imperative to make the university a place where all faculty, staff, students and community members feel a sense of belonging — and that doing so is a collective responsibility.

As Bourne-Tyson says: "we are all responsible for supporting inclusion and diversity."