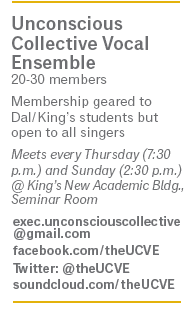 With the recent success of musical comedies like the TV show Glee and the film Pitch Perfect, people are more eager than ever to be a part of a similar singing group—especially on high school and university campuses. Thanks to the Unconscious Collective Vocal Ensemble (UCVE), Dal students can be the next Anna Kendrick and immerse themselves in a world of harmonic bliss.
A relatively new society on campus, the UCVE in its earliest form was founded in 2011 by former King's student Yonah Sienna and had fewer than 10 members. The following year the members decided to find new recruits and work on getting the group ratified. Since then it's grown to include anywhere from 20-30 members at a time. While the increase in popularity has been great, it's come with a new set of challenges.
"A larger group creates more problems with attendance and logistics, which we're currently dealing with," says Michael Robson, the current artistic director of the UCVE and Dal alumnus who graduated with a degree in music composition in 2012. "I think our major challenges going forward will be figuring out how we can continue to effectively accommodate new people and still have a tight-knit community where people can meaningfully participate."
Finding the perfect pitch


The UCVE has strived over the past few years to put its name out there in a new way that most students aren't used to. Michael says the group has tried to create something different than other a cappella ensembles.
"We did some very experimental stuff—abstract improvisation, especially—that was done in the name of being bold and different, but which seemed to alienate a lot of people," he says. "So while that's a really useful field of musical exploration, and it's certainly part of what we do, it's really not our main focus. At the same time, we're not like Pitch Perfect either. While pop is a staple of our repertoire, we often try to do interesting things with it that you might not expect."
Even the name of the group itself is far from traditional. Group founder Yonah wrote in its spring 2013 program notes, "The name is a play on Carl Jung's 'collective unconscious,' the creative part of the psyche that the conscious mind is not aware of, but which is the source of inspiration that sometimes feels like it's not even coming from us."
The UCVE performs its stylings of jazz, doo-wop, indie, pop, and other genres at different events around campus throughout the academic year. Its most recent performance was in collaboration with Dal Student Life on Valentine's Day. A small group of the male members toured around campus serenading people with love songs while handing out roses. (See them in action in the video above.) The group also hosts end-of-term concerts at the end of both the fall and winter terms. The one in March or April is often a highlight for the group as it shows the choir at its strongest.
Anyone interested in being a part of this talented group of singers simply has to audition. The group holds two auditions a year at the beginning of the fall and winter terms.
"We try to admit a variety of skill levels, from super-experienced choral singers to people who have only been singing for a short while and want to explore their potential," says Michael.
For more information about the UCVE, or to find out where and when the group is performing, follow it on Facebook and Twitter. Or listen to some of their work on Soundcloud.