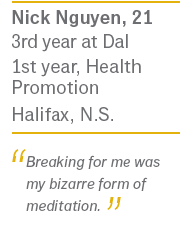 "This is a little embarrassing for me," Nick Nguyen says with a laugh. "A lot of the other breakers say, 'Oh I got into this dance by watching VHS footage or watching it in person.' I watched Step Up 2."
Yes, the talented breaker and founder of the Dalhousie Breaking Society was inspired when he was about 15 by the sequel to a popular dance film starring a young Channing Tatum. "It was interesting because I had no prior knowledge to what hip-hop dance was," he says. "They were doing all of these things like 'popping' or 'breaking' or spinning on their heads."
After watching the movie, a friend happened to mention a jam (the breaking equivalent of a dance competition) that a local group was having. Wanting to check it out in real life, he stopped by and loved what he saw.
"I was amazed, fascinated that these guys could do flips, that they were doing all of these intricate movements with their legs and bodies," says Nick.
Afterwards he approached one of the organizers about lessons. The following year he signed up for his first breaking classes with Concrete Roots as well as Halifax Dance. Concrete Roots is a local organization that provides after-school dance classes for youth with a main focus on breaking. (Breaking is often referred to as break dancing or B-boying but Nick prefers the term "breaking" because it's more gender-neutral.)
Pushing through the pain
 
His introduction to breaking came at a pivotal point for Nick. The typical tough times of being a young teen were compounded by issues at home. Breaking provided a welcome—if not physically challenging and painful—escape for him.
"My parents just separated and it was that time in junior high when your friend groups sort of dissipate and you're trying to find what group you really belong to," he says. "So, breaking for me was my bizarre form of meditation."
Breaking still provides a source of meditation for Nick today. To add to the emotional stress Nick was already experiencing, some of his family members didn't provide him with a lot of support for his new passion. They disparagingly called it a "ghetto dance" and told him it wasn't "classy." And many of his friends weren't much better—which was particularly difficult at an age where maintaining friendships is tough enough.
"I had a lot of friends that would say, 'You look absolutely ridiculous.' But I kind of just pushed through it," he says. "I really like doing this and this isn't really for them, which I finally realized. Then I just overcame that."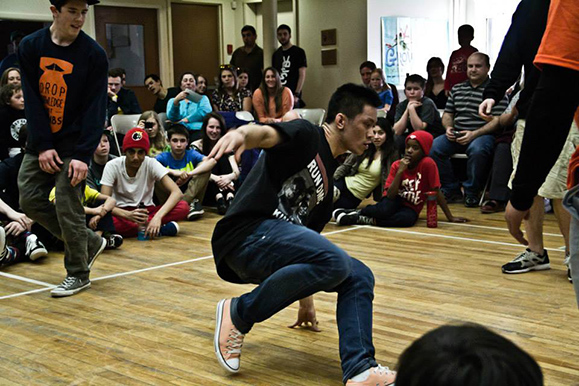 His family and friends eventually came around, particularly when he started volunteering and teaching others. It boosted his confidence and showed the skeptics some of the other benefits of breaking.
"Most people really don't know that much about hip-hop," says Nick. "What they saw were the depictions in the media that breaking is associated with hip-hop and hearing all of these hip-hop songs that are like, 'sex, drugs, and money.' "
Now teaching his own classes, Nick is trying hard to change this popular misconception and educate people about the depth of hip-hop culture—that it's about more than just the music and dancing.
"I taught with Dance Nova Scotia over the summer and I asked the kids what they knew about hip-hop," he says. "Most of them think it's just a genre of music or being gangster. Now I'm trying to switch that around. Hip-hop is actually something really positive as apposed to negative. It just happened to be rooted in negativity in the form of things like racial oppression.
"Dance is just one element of hip-hop but real hip-hop is more complex—it's a socio-political movement and culture that's trying to share complex and intriguing history and knowledge, as well as encourage new art forms. It's all about the idea that peace, love, and unity is equality and equity for everyone."
Anyone interested in taking up breaking can contact Nick here.

Video: Nick's Story
(produced by Tim Mombourquette)