At the end of a weekend full of focus, fun and exhaustion, 50 students from the Rowe School of Business learned that they'd placed at JDC Central — the biggest case competition of its kind in Central and Eastern Canada — in the category of School of the Year.

"I don't even know how to describe it," Shelbi Sprung, co-captain of the Rowe team, said of the experience. "We had tears running down our faces."

The third-place finish out of 14 business schools from Ontario, Quebec and the Maritimes was the culmination not only of a weekend of intense hard work, but of months of preparation. JDCC is a highly competitive event that has been running in its current form since 2010, each year in a different city. (Dalhousie hosted in 2013.) This year, about 700 students descended on Toronto, filling Nathan Phillips Square with school colours for the opening ceremonies on January 30. Under strict rules, these students prepared and presented business cases in eight areas over the course of Saturday and Sunday. There were also social and sporting competitions.

Team captains Christopher Dubois and Shelbi Sprung described the intensity of the weekend, which began with a high-energy meet-and-greet on Friday: "You could feel the electricity in the room," said Shelbi. As captains, they were responsible for making sure the Rowe students were prepared, present and energetic at each of their events. That meant being up at 1:30 a.m. in the morning to make sure their volunteers got to work, ushering the teams into isolation at 5:30 a.m. and keeping their own energy at a high level all weekend to motivate and encourage their team.

Both finance students in the third year of their Commerce degrees, Shelbi and Chris became co-captains nearly a year ago and have been working with their executive committee members, students, coaches and the JDCC organizing committee since then. Both expressed great appreciation for the coaches who gave their time, including weekends, to work with the team. Florence Tarrant, who coached two academic teams and served as faculty advisor for the entire group, attended the event.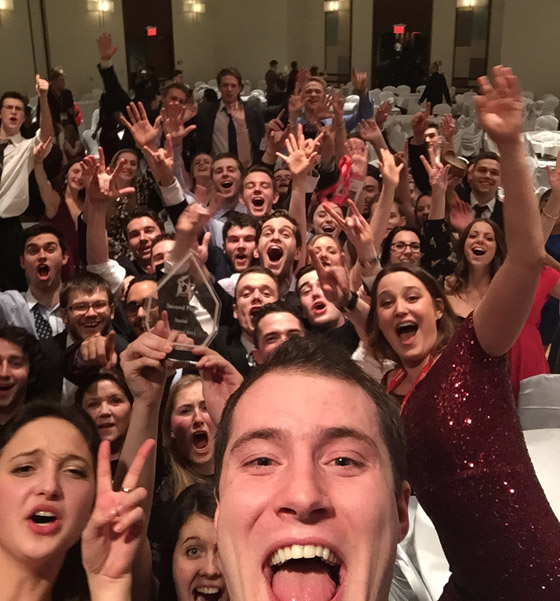 Dalhousie has been involved in JDCC since its inception. While the Rowe teams have always done well, this year was the best yet for the school. Dalhousie took home five awards: first place for Charity, first place for International Business, second place for Social Challenges, third place for the Academic Cup and third place for School of the Year. While all of these awards made the students and captains proud, it was the Academic Cup and School of the Year placements that astonished them.
"They said, 'third place, Rowe School of Business' and Shelbi and I couldn't hold it together," said Chris, admitting to a few tears. He noted that the awards were well deserved: "We felt that all of our teams had an incredible amount of talent."

Dr. Tarrant had her own words of pride in the students' performance. "The JDCC team is an outstanding group of students that I felt privileged to work with," she said. "With these students as the business leaders of tomorrow, our future is in good hands."

The JDCC team's sponsors included Scotiabank, Desjardins, Sprung Structures, Eastlink, Canadian Tire and Pepsico Canada.