Agriculture commands global thinking.  

Dalhousie University's Faculty of Agriculture has kept this mentality in focus with partnerships around the world, including Brazil, China and the Netherlands.  

The importance of this global outreach work is significant. From student exchanges, collaborative research projects and new ideas, international development has been at the forefront of the Faculty of Agriculture's work for many years. These efforts often result in enriched student learning and teaching experiences with an international viewpoint.

"As the former Nova Scotia Agricultural College and now as Dalhousie University's Faculty of Agriculture, we have a strong and successful history in relation to International development projects," says David Gray, the faculty's dean. "Agriculture is crucially important globally and the challenges we face should be faced together."
Eye to Ethiopia


International development work on food production is particularly impactful for rural communities. The Faculty of Agriculture has established a successful relationship with Jimma University in Ethiopia that began in 2005 with the "Agricultural Sustainability" project and continued through 2010. This project solidified the ongoing $3 million project, titled, "Post-Harvest Management to Improve Livelihoods (PHMIL) in Ethiopia." Both PHMIL and the Agricultural Sustainability projects have been implemented at Jimma University College of Agriculture and Veterinary Medicine (JUCAVM).  

The PHMIL project focused on techniques to reduce post-harvest losses and improve value-addition of agricultural products, as well as re-utilize agriculture waste to benefit the environment. A strong emphasis on quality, with a focus on national and international standards, is prevalent throughout the project.   

"PHMIL is an important contribution to Ethiopian agriculture, as post-harvest losses can be 20-70 per cent depending on the crop," says Kendra Mellish of the Faculty of Agriculture's International Office. "With better post-harvest practices, more food could be available for exports and directly impact livelihoods."

The main reason for the high post-harvest loss and low value-addition of plant and animal products is the lack of trained personnel in these areas. There's a lack of post-harvest management programs at Ethiopian universities, explains Tess Astatkie, project director of the PHMIL and Agriculture Sustainability projects.  

"The PHMIL project is filling this gap and contributing to the reduction of post-harvest losses, as well as the increase in food processing for domestic consumption and the export market," says Astatkie.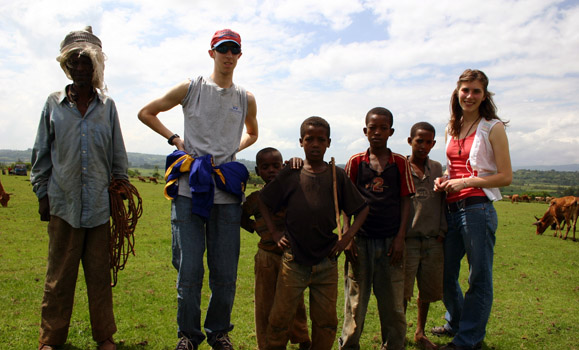 Building global capacity

Through PHMIL, over 10 different agricultural technologies are being built and will be demonstrated at various field sites. The project works with extension agents (called Development Agents) to demonstrate new technologies to farmers and assist with education delivery.  

The PHMIL project has also established new academic programming to meet Ethopia's development priorities. A new academic department in "Post-Harvest Management" was established at JUCAVM, which now offers BSc., M.Sc and Ph.D programs in post-harvest management studies.  

As part of this capacity building, agricultural knowledge in specific areas of expertise is provided. In addition, the cross-cutting themes of Canadian Official Development Assistance — including HIV/AIDS, gender and environment — are important aspects incorporated into the project work.  

"The Post- Harvest Management Department at JUCAVM was the first gender-balanced program in Ethiopia," explains Mellish. Considerations for gender sensitivity in aspects of technology development and demonstrations were incorporated into the program.