When Cassie Lilley and her law classmates did a semester at the Dalhousie Legal Aid Service (DLAS) in the fall of 2014, it was a lesson in what it means to work in a diverse community like the North End of Halifax.
"It's a real eye-opener to see what other people go through," she says. "I came in with a social justice mindset already, but some other students who were looking for the practical experience came out of the experience with much more awareness of their privilege."
Located at 2209 Gottingen Street, DLAS fills a much-needed role in Halifax. First and foremost, it's a teaching clinic as part of the course offerings for Dal's Schulich School of Law. Sixteen students are accepted in both the fall and winter semesters and 12 students are accepted in the summer. During the four-month rotations, they earn 13 credits by working on real cases with real clients, in addition to taking seminar classes with the five full-time lawyers who work at the clinic.
But DLAS is also very much a community clinic, providing legal services and advice to economically disadvantaged people in Halifax, and, according to its mandate, doing "community outreach, education, organizing, lobbying and test case litigation to combat injustices affecting persons with low incomes in Nova Scotia."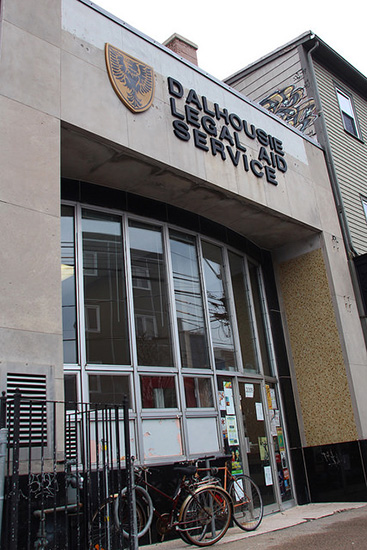 A community fixture
 
Started in 1970, the clinic is celebrating its 45th birthday this year. It started as a summer project and is the oldest clinical law program in Canada. It was the first legal service for poor people in Nova Scotia and is still the only community law clinic in the province. It hasn't always been in its current location on Gottingen Street, though. In earlier years, the clinic was located on Cunard Street, but that came with its own problems.
"The building wasn't accessible," says Donna Franey, lawyer and director of DLAS. "When the Royal Bank here on Gottingen closed, we moved in. We're a storefront here and we get a lot of walk-ins. It makes us a lot more a part of the community to be on ground level."
And the importance of community is certainly emphasized at DLAS. The reception area of the clinic is tastefully plastered with posters advertising workshops and services to help citizens from all walks of life. "We represent the underdog against big corporations, big landlords, often the government," says lawyer Susanne Litke. "When students fall into that place, they need to know that we exist."
Students helping students
 
Indeed, Dalhousie students have a wide range of services that are available to them for free at the clinic. Notary public and commissioner of oath services are available for official documents. There's also the Telelinks service, which offers legal information over the phone with a specific hotline just for landlord and tenancy issues. Members of the clinic also often represent students in court in cases against their landlords.
Having such a large student population, it's no wonder Halifax has its fair share of landlord problems. Lilley says the most surprising thing she learned working at the clinic was just how big the problem is getting.
"There are always people who are going to take advantage of you, but I wasn't expecting the high percentage of slumlords," she says. "The conditions that some people live in are atrocious. And students really get taken advantage of in that regard because they don't have a lot of money and they don't have anywhere else to go because they need to live close to their school. I've had a number of people who have had problems, especially not getting damage deposits back for false reasons."
Having law students on the frontlines in the community reinforces the clinic's commitment to tackling social justice issues. It's Litke's hope that students who spend a semester working at DLAS will learn more fully what it means to practice law, and come out of the experience with a deeper understanding of the day-to-day experiences of people from different walks of life.
"We're exposing what life is like for people living in poverty to a group of people who are going to become lawyers," she says. "In the future, we hope that they might be more open to doing pro bono work and dealing with issues of poverty and social justice."
Dalhousie Legal Aid Service can be contacted at 902-423-8105 or legalaid@dal.ca (please note that no legal advice is given via email).