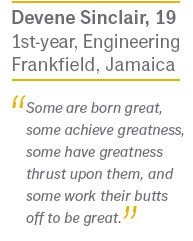 At first glance Devene Sinclair looks like your average 19-year-old: the first-year student loves music and enjoys playing tennis. But those are pretty much the only average qualities she embodies. The first-year engineering student from Jamaica came to Dal with clear goals of success, thanks to the $22,000 Richard & Melda Murray Scholarship.
Born in the rural town of Frankfield — a small community in Clarendon Parish, right in the middle of Jamaica — Devene began excelling at a young age. She worked her way up to the "Young Leader" level of Girl Guides and was in her school's environmental club. She was also active in the Interschool's Christian Fellowship (ISCF) program, a practice she has been able to continue in Halifax by joining the Dalhousie Inter-Varsity Christian Fellowship.
There's a strong sense of community in Frankfield that Devene still draws upon for support, because it was that community — her family, church, and town — that impelled her to come to Dal. Her community expects all of its advanced students to go on to pursue post-secondary education. In fact, she's inspired by her sister, who studying medicine in Cuba.
"She paved the way for me," says Devene. "She's an example. Most intellectual students are expected to become doctors," she says. "But I'm more of a rebel. I like to break the rules."
Following her own path


For the average student, "breaking the rules" doesn't usually meaning opting for a degree in bioengineering rather than medicine. But, again, Devene isn't your average student. She knew she wanted to help people, but wasn't keen on the thought of dealing with sick and wounded patients. Bioengineering seemed to fit the bill better, which led her to the scholarship that set her on her own course to Halifax.
"The scholarship was established by Richard & Melda Murray in 2010, specifically for students from Jamaica studying engineering at Dalhousie," says Oluronke Taiwo, the head of the Black Student Advising Centre (BSAC) at Dal. "Devene is certainly worthy of the scholarship. She's a brilliant young lady who makes use of every support given at BSAC, and she's willing to volunteer despite her tight schedule."
The scholarship is renewable every year of Devene's undergraduate studies as long as she maintains a certain GPA, which shouldn't be a problem. Even as I approach her for our interview she has her nose buried in a textbook — determined to make the most efficient use of her minutes between obligations and assignments. "I always wish there are more than 24 hours in a day," she says. "I hold myself to a higher standard, and being a scholarship-holder puts you in the limelight. People expect you to live up to it."
Of course, she does grant herself a stress reliever now and then — usually in the form of music when she's not dealing with her ever-growing to-do list. Gospel and reggae are her favoured genres, "but not modern reggae! I like older stuff like Tarrus Riley and Beres Hammond."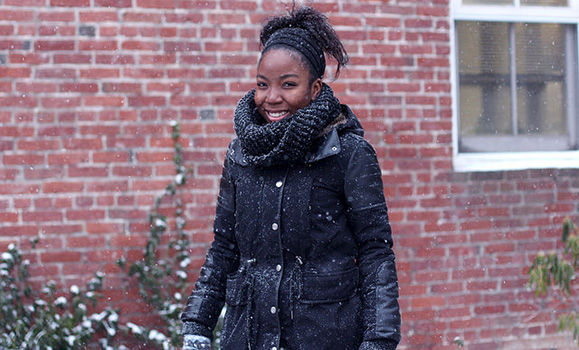 Finding a new sense of community
 
On top of the challenging transition from high school to university, Devene was also faced with having to move to a new country — and a somewhat colder one at that. She had been to Canada before, visiting family in St. Catharines, Ont., but her arrival at Dal was the first time she had been to Halifax. She was nervous, but ready for a change after spending the past seven years with the same small group of classmates.
"Coming from Jamaica, the weather, cultural diversity, making new friends, and city life were all things I had to adjust to," she says.
But the adjustment has come relatively easy for her. Devene recalls one of the first days of arriving when both her residence and the Killam Library had closed their food services for the night. She was directed to a nearby Starbucks where she had dinner, and got lost trying to walk back to her new home. It ended up being an opportunity to learn her way around the city. She quickly befriended her new roommate — a student originally from Cuba — and jokingly dubbed their room the "Caribbean linkup." She also found comfort and familiarity in visiting Halifax's Pier 21, which is where her family in St. Catharines originally landed upon immigrating to Canada.
Though she's settling into her new life and community, there's something that can't be replaced from home: good Jamaican food. She misses the plates of ackee saltfish, roast breadfruit, and festival (Jamaican cornbread fritters) that her mom cooks. "Res food is fine, but their jerk chicken is pretty much just salt and pepper," she laughs.
Still, bland food is no hindrance to her dream of becoming a bio-engineer and making significant contributions to Jamaica and her new home in Canada, and she doesn't plan on slowing down before achieving her goals.
"When I have an assignment or busy day I just think, 'Let's get this done.'"
Editor's note: The original posting of this article had the incorrect dollar amount for the Richard & Melda Murray Scholarship. It has now been corrected.