Attendees of this year's DalPower breakfast had more than the complimentary meal to feast on — the event certainly delivered in terms of food for thought as well.

About 70 people gathered in the Life Sciences Research Institute in late November for the latest instalment of the DalPower series of events, meant to highlight Dal's contributions to the wider world. The audience included government officials, members of industry, and a variety of Dalhousie faculty and staff.

Moderated by President Richard Florizone, the breakfast featured a discussion with Daniel Boyd, Dal professor and chief scientific officer of ABK Medical; Stephen Hartlen, Dal's associate vice-president of Industry Relations and the executive director of the university's Industry Liaison and Innovation Office; Mary Kilfoil, the academic lead for Dalhousie's Starting Lean initiative; and Braden Murphy, an alumnus of Dalhousie and the CEO of Atlantic Motor Labs.

This iteration of DalPower raised awareness of some of the many supports for entrepreneurship at Dal and considered ways to grow those supports. The panelists had a diversity of experiences with entrepreneurship at Dal, which made for a multi-faceted discussion.
Supporting opportunities

"We know that we have world-class research facilities here at Dal, but we know that also know that there's so much untapped potential," President Florizone said. He spoke about the vibrant entrepreneurial culture and mindset we have at Dal, with more than 1,600 students participating co-op placements last year as well as supports for students to turn their innovative ideas into economic opportunities.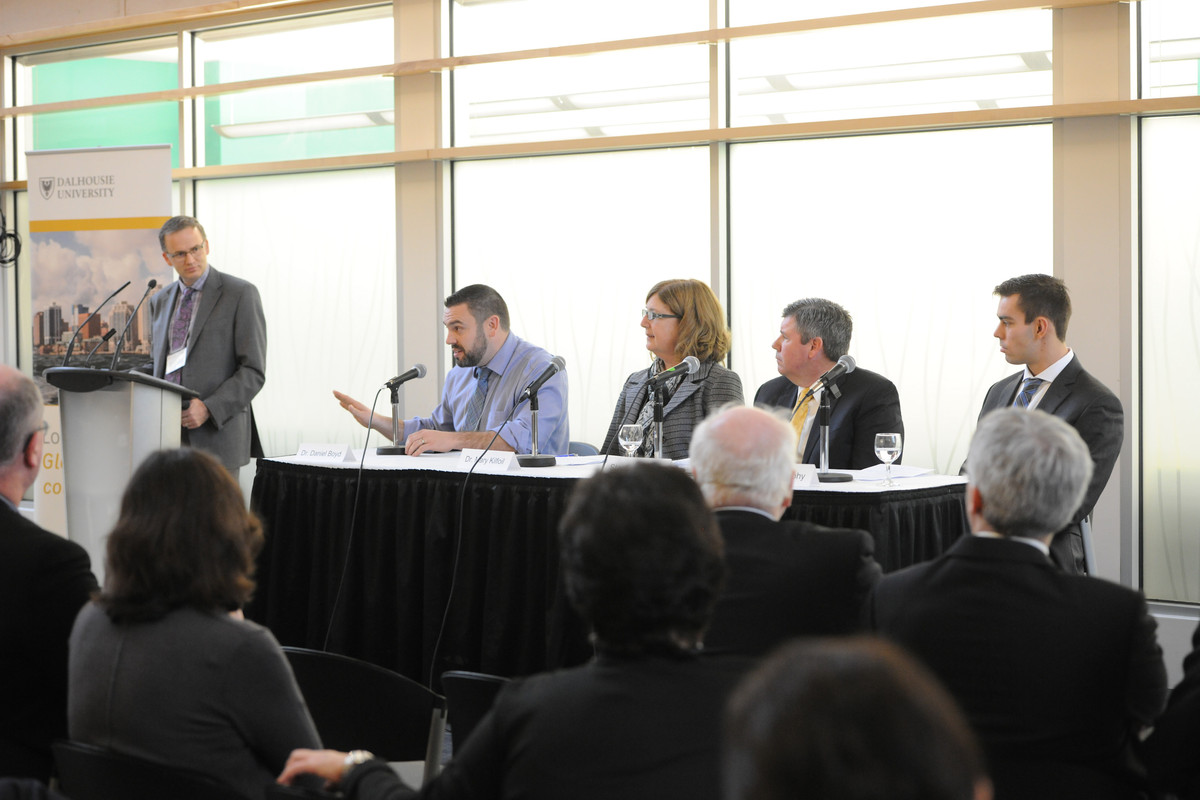 The discussion featured plenty of audience engagement. After giving the panel a few minutes each for remarks, Dr. Florizone gave the audience the opportunity to ask questions; the conversation that resulted was energizing.

"Students are creating networks and using their talent, and we're seeing that now benefitting the local economy," Dr. Kilfoil said. In her role as lead for Dal's Starting Lean initiative, Dr. Kilfoil oversees mentorship programs, increased training and networking from the ground up, having business leaders in the classroom and providing students with tips for success.

According to Dr. Boyd, it's the university's ability to strike a balance that will make the difference for students and aid in Canada's goal to increase start-ups by 50 per cent: "The university needs to do the right amount of letting go, but provide enough support for the company to fall back on if need be."
Smart ideas

When it comes to industry partnerships, Dal is quite successful compared to its peers. Out of the U15 group of research-intensive universities in Canada, Dal is sixth in terms of overall industry engagement, and second on a per-faculty member basis for both engagement and industry-sponsored research dollars.

Braden Murphy is living proof of the success Dal students have had in working with industry collaborators. Murphy worked alongside a group of peers to develop an experimental motor design as a senior project, which won the Innovative Design and W.R. Petri award in the 2010 Canadian Engineering Competition. After completing his undergraduate Engineering degree at Dal, he continued to develop the technology during his graduate studies, received his Masters of Applied Science in Mechanical Engineering at Dal and eventually started his own company in 2013. He credits Dal and his professors at the university as major players in his ability to turn his technology into a successful company.

"I had a mentor within Management, but I was given the resources I needed and the emphasis was put on me to figure out what I had to figure out," said Murphy. "Our students are going out, they're seeing real-world problems and they're deciding that they want to do something about it. There's a lot of expertise in Nova Scotia; you've just got to get up and go find it."

His words were echoed by the other panelists, who were adamant in the belief that it takes a village to get a start-up off the ground — an environment that many at Dal are working hard to provide.

"I'm still learning," President Florizone said. "But what I can tell you absolutely is that we're only going to be able to unlock this potential by working together."

The event was offered as one of the Association of Universities and Colleges of Canada's annual Open Doors Open Knowledge series of events across Canada. AUCC chose the theme of "Big Ideas for Better Business" for its national series.