Each year, hundreds of community members flock to Dalplex for its annual Christmas Craft Market, which took place this year from November 28-30. We sent writer Rosalie Fralick, Bachelor of Music student and an admitted craft fair fanatic, to check out the sights.

I have a system for craft fairs. I go to two or three a year. When I walk in, I take a quick look around and breathe in the smell. Christmas craft fairs have a special smell, like a mix of cranberries, chocolate and cedar. My trip to the Dalplex Christmas Craft Fair met all of my scent expectations as I stood in the entrance, soaking in that smell.

Then I begin. I walk through each of the aisles, trying samples of cheeses and jellies. I chat with the vendors who stand out for whatever reason. In some cases it's a beautiful knitting booth that I seek to emulate. Other times, I'm fascinated by an art form that I can't imagine ever being able to create, like woodcarvings, or beautiful pewter trinkets.

At the Dalplex Christmas Craft Fair, some of my particular favourites were All For Knot Rope Weaving, with beautiful and intricate rugs, and Amos Pewter. On that first walk through I might buy a couple of treats as well at booths like those of the Cake Lady and Newfoundland Chocolate Company.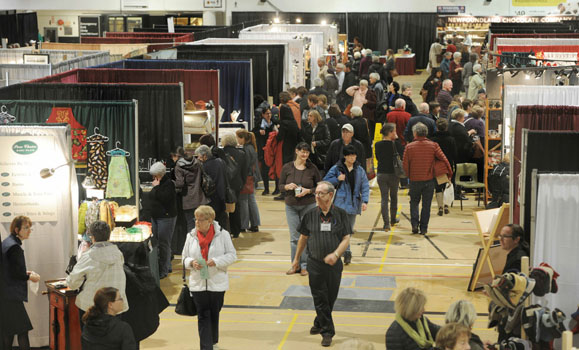 That's all in "round one" through the fair. Come round two, I'm ready to start making purchases. I walk back through at about double the pace of my first walkthrough and only stop back at booths that made an impression. Often I stop at sewing or knitting stations, but can't bring myself to buy anything because I convince myself, "I could make that," even if I'd never have the time or patience for a particular project.

Eventually I buy mostly edible items, preserves, spices, etc. The one exception this year was two fun sock worm kits from Funky Monkey that I intend to make with my mother over Christmas. Apart from that, my two favourite purchases by far were a delicious mulled cider jelly from Ship Builders Cider and a fantastic Christmas Liqueur by Tangled Garden.

Dalplex's fair suited my system so perfectly and had one of the best selections I've seen this year. I can't wait to see what the next holiday season has in store.