This article first appeared in the Fall 2014 issue of Dal Magazine.

If life is a circus, then Dawn Shepherd (BA'02) is a star performer.

Effervescent and outgoing, the elite coach, circus director, artistic counsellor and public health worker seems to effortlessly juggle as many hats as she can body positions. This innate flexibility has allowed her to play many different roles in her personal and professional life, from full-time science and physiotherapy student at Dal, to trainer and recruiter for the elite National Circus School in Montreal, to advocate and outreach worker for youth-at-risk with a focus on children's health and HIV/AIDS.

Throughout, Shepherd has managed to combine her passion for helping marginalized communities with her love of aerial acrobatics.

"The circus arts are a wonderful metaphor for life," says the New Brunswick native, a skilled aerial performer in her own right. "And teaching is a very noble profession. As a teacher and mentor, I like to help communicate those values of trust, respect and teamwork — things you need to inculcate when doing something like circus arts. And these values translate into those all-important life skills we all need."

Inspired by childhood memories of the circus in Saint John, N.B., and later of the Cirque du Soleil in Montreal, Shepherd's personal journey is fueled by her love of singing, dancing and acting. She came to Dalhousie to study Biology and switched to Physiotherapy for three years, before going back to finish her BSc.
Giving voice to the disadvantaged

"My time at Dal — in particular with the Physiotherapy program — really helped inform my work as a trainer of elite-level performers at the National Circus School," she says. "These [aerial] athletes are working at a very high level, at a place where you're going beyond the body's typical functionality to the extremes of the body's range of motion."

As fluid and graceful in person as she is performing her aerial silks, Shepherd's passion is to give voice to the dreams of the young and the disadvantaged. "I love working with youth and young adults," she says. "I find they have a lot to say, contrary to what people assume about the younger generation."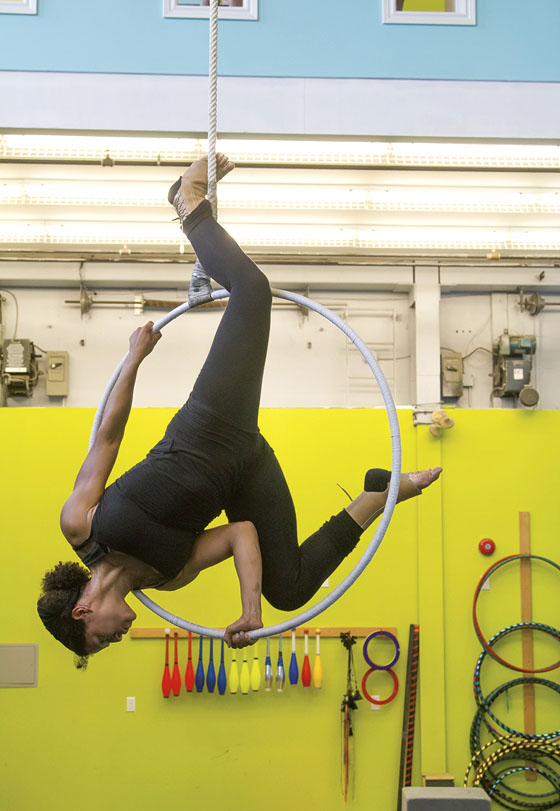 To that end, Shepherd is currently juggling a number of initiatives. In Halifax, for example, she is working to support the local circus community by working with circus instructors to advance their technical knowledge and to strengthen programs targeting children and youth. "I want to help raise the level of circus training here, which will motivate recruiters from the elite schools to continue to visit and consider talent from the Atlantic region."

Further afield, Shepherd and her partner Ryan Gray (BA'06), a Dal Music grad, have partnered with Zip Zap Circus, a not-for-profit social circus in South Africa, and they are developing a project with youth-at-risk, including those living with HIV/AIDS.

"Working with Zip Zap allows me to use all my skills, including those in community development in public health," says Shepherd. "I can't wait to officially begin the project next spring."