This article was first published in the Fall 2014 issue of Dal Magazine. This Saturday, November 22, the Camp 14 Project will be hosting a symposium on human rights in North Korea in the Potter Auditorium at 2 p.m., as well as a rally in Halifax on Friday night. Learn more on their Facebook page.
Convocation is a time to celebrate and reflect on journeys: how far students have come in their time at Dal, and where they might head next. Sitting on-stage during the Faculty of Arts and Social Sciences ceremony in May, Shin Dong-hyuk watched the parade of robes and mortarboards and contemplated his own journey, the most unlikely and inspiring of all.

Shin was in attendance to receive an honorary doctorate from Dalhousie, but his path to that moment began in a place where such celebrations were beyond imagination. Born in a prison camp in North Korea, Shin spent his first two decades in perpetual hunger, suffering violent attacks by guards and engaging in backbreaking labour. As a child, he witnessed the executions of schoolmates and family members. He learned that to trust, or be trustworthy, could be dangerous and even deadly. So complete was the isolation that his captors did not even bother to indoctrinate him with the Kim regime propaganda that bombards most North Koreans. Shin had no framework for conceiving of what lay beyond the electrified fence surrounding Camp 14 — until he made his way under that fence and, eventually, to freedom.

Today, Shin is the only person known to have been born in a North Korean prison camp and escaped. He has given testimony to the United Nations about the human rights abuses in North Korea and formed his own non-profit advocacy group, the Washington, D.C.-based Inside NK. His courageous activism inspired students in Professor Bob Huish's Development and Activism class, who nominated him for an honorary doctorate from Dalhousie — the first university award of its kind bestowed on a North Korean defector.
As he watched the graduates — some now friends — cross the stage, "I saw how they were smiling," Shin says. "It was a smile that came about naturally. It was not forced on them. I, too, was able to smile and partake in their happiness."

From coursework to action

Bob Huish, a professor in Dalhousie's International Development Studies program, has a track record of inspiring, and being inspired by, his students. He says students demanded to learn more than just traditional development studies techniques like grant-writing. Dr. Huish was happy to oblige and in 2010 created Development and Activism, a course that gave students hands-on tools and the chance to apply them. Each year, in addition to their individual assignments, students work collectively on a particular activist project. "The idea is that it would have an experiential component where students would organize a protest and learn about the whole dynamics of it," says Dr. Huish, noting that the project teaches principles ranging from non-violent resistance to generating publicity.

The chance to go beyond essays, tests and textbooks and into real grassroots activism touched a nerve in Dr. Huish's passionate and conscientious students. "Instead of just reading about an activist campaign somewhere else in the world, we were able to apply some of the same strategies and techniques that we read about," says Patrick Balazo, who took the Development and Activism course in 2012.

Balazo's classmate Paige Munro concurs, saying Dr. Huish's teaching style and the course's blend of theory and practice made it "my favourite class that I've taken in my four years at Dal."

In the first two years of teaching the course, Dr. Huish focused students on raising awareness about food security in developing nations. But after reading Escape from Camp 14, journalist Blaine Harden's chronicle of Shin Dong-hyuk's escape from prison camp and evolution as a human rights activist, Dr. Huish shifted the course's focus to human rights abuses in North Korea. He added the book Escape from Camp 14 to the course syllabus and helped his students create what was dubbed the "Camp 14 Project."

The book sparked outrage and action from Dr. Huish's 70 or so students. Carrying signs and slogans, they marched in the fall of 2012 to  the Halifax Security Forum in an attempt to put North Korea's rights violations on the world's radar. The students' message resulted in local television coverage and community members joining the march. "It was very empowering to see that our voices were being heard and that we could make a difference," says Chrissy Lynch, also in the 2012 class. "It made our movement a lot stronger and made us, as a group, think positively about making change in society."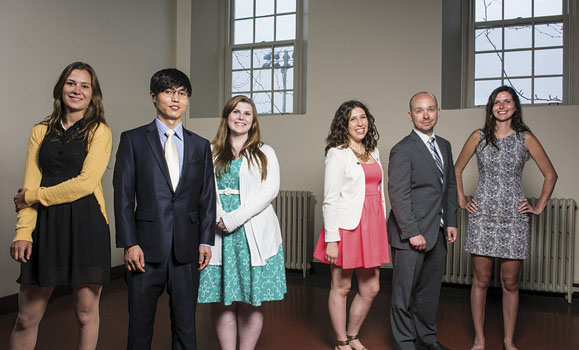 LEFT TO RIGHT: Jocelyn Cormack, BA'14; Shin Dong-hyuk, LLB(Hon)'14; Paige Munro, BA'14; Molly O'Ray, BA'14; Dr. Robert Huish; and Alida O'Connor, BA'14. (Andrew MacKenzie Fraser photo)
The Camp 14 Project was noticed around the world, especially through the group's Facebook page. A university student in Texas started a local version of the project after reading about it. And one especially noteworthy person, who had been following the Dalhousie group on social media, was compelled to get in touch. "You guys are my heroes," said Shin Dong-hyuk in a Facebook message to the Camp 14 Project. "I come to see you. Promise."

The Development and Activism students immediately set about making sure Shin could keep his promise, raising funds to bring him to Dalhousie. Several bake sales later, Shin was on his way to Halifax to meet his heroes and give a speech on the Dalhousie campus to a crowd of more than 600 people.

Shin could scarcely believe that a group of students at a university halfway around the world from North Korea would become so dedicated to his cause. For a man who grew up with little reason to hope — and whose optimism has often been tempered by the glacial pace of action from powerful global organizations — these Dalhousie students offered a reason to believe.

"I've spoken with people from the UN, but the feeling I got after these meetings was one of disappointment. These people had heard my story but they told me that there was a limit to what they could do to address the human rights situation in North Korea," says Shin. "However, with the Camp 14 Project here on campus, the students moved the school and the school moved the city." In Shin's eyes, Dalhousie's incremental achievement stemmed from the personal investment of the students, a spark of passion he sometimes feels is impossible to ignite in bodies like the UN.
A continued effort

Following the success of the Camp 14 Project in 2012, Dr. Huish decided to maintain the focus on North Korean human rights for the 2013 edition of his Development and Activism class. The new students again organized a march to the Halifax Security Forum. Again, they raised awareness through social media. This time, the results were even more impressive. The Chilean minister of defence acknowledged the peace march and the need to fight for human rights in North Korea. Many representatives inside the Forum began to follow the Camp 14 Project's Twitter hashtags. Halifax Rainmen basketball coach Craig Hodges was criticized for a planned visit to North Korea with former NBA player Dennis Rodman, a public reaction Dr. Huish believes was stoked at least in part by his group's work. "I'd like to think that our work informed that (reaction)," he says. (Hodges missed a flight connection and never made it to North Korea).

Meanwhile, the Camp 14 Project became an official society at Dalhousie, separate from the class itself. Founding members Alida O'Connor and Jocelyn Cormack, together with Dr. Huish and his 2013 class of students, worked towards nominating Shin for an honorary doctorate and bringing him back to campus to receive it. Dr. Huish turned the nomination process over to the students, reasoning that they were better positioned to speak to Shin's impact. Chrissy Lynch, who served as the primary nominator, and Paige Munro, who wrote one of the primary nomination forms, were eager to take on the challenge. "I felt very strongly about writing the nomination letter," Munro says.

A few months later, Shin was back in Halifax, standing on stage to receive his honorary doctorate and preparing to deliver an inspiring speech to Dalhousie's graduates. Though he had spoken English in some prior public appearances, he chose this time to speak Korean because, he says, it allowed him to better express his true feelings. With the help of friend and translator Henry Song, he explained to the attentive crowd of faculty, graduates and their families how Dalhousie students had helped him learn the meaning of joy and happiness and he urged graduates to spread those feelings into the places, like North Korea, where such emotions are in short supply.

The students who had rallied around him in the Camp 14 Project hardly needed the prodding. Their experience has encouraged them to continue fighting for human rights in North Korea. This past summer, the Camp 14 Society sent the results of a letter drive and Facebook petition to the South Korean government, putting pressure on that nation to prioritize the human rights of their northern neighbours. As Jocelyn Cormack, a founding member of the Camp 14 Society, puts it, the end of the class doesn't mean the end of activism.

Dr. Huish, meanwhile, visited South Korea last December and has begun to study the work of activist groups there. His work benefits not just future classes of Dalhousie students but the university as a whole—thanks to Dr. Huish and his students, Dalhousie has become a trailblazer on human rights, recognized in letters of support from members of all political parties in Parliament.

Dr. Huish believes this achievement, and Dalhousie's unique focus on human rights in North Korea, reflects a learning environment that fosters engaged, socially conscious student-citizens. "That's what we offer, and no one else in the country does that the way we're doing it right now," he says.

His students echo the sentiment, noting that the Development and Activism class gave them the skills and sense of empowerment to tackle the world's most challenging problems. "IDS is a program where you learn about a lot of world issues that can be upsetting or discouraging," says O'Connor. "This class has shown that you can pick something and go after it and make a difference."

An inspiration

At convocation, Shin's words conveyed a powerful message, as a man once devoid of hope implored listeners to embrace hope for themselves and transmit it to others. His speech was all the more memorable for the fact that, only a couple of years ago, it would have seemed so improbable. "All of this happened because 70 people in a class read a book and got inspired," says Dr. Huish.

Perhaps none of the Camp 14 Project's achievements is greater than earning the gratitude, encouragement and friendship of the man whose story sparked the movement. For his part, Shin says the students continue to inspire him. "When I see the students at Dalhousie taking action and leading the way, I think that this will be noticed and have an effect on organizations like the UN and then they will take action. That is my hope."

Hope. Even more than the honorary doctorate and the campus visits, it's the gift from Dalhousie that Shin Dong-hyuk treasures most of all.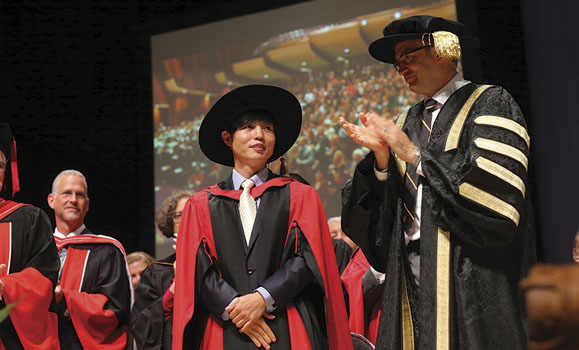 (Danny Abriel photo)