The chilly morning and overcast sky did nothing to deter visitors this past Saturday, as more than 1,800 future students and their parents toured Dal's Halifax campuses for the university's annual Open House.

The vibrant autumn lent its vibrant colours indoors, as faculty, students and volunteers from a wide variety of departments propped up their respective banners and booths and prepared for the busy day ahead.

It was not long before the quiet rooms were filled with the hustle and bustle of chatter and questions.

The full schedule of events kept parents and potential students engaged and learning. After check-in, visitors had an opportunity to attend information sessions and lectures introducing them to Dalhousie. Three different fairs — Academic, Services, Clubs and Societies — offered an opportunity to speak to professors, students and other members of the Dal community and learn about life on campus. Visitors were also able to attend guided campus, Dalplex and residence tours, topped off with a complimentary lunch.

One of the more popular events was the on-site admissions, in which students lined up with their transcripts, application forms and fees to find out, on the spot, if they were accepted into Dalhousie. In total, 445 students took up the opportunity to apply early to Dal.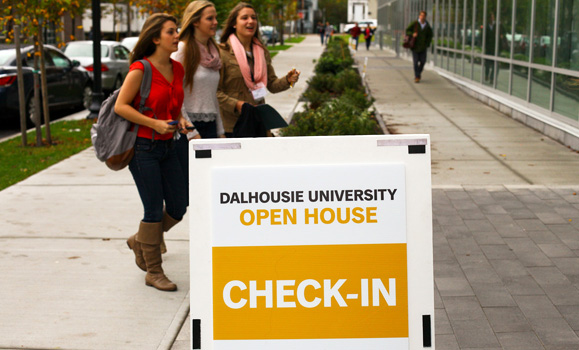 An early look

Not all Open House visitors are at the application stage, though. Gina Park, a 10th grader living in Halifax, proactively decided to scope out Dalhousie early because she figured if high school passes by as fast as junior high did, she better get a move on.

"I don't want to be one of those people who decide at the last minute" she says, "I want to know where I'm going."

While Dalhousie is a possibility, Park admits she is undecided about what she wants to pursue. "I would love to go to a school in Halifax because I grew up here watching the city and the students" she says. "At the same time, I want to see the world and travel."

Interested in music, tourism, history and language, Park had a unique opportunity on campus to explore all of her favorite subjects, as this year's Open House has something for everybody. The move to Saturday this year was accompanied by additional sessions, tours and exhibits.

"We're really excited about it", says Katherine Cross, program and registration coordinator. "It really allows students to tailor this day specifically to their own interests."

Sherri Slate, a staff member with Ancillary Services and a volunteer with Open House, stood at the entrance of Studley Gym, dishing out Dalhousie recyclable bags, brochures and a sunny smile.

Praising this year's changes in the presentation format, Slate says that, "the programs this year are very much student or self-driven, so it's different that they're not being handed a canned product. They get to personalize and customize it to their own personalities and tastes."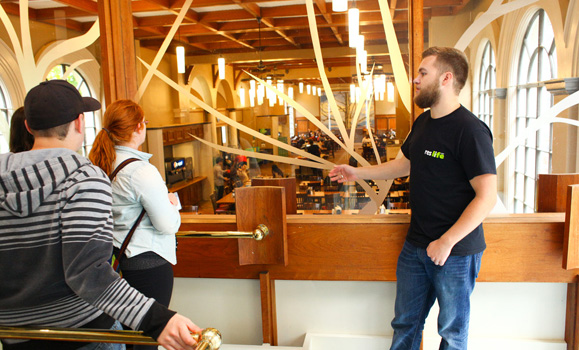 Introducing parents to Dal

Holding the Open House on the weekend instead of its usual Friday allowed more parents to take part. "We certainly had a larger parent turnout than maybe in previous years, because the parents aren't working on Saturdays," Slate says. "We've had more space availability… because of course getting classrooms during the day Monday-to-Friday is extremely tight. So it's opened up a lot of other opportunities and options that might not have been done [during weekdays]."

Kelly Bradley has a son in Grade 12, and after seeing the ad online for the Open House, thought it would be informative for her son, who is still deciding where he wants to go and what he wants to take.

"He's our first child to go to university, so you tend to maybe want to hover," she laughs, evoking the common "helicopter parent" term. "But you can't. Because it's not our decision. It's his decision. We're trying to give him as much freedom to choose as he wants."

For Bradley, providing support to her son also means knowing when to give him space. "We went over and started talking to the people at the science table, as he's thinking of maybe a science degree. And then a student in that program came along and so we [the parents] quickly left," she says, acknowledging that peer-to-peer conversation is one of the great parts of Open House.

"I'm impressed with the organization and the enthusiasm that everybody here is showing," adds Bradley. "The people here have been unbelievably friendly, well spoken; they look you in the eye. They're just really personable."