It's an icy cold challenge that's gone red hot the past two weeks.

No doubt your Facebook and Twitter feeds have been flooded with videos of friends, celebrities, athletes and countless others dumping buckets of ice water on themselves. The Ice Bucket Challenge, as it's called, is about raising money and awareness to combat ALS (amyotrophic later sclerosis), sometimes known as Lou Gehrig's disease, a debilitating neurodegenerative disease that affects upwards of 3,000 Canadians.

The exact origins of the challenge are still a subject of debate: it's certainly a grassroots effort, and at one point the idea seems to have been that people would have the choice between dumping a bucket of cold water over their head or donating to their country's ALS association. But over time, the method of taking part has become clearer: individuals or groups pledge to make a donation to help fight ALS, then pour buckets of ice water on themselves on video before challenging three other individuals or groups to do the same.

Over the past couple of weeks, the Ice Bucket Challenge has been so popular that the ALS Society of Canada has had to take down its regular website due to the amount of traffic it's received; the society is focusing all of its web resources on making sure people can donate to the campaign.
Dal gets dunked

This week, the Dal community has gotten on-board in a big way. Those who've taken part include President Richard Florizone; multiple Deans; the Dalhousie Student Union; Medicine; Occupational Therapy; Physiotherapy; the Fountain School of Performing Arts; and many others. (Dean of Agriculture David Gray's is particularly epic as, instead of an ice bucket, his water delivery method of choice is a tractor.)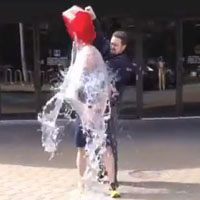 Several of the Dal videos stem from one starting point: Tom Boran, dean of the Faculty of Dentistry. He filmed his video this past Monday, challenging President Florizone, the Faculty of Medicine and the Faculty of Health Professions, calling out the School of Occupational Therapy specifically.

"I had seen the videos others were doing, and it sounded like a great initiative for a worthy cause," says Dr. Boran. "It's perfectly in line with our Health and Wellness initiative in the Faculty of Dentistry and we also saw it was a fun way to springboard the rest of the university into taking part."
"The moral enthusiasm of the moment"

That "challenge" aspect of the campaign is key to its appeal. Bob Huish of Dal's International Development Studies program teaches the university's course on Development and Activism. He says the campaign has been so effective so quickly because it's viral by its very nature: as participants challenge one another, or as well-connected individuals or celebrities take part, the message spreads.

He says the campaign also benefits from leveraging what he calls "the moral enthusiasm of the moment."

"It's one of those moments where a campaign has grasped everyone's attention and offers an easy, fun way to participate," he says. "The challenge now for the ALS organizations — who didn't start this, but are now helping support it — is figuring out what to do with this flashpoint moment."

Dr. Huish says a shortcoming of many campaigns built around either awareness or general fundraising is that they don't necessarily dive into harder questions about the social, public health, economic and other issues that often surround major diseases or disorders, or outline specific uses for the funds raised. For a campaign like the Ice Bucket Challenge to have a long-term impact, he says both the individuals taking part and the charities will need to make sure the conversation continues.

"If it goes no further than dumping ice, then it's really a missed opportunity to have those more challenging conversations about how we improve the quality of life of people affected by ALS," he adds.
Raising awareness

Many of the videos from Dal thus far mention research being done to fight ALS, and videos from students and staff in Occupational Therapy and Physiotherapy note their professions' role in helping people afflicted with the disease. Chris Moore, dean of the Faculty of Science, even pledged to create a scholarship in his Faculty for an undergraduate student interested in researching neurodegenerative diseases.
Dalhousie hosts ALS research, including the medical school's Dr. Vic Rafuse, director of the Brain Repair Centre and professor in the Department of Medical Neuroscience. His team is exploring methods to restore motor neurons destroyed by ALS.

"ALS is not as common as some of the other diseases people are familiar with, such as Alzheimer's, Parkinson's Disease," Dr. Rafuse told Global News in an interview last Friday. "So I think anything — social networks, television, radio — that can help bring awareness to this devastating disease is obviously a good thing."

Dr. Rafuse and his team completed the challenge themselves for Global News' cameras last week.

Here are just a few of the many Dalhousie Ice Bucket Challenge videos thus far.
Tom Boran, Dean of Dentistry



Richard Florizone, President



Dalhousie Student Union



David Gray, Dean of Agriculture



Robert Summerby-Murray, Dean of Arts and Social Sciences



Chris Moore, Dean of Science

School of Occupational Therapy
School of Physiotherapy



Fountain School of Performing Arts



Peter Dykhuis, Dalhousie Art Gallery



Nick Tentomas, Facilities Management Information Technology/h4>



Claude Caldwell and Kenny Corscadden, Faculty of Agriculture