The LeMarchant Mixed Use Building, a 165,000 square-foot, five-storey building, welcomed its first tenants this summer on the bottom two floors, and will be home to 300 students this year in the suite-style residence rooms on the top three levels.
At the north end of the first floor is Dal's Recruitment and Enrolment Centre, which has moved from Shirreff Hall. This is also the new base for campus tours.

At the south end of the first floor, behind the yellow-hued floor-to-ceiling windows and glass doors, you'll find the International Centre. The incredibly open space, with its bright white and green walls, light wood ceilings, and exposed concrete, will be a hub of activity on campus for Dal's growing international student population.
In the back of the new centre, looking out into the building's atrium, is a large space that students can use to meet for lunch or coffee, and for studying and socializing during the day. After hours, students groups like DISA (Dalhousie International Student Association) can book the space for meetings.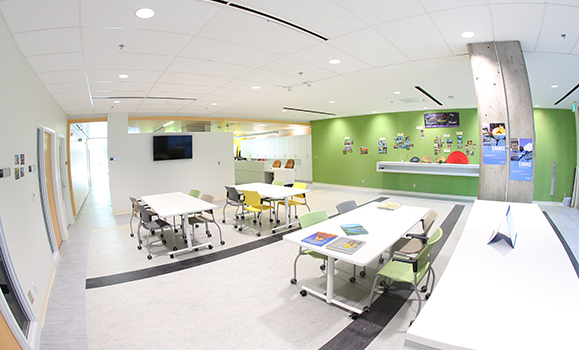 The open gathering space in the back of the International Centre.
While the fully accessible space provides offices for staff and part-time student staff, a lounge with comfortable chairs and wall-mounted TV, as well as a meeting room for staff and student groups, the highlight of the centre is perhaps the large public kitchen. With two refrigerators, dishwasher, microwave, and massive island, the kitchen is available for students to use during the day, and will be used for receptions, pot luck dinners, and other events such as cooking demonstrations.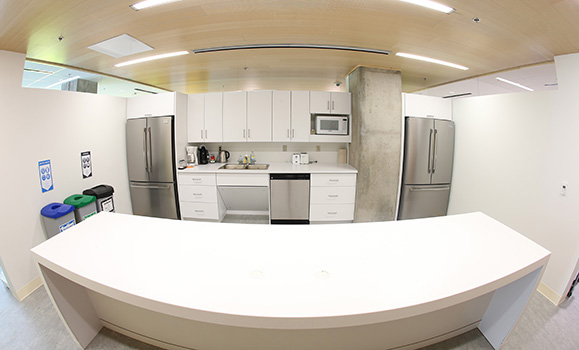 The kitchen can be used by students and for larger functions.
"Since we've moved in, students have been overwhelmed by what the new space has to offer," says Pam Williams, manager of the International Centre. "It's such a pleasure to tell them that the space is theirs to use and enjoy."
For students looking for a space for prayer or meditation, there is a Quiet Room on the second floor of the building that includes ablution facilities for ritual washing.
Also on the second level, is Dal's new hub for student health and wellness. Student Health Services, Counselling Services, and Student Health Promotion take up the entire floor—along with a couple of group meeting rooms—allowing for better collaboration between the three units.
Read about Dal's new approach to student health care here.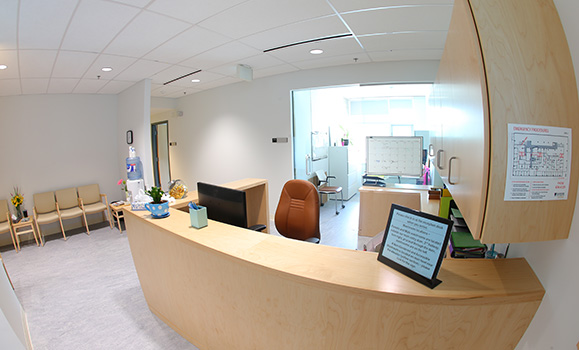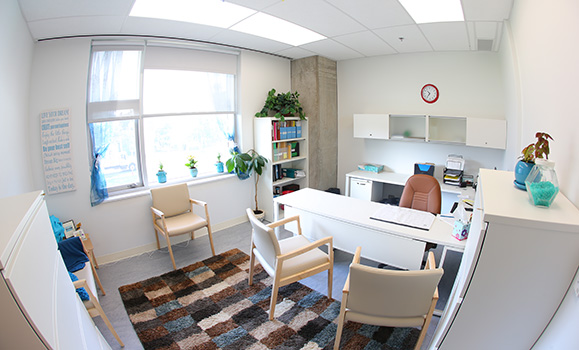 The new Counselling Services space is comfortable and inviting.
To access Student Health Services and Counselling Services, enter the building through the doors at the north end (closest to the Grad House), and either take the stairs or elevator that are located in the atrium area in the back of the building.