There may still be construction fences in place, and people in hard hats working away on the last details, but this month the new LeMarchant Mixed-Use Building welcomed Dalhousie Health Services, Counselling Services and Student Health Promotion. It also signals a new era of student-focused health and is the first time that all three units have come under the same roof.
"For students, it means one location where their health care providers — physician, nurse, psychologist, psychiatrist, and health promotion/educaton — are steps away," says Verity Turpin, executive director of student wellness. "And it will be easier for our staff to collaborate on programming and services for our students."
With the moves into one central location, the second floor of 1246 LeMarchant Street is now a hub for student health and wellness. And besides the fresh and bright new look for all three offices, other changes are taking place — particularly with Health Services.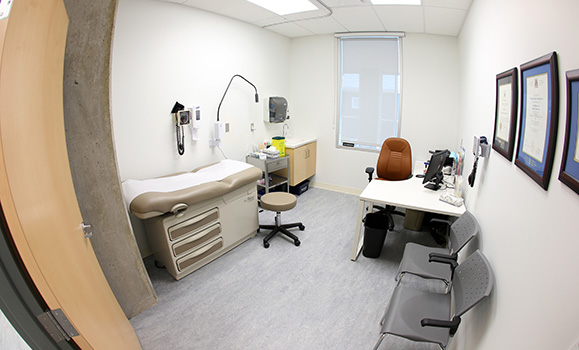 A typical physician's room in the new building.

Now known as Student Health Services (SHS), the clinic has a much larger and more comfortable waiting room and more patient-friendly examination rooms. It's also taking on more of a student-centric approach to its services and programming. For example, starting in September, certain appointment times will be held for students so they get priority booking and can be accommodated quickly for high-priority cases. And new hires are on the horizon.
"One of our priorities this summer is the design of the new nurse practitioner position, with the assistance of our colleagues in the School of Nursing," says Turpin.
She says a nurse practitioner will be hired in the fall to work with the medical director and manager of Student Health Promotion to develop new targeted programming for students.
"Mental health support is a priority for our students and the university," says Dr. Glenn Andrea, medical director of SHS. "We'll be finding new ways to collaborate with our existing nursing staff and the nurse practitioner to expand our support services for students.
"We'll also be doing more outreach programming to students. For example, students can expect mobile clinics for things such as the flu and STIs on Sexton Campus, and educational programs that support mental health, sexual health, and alcohol harm reduction."
The changes will also allow for more hands-on learning opportunities for students in the Faculty of Health Professions. This fall, with the support of the School of Nursing and the SHS physicians, nursing students will be taking on integral roles in vaccine and STI clinics on campus.
"The opportunities for collaboration with students and faculty in Health Professions is endless," says Dr. Andrea. "Partnerships that focus on enriching the student experience, as well as increasing our capacity for servicing the student population, will be a priority in the coming years."