Listening to Mary Kilfoil is a bit like getting a guided tour of the most up-and-coming parts of town from the coolest kid in the neighbourhood. You lean out the car window as she points out innovative companies and stellar startups. Her ideas and plans come faster than you can take them in. At the same time, you know she's always listening, always learning, watching for the next big thing.

As the winner of the national Startup Canada Entrepreneurship Educator of the Year Award, she knows what works to get new ventures off the ground. Dr. Kilfoil first won the Startup Entrepreneurship Educator Award for Atlantic Canada in May, and went on to receive the national honour at a gala event at the CN Tower on June 12.

She's thrilled to be the winner, but what really gets her fired up is talking about her students.
 
"Working with people who are passionate about something and enabling them — that to me is very empowering," she says. "When I see a team working together that would not normally be together, it just makes me smile."
Training critical thinkers

Dr. Kilfoil is an assistant professor in the Rowe School of Business and academic lead for the Starting Lean Initiative at the Norman Newman Centre for Entrepreneurship. The initiative helps committed students start their entrepreneurial journey off right.

Her national and regional Startup Canada awards stem from two foundational courses in the program: Starting Lean and Innovation.

"Both courses involve experiential learning. It seems so easy: if you're trying to develop something, why wouldn't you talk to the end user? Often, we don't have the opportunity to think, listen, translate what we're hearing. I say, tell someone a little bit about your idea, then stop talking and listen to the person who's ultimately going to be using it. It really helps them become critical thinkers; it's something that differentiates our graduates."

One of the special things about Starting Lean is that it's open to all faculties, attracting students from disciplines ranging from arts to sciences, from nursing to engineering, from technology to business, from architecture to agriculture. Students work in interdisciplinary teams with mentor entrepreneurs and develop collaborative, real-world skills. Whether or not they carry on to start a business is up to them.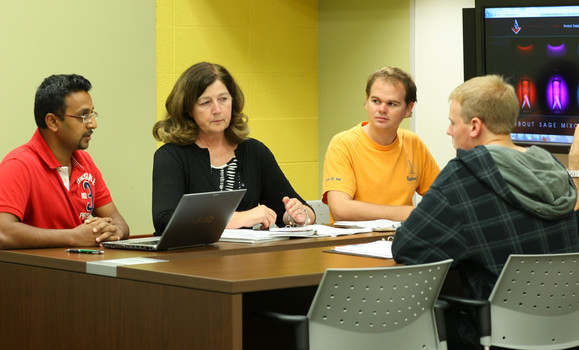 National recognition

But back to that national award.

"I was blown away by it, because it was really stiff competition!" says Dr. Kilfoil. "I was blown away when I got the regional award… but national! This is a win for all of us: for the Faculty, for Dalhousie, for the Newman Centre."

Startup Canada is a non-profit organization devoted to advancing entrepreneurship. The award recognizes Dr. Kilfoil for her excellence in teaching and for inspiring students through hands-on experiences and community connections. She practices design thinking, and uses the lean business model canvas to show — not tell — students what it takes to solve difficult problems.

"None of this is new. We are taking approaches like Design Thinking and applying it different ways. It's very human-centric: it means designing in a way that helps you understand what you're taking to market, and making sure you have that customer validation up front."

As for the future of entrepreneurship in Nova Scotia, for a long time Dr. Kilfoil worried about her graduating students. "They would feel they couldn't stay here. To whatever extent I can play some role in changing that, it brings significant meaning to the work that I do."

"Dr. Kilfoil helped us think like innovators and entrepreneurs and, most importantly, to get out of the building and talk to potential customers," says student Justin Javorek. Fellow student Cameron Sieffert agrees: "Dr. Kilfoil has given us a skill set that allows us to take our ideas beyond the blackboard."
Success stories

Starting Lean really works, and the startups that spring from it do, too. Sage Mixology just signed a major distribution deal with the Liquor Control Board of Ontario. Spring Loaded Technology developed a new knee brace that builds the strength and power of leg muscles, revolutionizing the way some knee injuries are treated. AnalyzeRe, which helps reinsurance companies analyze risk, just signed a deal with Nova Scotia Business Inc. that will create as many as 50 jobs in the next few years.
And this fall, Dr. Kilfoil is adding a new course to the roster: Innovation: An Introduction to Design Thinking. The class, open to undergraduates in all Faculties in their second year of study or higher, involves team-based assignments focused on designing and implementing an innovation solution to a real-world problem.

Like that neighbourhood cool kid, Dr. Kilfoil seems to understand innately what sparks success. Are her students lucky to have this award-winner as their tour guide?

She laughs. "I'm the lucky one. I'm very privileged, and I'm just one of many. I'm part of something much, much bigger than me."