In his address at Tuesday morning's convocation ceremony, Dal President Richard Florizone spoke of intention and possibility: graduates would succeed, he said, with the right balance of deliberate action and openness to change and opportunity.

Across the stage from Dr. Florizone sat Shin Dong-hyuk, a man who, for the first 23 years of his life, had no reason to believe his intentions mattered — or in any possibility beyond a basic battle for survival. From birth until his escape in 2005, Shin lived in a North Korean prison camp, a desolate life encircled by an electrified fence. It was a universe of hard labour, capricious beatings and executions, and near-starvation.

However, since slipping through that fence — an improbable act driven by a desperate desire for food — Shin has opened up possibilities that would have been beyond his contemplation years ago. His journey has transformed him from a victim of human rights abuses to a prominent advocate for human rights, an evolution that earned Shin an honorary degree from Dalhousie on Tuesday — the first such degree ever awarded by a university to a North Korean defector.
"It's like I'm dreaming"

In his remarks, delivered in his native Korean (and translated by friend and interpreter Henry Song), Shin prompted laughter by noting the irony of receiving such a prestigious degree. "To be honest, I hate studying," he said.

Aside from flashing his wit, Shin conveyed a profound emotional response to being part of convocation, a celebratory event that contrasts so sharply with his bleak memories.

"It's like I'm dreaming," he said. "No one in the prison camp ever welcomed or praised me or talked to me about love. The ones who have taught me about love and happiness are the graduates sitting here before me."

Many of the graduates who strolled across the stage in front of Shin on Tuesday were, in fact, familiar faces, and had welcomed him to Dalhousie before. A class of International Development Studies students were inspired by Blaine Harden's book Escape from Camp 14, a chronicle of Shin's defection from North Korea, which was on the syllabus for Robert Huish's Development and Activism course. The class mobilized to create a Facebook page and a peace march to bring attention to the human rights abuses faced by Shin and his countrymen.
Read also: Born in hell, fled to freedom: How a harrowing escape from North Korea's prison camps inspired Dal students to take action (March 2013)

Shin, inspired by the students, reached out and promised to come and visit. In March 2013, he made good on that offer, thanks in large part to the class' fundraising efforts. Now, just over a year later, he returned to campus, receiving a degree for which he was nominated by Dr. Huish and his students.
Shin shared his gratitude for Dalhousie while urging the students to honour those who had supported them in their studies. "We don't get many occasions to show thanks," he said. "I hope the graduates can show appreciation for their parents and friends and professors."

Shin also urged graduates to bring love, happiness and appreciation to the "dark places" in the world where people are denied the right to feel and express such emotions.

"It is your duty and purpose to go to the places where there is no love or happiness and teach it," he said.
Savouring the moment

Shin himself has not shied away from the dark places, including those inside himself. In speeches before the United Nations and as executive director of Inside NK, a non-profit NGO he founded in Washington, D.C., Shin has told his harrowing story countless times.

There is no joy for Shin in reliving his prison camp nightmare. But he is hopeful that doing so will spark action, as it did for Dalhousie's Development and Activism students — action that will, in turn, lead all North Koreans to experience the freedom he now enjoys.

"Freedom is not just something we are taught about. It is within our DNA, our very being," he said.

Freedom, after all, is a necessary condition for intentional action, a sense of possibility and, ultimately, happiness. On a day of celebration, Shin invited Dalhousie graduates to savour the moment while considering their roles as global citizens. And he also shared how the graduates' happiness had inspired his own.

"Seeing the looks on the faces of all of you receiving your degrees, I saw what true happiness is."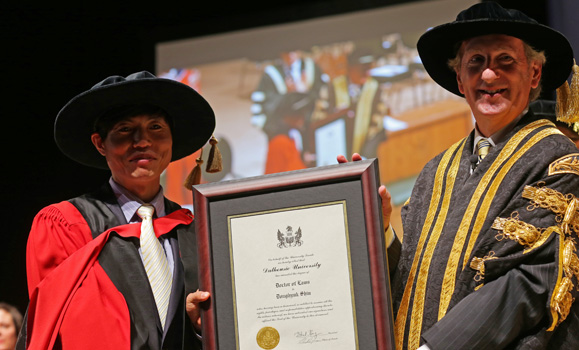 Look for an in-depth feature on Shin and Dal's International Development Studies students in the Fall 2014 issue of Dalhousie magazine.