In Dal's sustainability story, 2007-08 was a big year.

It's not the beginning of the story, of course. Dal has long legacy of leadership in sustainability and environmental issues: from faculty research, to the early genesis of Halifax's Ecology Action Centre, to hosting leaders from more than 33 universities worldwide to sign the famous Halifax Declaration in 1991.

But it was in 2007-08 that three campus institutions were founded: the Office of Sustainability, focused on campus operations; the College of Sustainability, an interdisciplinary gathering point for Dal's academic community; and the DSU Sustainability Office, a place for students to organize and mobilize around sustainability topics. One year later, Dal launched the Environment, Sustainability and Society major — the first of its kind in Canada.

In the five years since, a lot has happened: more than $40 million invested in sustainability projects on campus; the launch of the RBC Sustainability Leadership certificate; student initiatives like the Farmer's Market, Divest Dal and many more, just to name a few. But what's even more impressive is the amount of collaboration that happens behind the scenes to help make Dal a more sustainable organization and to translate what happens in the classroom into real-world action. That collaborative effort has been recognized with major awards and distinctions from organizations such as UNESCO, the Association for Advancement of Sustainability in Higher Education and Efficiency Nova Scotia.

With Earth Day upon us, and with a whole series of "Earth Week" events taking place on campus this week, we sat down with three individuals closely connected with sustainability on campus to talk about the past five years and to look ahead at where Dal's sustainability story might go next.
The participants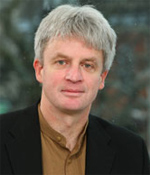 Steve Mannell is director of the College of Sustainability, which acts as a focal point for Dalhousie's scholars and students and members of the broader community around sustainability, and also hosts Dal's unique Environment, Sustainability and Society program. Prof. Mannell is a professor in the Faculty of Architecture and Planning and each year co-teaches the introductory class SUST 1000 to over 300 students from seven faculties.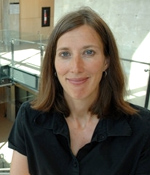 Rochelle Owen is director of the Office of Sustainability, which works to incorporate sustainability concepts and criteria into policy and planning, building and retrofit projects, and operations. The Office strives to engage and encourage student, staff, and faculty in practicing sustainable behavior. Prior to staring at Dal in 2007, Owen worked in the environment and sustainability field for nearly 20 years at non-profit, government, and academic institutions.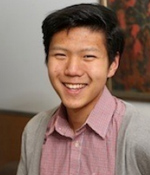 Uytae Lee is a third-year Dal student majoring in Community Design and Environment, Sustainability and Society (ESS). He has been involved in the SUB Farmer's Market, Divest Dal, the Dalhousie Bike Centre and is co-chair of YESSSS (Your Environment Sustainability and Society Student Society). He can also found playing ukulele in the band Tiger Patrol.

When you first arrived at Dal — or, in Steve's case, started working towards the College of Sustainability — what were your impressions about how sustainability was understood on campus?

Steve: We knew lots of colleagues working on sustainability and environment issues in all kinds of areas, and through units like the Eco-Efficiency Centre, or the Cities and Environment Unit, or the Ocean Tracking Network, which was emerging around the same time. But there were quite a number of us, certainly on the faculty, who felt that there was potential to achieve much more by increasing collaboration within Dal, and that people often knew more what was going on at other universities than what was happening here. What we heard from students around the same time was that there was a lot happening around environment and sustainability, but none of it seemed to be stuff they could grab hold of, that could come to some kind of change in the world. There was interesting research, interesting classes, individual clubs and societies, but the students were remaining a bit disengaged.

More than anything, what came out of our planning discussions was that people wanted a sense of a place where they could share these things, a big tent that welcomed you whether you're social-justice oriented, or oriented towards the sciences, or oriented towards finance issues. One of the biggest things that's come out of the college, and it came very quickly, was a sense of  a common purpose, a common project among faculty, students and staff to transform Dal towards sustainability. And it mattered not just because someone at the top said so, but because people across the university wanted to make it happen.

Rochelle: When I first arrived, I interviewed more than 40 different people: students, faculty, staff, senior administrators. And through that exercise, what was clear to me was that there had been different projects going on through the years, but there was no concentrated focus in our plan, our key projects and what we're going to measure. So the role of our office was clear from day one: we would establish a lot of these planning documents, and needed to enhance our metering, monitoring and tracking. Then it was about looking at possible action projects, ranking them by criterion and identifying priorities.

Uytae: When I came to Dal, the college was having its first graduates. I noticed a lot of excitement, not just because it's a new program but also just how much seemed to fall under this umbrella of "sustainability." I met a lot of people from all sorts of different backgrounds, learned about a lot of different causes and initiatives that were out there. You could fit yourself into the topic, and that's part of the idea of sustainability: it's supposed to mesh with every aspect of society.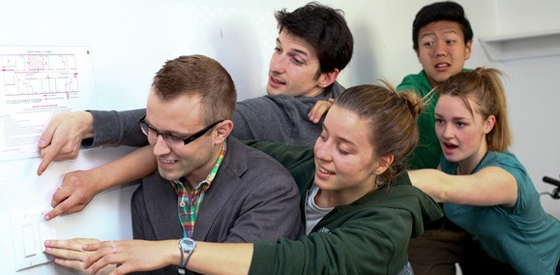 The word "change" is inseparable from sustainability, and the word has also been a big part of the marketing around the college and the ESS program. What have you learned, through your work, about inspiring change around sustainable practices?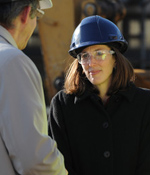 Rochelle: I think you have to be determined, and purpose driven, and have some humility. To be an influencer, and to work with others, you have to be a facilitator. A command-and-control approach to change might work in some small aspects, but you really do need to have a collaborative model to move things forward. Over $40 million in sustainability related projects have been accomplished in the past five years. This is a result of a team approach with many different departments and units. Our office helps to identify the issues, do business cases, try and help with some of the financing, and we have a great relationship with Facilities Management. When I speak with peers in my role at other universities who struggle to get things done, the first thing I ask them is about their relationship with facilities.
Uytae: Watching the Farmers Market, in particular, come together in the SUB helped show me just how much work this stuff takes. Overall, there's a lot to be said for building a community around the concept of sustainability and its causes. Just through simple social gathering, dialogue, conversations… On the surface it may not seem like a big impact, but having friends around a common issue really makes you feel that something can be done, instead of being all alone in the universe out there, caring on your own.

Steve: The way things have gone around sustainability at Dal in the past several years is remarkable for the lack of big frictions and oppositions. It's actually worked by building strong consensus, by trying to be inclusive. We're not saying everything we did before was wrong; it's more to say "What are you doing already, how can we make it add up to more, and how can we work together and move it all forward?" In dealing with challenges like sustainability, one of the psychological traps is the feeling that "I'm only one person, it doesn't matter what I do anyway." One of the jobs we have in leading sustainability is to try and get people to understand how what they do does matter, how it adds up, and giving them the context for it.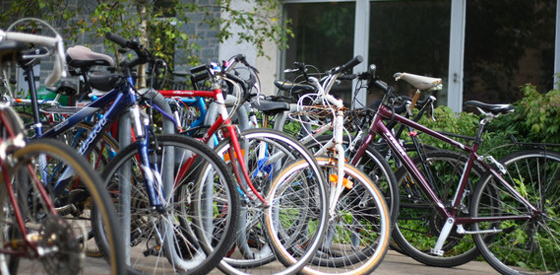 How does the President's Advisory Council on Sustainability, which brings together student, faculty and staff leaders, help Dal advance the sustainability cause?

Steve: It was challenging thing in the first year, because we were bringing very different people together who aren't used to talking to each other. There's an old line of Pete Seeger's: the most important thing is to talk to people you don't agree with. I don't know if we disagreed on the big things but we certainly disagreed on how to make it happen, or what was most important. It's been challenging but also, in the long run, it builds understanding of the constraints that people work under and gets a different sense of what might be a meaningful outcome. It took us a couple of years to figure it out, but out of it we've had some pretty incredible results moving some improbable things forward.

Rochelle: Some of us represent different parts of the institution, and have views you typically might not hear. We bring those to the table, and that creates discussion that maybe wouldn't normally be happening.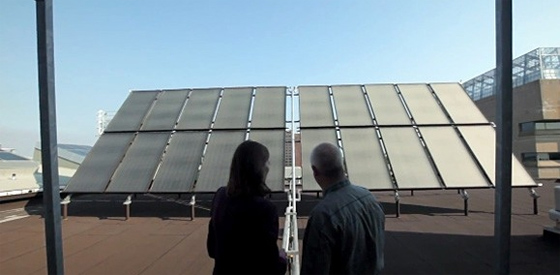 Looking back, what are the accomplishments that stand out as ones you're particularly proud of?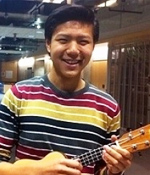 Uytae: Just in my three years, one thing I've really noticed is there's a lot more people who have gone through the ESS program who are now there to answer your questions, help get ideas started. That's important. The Farmers' Market at the DSU — I wasn't like a huge part of that, but the fact that I could contribute to the implementation of it was exciting. I was there for roots of Divest Dal, and when something picks up momentum and other people build on that, and it's shared, that's something special.

Rochelle: Sustainability is kind of like a marathon, so it's like we've hit the 5 km mark and get to take a drink of water. It's not all the way there, but it's a good time to celebrate. Overall, in our sustainability progress report, we have our 10 indicators and we're doing pretty well on those. I'm a very practical person, and it's important that we show those cost reductions, those results on the metrics. But I'm also of the mind that it's not instantaneous change. Even at the university level, our energy transition strategies look ahead 40 years due to the capital investment involved. But five years, five km out, still going, still doing well.

Steve: I think both the office and college have pretty much delivered at least what we promised five years ago, if not more. And that's actually not all that usual: often you set out a plan, there are circumstances that happen and you can't quite get there. But what we were proposing was to change, fundamentally, the way we thought about the operation of the university and the way students and faculty could participate in interdisciplinary work. And, for the most part, we've delivered those things. There's a risk of being taken for granted now, but the positive side of that is you actually have changed the culture. The office, the college, the students through their activism and organization — we've shifted the culture at Dalhousie so different things are seen as normal, as basic and fundamental.

For me, still the most powerful moment is still day one of the first ESS class, to be in a classroom and see 300 students there realizing, for the first time, what a larger shared interest in a common cause might be like. Most of them would have been in an environment club in high school with, say, 10 other kids, and now they're in a group of 300. And we know that group is pretty diverse: they don't agree on everything but they agree on working together and that's what's been powerful. What we have is a willingness to work together and build a more sustainability future for Dal and be an example to other places. It's not perfect, it's hard work, but we have it and — based on talking with colleagues from other universities and at conferences — a lot of other people would like to have it.

Uytae: In terms of moments, I have many, but the sustainability song I wrote and made a video for stands out. I was just procrastinating and wrong a song about the themes in the course, and it really took off in the class. I still have new students coming up to me, more than two years later, saying they came across it and it helped them study. It made me realize how you can have an impact at a slightly larger than just yourself, and that the potential to do so is within all of us.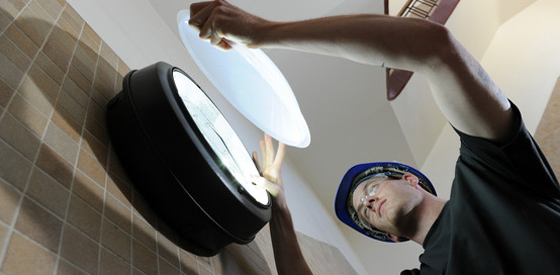 Looking ahead to the next five years: where does sustainability at Dal go next?

Rochelle: One big vision I have is I think the Agricultural Campus has the ability to become carbon neutral in the future. It would be a fabulous demonstration site and a great community connection because it could show different technologies in farm applications as well. In Halifax, I look at opportunities around transportation and University Avenue, the natural environment, major energy projects… There's a lot happening, and lots of potential.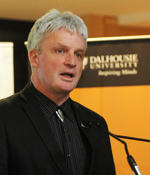 Steve: I'd say the Halifax campuses have an important role to play because the future of sustainability is, necessarily, an urban issue — that's where most people on earth live and work. Through what we've been doing in the college, and many other parts of the university, we've been using students very effectively to mobilize knowledge. The potential is that Dalhousie becomes a force for sustainability not just on campus but in the larger community of Halifax and Nova Scotia. The appetite is out there: the province, the city and lots of businesses and NGOs are very keen on getting access to students and the kind of energy and positive future thinking that students can bring. We can be a big force for mobilizing knowledge. Ultimately, that's what I think this is about: not just educating students and getting them started in their careers, but helping them make a meaningful contribution to the world.

Uytae: I feel like success for the students in particular is that sustainability avoids becoming a fad, or dying out because it becomes unpopular. Success for me is if students keep finding new projects, pursuing endeavors. A bigger goal would be including the whole campus of students to buy into sustainability, trying to avoid that whole trap of a bubble of one faculty or one class or even just the college.

Steve: What's powerful is that students are like pollinators of this knowledge: a student like Uytae talks to someone in another class about sustainability and they get a different expectation of what they could and should be doing. That's the potential here: we create a certain understanding of possibility and a certain restlessness about achieving those possibilities among our students and, eventually, among all our faculty and staff. The students will lead it, though: they're the ones who will end up, I think, creating the demands that get responded to in other areas of the university.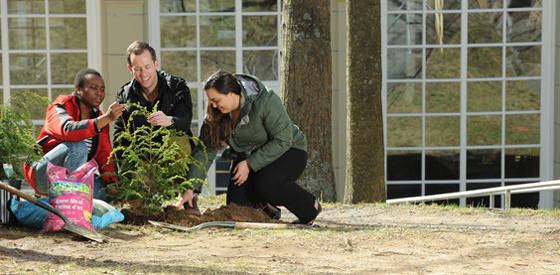 Learn more