It's not every day you get to rub shoulders that have worn space dust.

As part of his visit to campus on Monday, astronaut Chris Hadfield spent time with students from the Rowe Mo' Bros & Sistas — the university's top Movember fundraising team, and the second-ranked Movember student team in all of Canada last year.
Hadfield's visit to campus was to recognize Dalhousie as having raised more funds, per capita, than any other Canadian university in last year's campaign.

Read also: "Mo' fundraising? No problem" (December 2013)
The Rowe team's co-leader, Michael Wilkes, said it was an incredible honour to get to chat with Canada's most famous space explorer.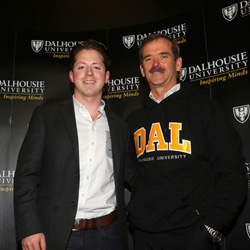 "It's pretty surreal, I'm not going to lie," said the fourth-year Commerce student (left), who was also the top individual student fundraiser in all of Canada, bringing in more than $7,500.
"He has a perspective on life that very few have been given the privilege to get, and he's earned it," said Wilkes of Hadfield. "He talks about how preparation is key for leadership, and about giving people that overall goal and purpose to work towards. You just see it: he has a magnetic personality. I don't think anyone took his eyes off him during his talk."

He wasn't the only one struck by the spirit of the occasion.

"When your last day of class, having an astronaut come teach you, that's something else," said Peggy Cunningham, dean of the Faculty of Management. "What a wonderful way to end your term and really celebrate the accomplishments you've had," she told the students.
Celebrating a "phenomenal" effort


Hadfield gave a private talk to a group of about 25 or so members of the Mo' Bros & Sistas team in the Rowe Building just prior to his Dal community lecture next door in the SUB. He answered the questions from the students, signed books and posed for photos.
Read also: Space stories: Hadfield inspires during Dal visit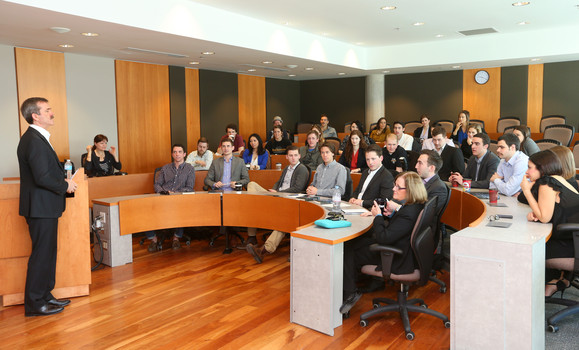 "What an amazing accomplishment," said Hadfield of the group's Movember fundraising. "That's phenomenal. Congratulations to each and every one of you, and thank you for putting in that effort in support of health, both physical and mental."

Hadfield shared stories with students, including the tale of his first-ever spacewalk in 2001 which he called "probably the coolest day of my life." (Given his extraordinary career, that's saying something.)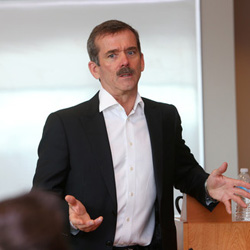 "As you pull yourself outside, you are suddenly just subjected to an onslaught of unexpected visual impact," he said, recalling the moment. "I wasn't expecting how powerful it was going to be: to be not of the earth, or on the earth, but with the earth. It's a whole different place to be."

He answered questions about his social media efforts, on being a public figure and about staying committed to his childhood dream of being an astronaut.

"Part of it is continuing to keep yourself in the game, even though you seem pretty far from what you thought was going to be a straight-line path," he said about sticking to one's goals. "The other is to try and surround yourself with people who are positive about your dreams," explaining how his wife, Helene, pushed him to not give up on his astronaut hopes even when they seemed remote.
Sharing learning

Hadfield left the students with a call to action, encouraging them to pass on the spirit of education and learning to others.

"The ability to get an education like this is a dream for most people around the world — the availability of it, the quality of it, and the things that come from it," he said.

"The reason I mention it is to remind you that you now owe someone, whether you think you do or not. Sure, you have to pay off your debts, and you have to get established in life, but you owe somebody else an education. Make sure at some point in your life that you take the effort to enable somebody else to get an equivalent sort of opportunity."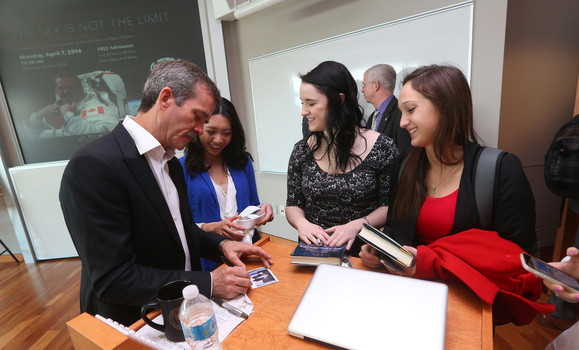 More on Hadfield