Roofs get assessed for age, durability, strength. Now, you can add solar energy to that mix.

As part of Halifax Regional Municipality's Solar City project, Dalhousie's College of Sustainability is starting the "green energy" conversation with the Halifax community by asking them to look to their roofs.

Similar to Google Maps, faculty and students at the College of Sustainability have designed an interactive solar map for Haligonians to search for their houses to see just how much solar potential they have.

"It's an engagement tool," says John Evarts, a Master of Public Administration (MPA) student and one of the team members who developed the solar map for the city. "This project is about encouraging folks to consider their options for solar, given the wonderful solar resource available to Halifax."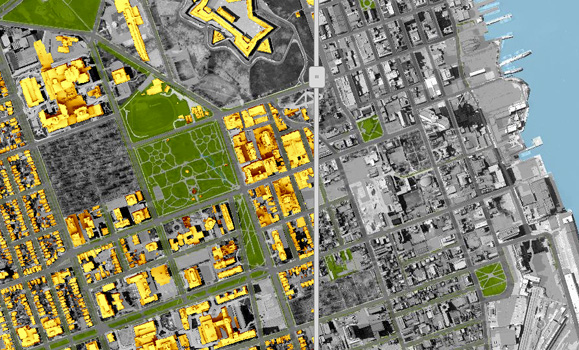 HRM's Solar City project is a pilot program in which homeowners work with the city to make a transition to "green energy" by signing up to have solar panels installed on their homes.

Through this program HRM hopes to not only allow homeowners to save over $20,000, but they expect an average greenhouse gas reduction of 1,700 kg yearly.

"Seventy per cent of energy is consumed within urban areas of the world," says Evarts. "It's the first place we need to look to make this transition."
"Look, I can see my house from here"

Revealing this interactive map at the HRM's Solar (City) Fiesta earlier last month, Haligonians had their first chance to digitally zoom in on their homes and streets and sign up for assessments to have their own solar panels installed.

"It's a good base for more research," says Ray Jahncke, an analyst with Dal's GIS Centre and part of the collaborative design team of the solar map. "It got people excited about what could be done."

Jahncke says the team was happy with the response; it encouraged about 100 people to sign up for site assessments on the spot.

The solar map is not the only tool sparking the discussion on green energy. Students in a capstone class for Dal's Environment, Sustainability and Society program have partnered with the HRM's Department of Energy to create the Sustain-A-Story video project.

Featuring short interviews and stories with local residents, these Sustain-A-Story videos will be shared online as visual demonstrations of how and why local Haligonians are making the switch to renewable energy.

One of the stories highlights the Solar City project and features a man who has had a solar system in his house for over 30 years.
"Our focus is to showcase people's creative approaches to aspects of the community energy plan," says Brian Pendergast, a Dalhousie student working on the video project.  

"We're trying to create a form of social capital," he adds. "We hope this will create a sense of identity that people can take own their own creative approaches or go off something like solar city."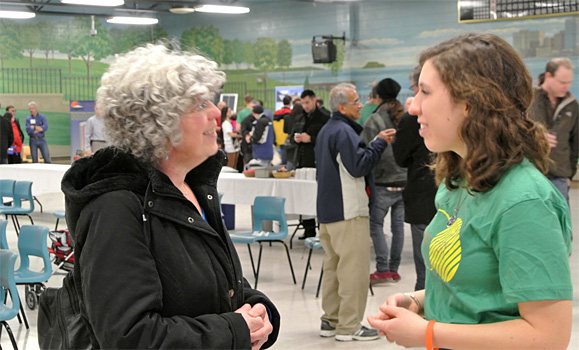 ESS student and GEEN organizer Molly O'Ray (right) speaks with a local homeowner at Solar City Fiesta. (Debra Ross photo)
Cross-city collaboration

The Solar Fiesta was an opportunity for the students, faculty, city planners and the public of various backgrounds to collaborate on how to make Halifax more sustainable.

"I thought I had an understanding of solar energy, but going to the Solar Fiesta really opened my eyes to the different aspects," says Pendergast. "Everyone seemed to want to share a story with us. I think it was a big learning experience for everyone."