Humanities and social sciences research is critical for innumerable reasons, but it's not always the simplest task to explain that research and the ways it impacts our lives.

That's why the Social Sciences and Humanities Research Council of Canada (SSHRC) has once again thrown down the gauntlet in the second year of its Research for a Better Life: The Storytellers challenge. The competition is open to any post-secondary student interested in showing Canadians how social sciences and humanities research affects our lives, our work and our future prosperity — in three minutes or 300 words.

Kelly Pickerill, a Dalhousie graduate student in International Development Studies, has been named one of the 25 finalists in the national competition, earning a $3,000 prize.

The competition is an opportunity for students to hone their research communications skills and to network with their peers: the finalists also receive registration and accommodation at the Congress 2014 of the Humanities and Sciences at Brock University at the end of May, and an invitation to participate in an exclusive research communications workshop at Congress.
They will also participate in the Storytellers Showcase, where the finalists will vie to become one of the Final Five Storytellers who then get to present at SSHRC's 2014 Impact Awards in Ottawa in the fall.
Sharing farmers' stories

Pickerill's entry is about research being conducted by Matthew Schnurr, her supervisor, on the adoption of genetically modified banana crops by farmers in Uganda. Although she admits she's not much of a techie, Pickerill decided to make a video using Prezi and a screen-casting program. She used photos and graphic elements as well as video clips of participants in Dr. Schnurr's study to show how the project is unfolding and why it's important.
The research is on a particular breed of banana that many people in East Africa depend on for up to three meals a day. The question is whether genetically modified crops can help African farmers escape from poverty.

"What's really innovative about Dr. Schnurr's research is that he is asking smallholder farmers what they think," explains Pickerill. "Do they want this technology? Do they think it's useful to them?"

Although smallholder farmers make up over 80 per cent of the workforce in Uganda, Pickerill says their perspectives are often overlooked in policy decisions.

While Dr. Schnurr's research is ongoing, two things have become clear: both gender and land size affect how farmers in the region view genetically modified crops. Women and farmers with smaller plots of land tend be more cautious about cultivating GMO bananas on their farms.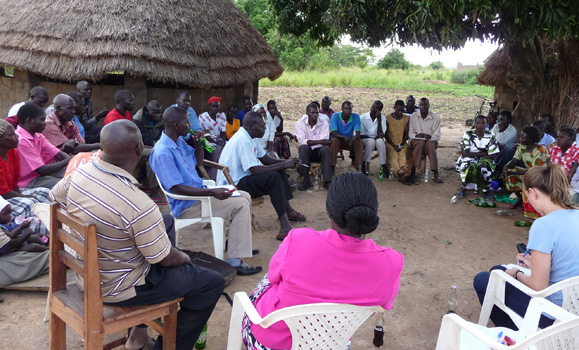 Pickerill says she felt a particular connection with Dr. Schnurr's research because she spent last summer working with a not-for-profit agricultural organization in Uganda called Volunteer Efforts for Development Concerns (VEDCO) through a Dal internship funded by the Canadian government. Dr. Schnur works with VEDCO and happened to be in Uganda last summer as well.
A view to the world

Originally from Penticton, B.C., Pickerill transferred to Dalhousie from the University of Victoria during her undergraduate program to join Dal's International Development Studies program.

"I guess I've always wanted to study international development. […] I am interested in why one third of the world lives in such affluence when two thirds spend most of what they do working towards things they need for subsistence. That continually perplexes me. And it's always interesting to learn about other cultures and other places."

Pickerill's current plans for her own research focus on Uganda as well. But rather than farming, she is going to be looking at fishing communities, trying to sort through the complexities of the informal sexual economy that has grown up around the Lake Victoria fisheries.