There are more than 8,000 km between Halifax and Eilat, a city located at the southernmost tip of Israel. But that distance is about to start seeming a lot shorter.

This week, Dal President Richard Florizone and Vice-President Research Martha Crago are in Israel as part of the Canadian delegation accompanying Prime Minister Stephen Harper on his first official visit to the Middle East.

On Tuesday, Dr. Florizone, together with President Rivka Carmi of Ben-Gurion University, one of Israel's leading research universities, signed a new memorandum of understanding with the goal of combining oceans scholarship and expertise between the two schools.
The agreement was signed at a press conference earlier today, observed by both Prime Minister Harper and Israeli Prime Minister Benjamin Netanyahu.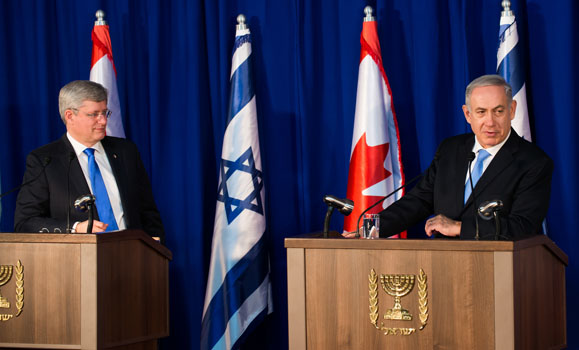 Prime Ministers Harper and Netanyahu, speaking at Tuesday's event. (BGU photo)

New opportunities

The agreement allows for several different facets of interuniversity collaboration, including pure and applied joint research projects, co-supervision of doctoral students, industry research internships in both countries, joint field courses (in the winter in Eilat and in the summer in Halifax), co-taught courses and major scientific conferences and workshops. The end objective is to create an Ocean Studies Center in Eilat that encompasses scientific and academic programs from both countries.

Helping make the agreement possible is Canadian philanthropist and Dal School of Law namesake Seymour Schulich, who is playing a leading role in the new centre.

"I believe we have a duty to give back and I cannot think of a better way to give back than to invest in the education," says Mr. Schulich. "This partnership with Dalhousie University and Ben-Gurion University focused on Ocean Studies is important to our two countries and to our world. I am very proud to be a part of it."

"The excellent science done by Marlon Lewis and other Dal ocean researchers, together with Seymour Schulich's strong support and Martha Crago's facilitation, has given great momentum and credibility to our partnerships with leading Israeli universities and research institutions," explains Dr. Florizone.

In addition, the UJA Federation of Greater Toronto has been a valuable ally in support of the initiative, having been partnering with the Eilat region for over 30 years, and sees the expansion of the Ben-Gurion University campus a key part of its strategy.

"The sea covers 70 per cent of the earth's surface and is essential for our survival. And yet, at the same time, most of it remains unexplored — filled with mystery and unfulfilled potential," says BGU President Rivka Carmi. "We believe this partnership will strengthen the cutting edge science at both universities and place this unique initiative at the forefront of global research."
Building relationships

If Ben-Gurion University sounds familiar, it's perhaps because President Carmi was one of the eight university leaders in attendance during installation ceremonies this past October, taking part in the international panel discussion and receiving an honorary degree from Dalhousie.

However, the start of Dal's relationship with the university and oceans research in Eilat dates back to a 2011 Nova Scotia trade mission in which Dal's Martha Crago took part. (We covered this mission here on Dal News.)

"My visit that year gave me the awareness and commitment to build ties with the excellent scientific work in the unique setting of Eilat," says Dr. Crago. "It is a place that is important not only for marine science but also for developing improved cultural and socio-political understanding.

"Dalhousie, with its striking multidisciplinary strengths in ocean science partnered with the oceanographic, marine biology and aquaculture possibilities of the scientists in Eilat, will advance our understanding of the resources and risks that the global ocean offers to us."
Mutual benefit

Nestled on the coast of the Red Sea, Eilat is a logical location for such an oceans centre. The city is home to the Interuniversity Institute in Marine Science, which involves Bar-Ilan University, Hebrew University, Haifa University, Israel Institute of Technology (Technion), Tel-Aviv University and the Weizmann Institute of Science. Eilat also hosts the National Center for Mariculture and a campus of Ben-Gurion University.

And Dalhousie is a compelling partner for Eilat, with its long track record as one of the world's leading research universities through its work with initiatives ranging from the Ocean Tracking Network, to the Halifax Marine Research Institute, to the new cutting-edge Ocean Sciences Building. The Red Sea provides a complementary yet well-aligned ocean environment with ongoing research in the North Atlantic, and combining expertise between Halifax and Eilat offers new opportunities for collaborative research in many areas, from physical oceanography, to aquaculture biodiversity, to issues such as marine security and transportation.  

The full details of the new agreement will begin to take shape in the coming months. As for the rest of their visit, Drs. Florizone and Crago are meeting with leaders and researchers at Ben-Gurion University. They are also meeting local industry leaders and made a visit to the Knesset, Israel's national legislature. (Dr. Florizone has been tweeting regularly about his visit: follow @dalpres.)