It's bound to happen at least once every winter, and this year it's already happened a few times (including last week): Nova Scotia gets walloped with a giant snowstorm, leaving students, faculty and staff wondering if they need to come to campus or not.

Given Dalhousie's size and scope — services for both campus and the community, thousands of employees and students — the decision to close is not made lightly. However, in weather situations where the potential risk to Dal's people and property is high, the university may "close," meaning classes and exams are cancelled and services are reduced.*

(*Technically, Dal is only truly closed in extreme circumstances, as there are essential personnel that need to work on campus. However, the university will use the word "closed" to communicate to the campus community that classes and most services are suspended.)

A campus closure may apply separately to campuses in Halifax and Truro. Dal closures in Halifax also apply to classes and offices at the University of King's College.
What does it mean when Dal closes?

When Dal announces that it's closed due to weather:
Classes are not held, and exams are cancelled and will be rescheduled.
University buildings and services may be closed.
Most faculty and staff are not required to report to work, or may leave if the closure happens during office hours. Most faculty and staff are not required to report to work, or may leave if the closure happens during office hours. The exception(s) are employees designated as essential services who are scheduled to work (3. Essential Services in the Policy) and employees who are required to work by their supervisor (4. Dal Policy on Payment of Salary and Wages ). If you have questions about whether or not you fall into these categories, please talk to your supervisor.)(If you have questions about whether or not you fall into this category, please talk to your supervisor.
Meetings and other scheduled events on campus may be cancelled.

Often, the Halifax campuses and the Agricultural Campus will close only for part of the day (for example, until noon), with a time announced for when conditions will be re-evaluated and the decision updated.
How will I know if Dal is closed?

The university has a number of different channels to communicate storm closures. These include:
A DalAlert storm message at the top of the dal.ca homepage and in myDal (this is this best place to check if you're at all uncertain). Look for an update on the dal.ca/agcampus and dal.ca/agriculture homepages as well.

A DalAlert email to all students, faculty and staff.
A Dal Alert text message to all subscribers (you must sign up to receive these).
Updates from the university's Facebook Page, the @dalnews Twitter account, the Agricultural Campus Facebook page and @dalagriculture Twitter account.

Media outlets (radio, TV, news websites) are informed and encouraged to share Dal's status.
A message is placed on the Dal switchboard phone line (902-494-2211). For the Agricultural Campus, you can check the emergency phone line (902-893-6027 or 877-672-2363).

The message will specify whether the closures apply to the Halifax campuses, the Truro campus or both.

In cases where Dal remains open but there may be isolated closures or cancellations on campus, look for a "Storm information" link under the "News and events" tab on the right-hand side of the dal.ca homepage. This page will be activated and updated should there be closures or a reduction to services at facilities such as Dalplex or the Libraries.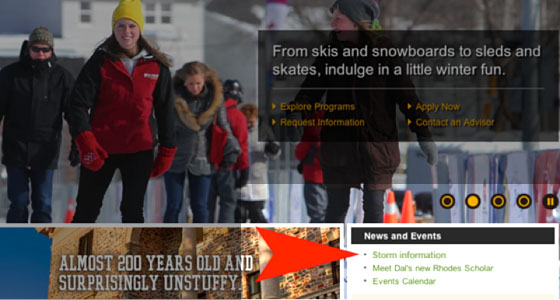 How and why Dal closes due to weather

The decision to close is made by the vice-president finance and administration in consultation with the university's director of security and senior staff in Facilities Management. (In the case of a Truro closure, the decision is made by the campus principal/dean in consultation with Security and Facilities.) Factors considered included:
Current and forecasted weather conditions.
Feedback from Facilities Management on the condition of campus roads, sidewalks and entrances.
Status of roads and public transit more generally.
Disadvantages of sending individuals back into the weather once they have arrived on campus, as well as consideration to the anticipated conditions during commute periods.

In the event of a closure before the start of regular office hours, the university makes the decision prior to 5:30 a.m. (Agricultural Campus - 6 a.m.) If a closure takes place during office hours, Dal will announce the time at which classes are cancelled and employees are excused to depart. (Where possible, this will be one hour prior to the cancellation going into effect.)

If Dal remains open but you have concerns about your ability to make it to campus, please contact your professor or, for employees, your supervisor.