A serene silence can be felt in the room as Holocaust survivor Philip Riteman addresses the capacity audience in the McCain Building's Scotiabank auditorium.

Riteman, now a resident of Halifax, takes out a handkerchief to wipe away the tears forming in his eyes as he begins his talk: "Remember, one thing, I beg you: don't you ever let yourself be brainwashed to anyone. Think for yourself. You are living in the best country on the planet."
 
The lump in his throat is noticeable as he continues. "I was going to school like you guys, I never thought it was going to happen to me," speaking about the day in 1941 when Germany attacked Russia and Poland and his life forever changed. "The German army walked in [to his hometown of Szereszow, Poland] and just started to shoot at all of us. Everyone started fleeing and running everywhere."

Riteman spoke on campus earlier this month as part of Holocaust Education Week. His talk, put on by the Atlantic Jewish Council and co-sponsored by the Dalhousie Department of German and Hillel Halifax: the Foundation for Jewish Campus Life, was accompanied by a travelling exhibit entitled "Names Instead of Numbers." The exhibit showcases the biographies of Holocaust survivors and aims to teach the public about its horrors
The inescapable memories

The memories still haunt the Riteman, now in his 80s, and are still vivid in his mind.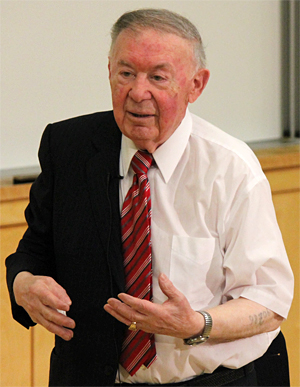 What does he remember seeing? German Sheppard dogs chasing innocent people. Innocent people frightened to death. Young boys brought behind a barn and being shot. Seeing the mayor and council members beat up. Seeing lawyers, doctors and professors rounded up and killed. Watching a friend's father being asked to kneel before the Germans as a gun was brought to his head and fired. Watching 14 men from his town shot and fall into their graves and noticing how "it took a lot of earth to cover them up." The smell of dead bodies in the freight cars. Toddlers not wanting to let go of their mothers before being killed. The crying.

"I can still hear that cry," Riteman says, speaking about a baby crying on their third day in the freight car. "I have never heard in my life a cry like that. I can't even describe it right now," he says, pausing, interjecting a prolonged silence in order to gather himself up. "The baby was crying all night. And you should see the girl, she was in her late twenties and she was hysterical. She was bewildered when the baby was dead in her hands. The baby died and she was screaming."

When the freight car finally stopped, the passengers were lined up for selection: those who would be sent to their death and those who would provide labour. Riteman survived by lying about his age, saying he was 18 when he in fact was 13, and by the help of a fellow passenger, who told the Germans that Riteman was a locksmith and skills that could be put to use.
Hope for the future

"I have survived so many times that sometimes I wish I hadn't survived," says the man who now has made it his goal to teach people about what happened to him, so a tragedy such as the Holocaust does not occur again.

Today's generation is living with the last wave of Holocaust survivors and having the opportunity to hear from one is a fleeting privilege which Riteman recognizes.

"I wrote a book for you guys, so you can make the decision of what kind of world you want to live in," he says. It took Riteman 40 years before he spoke about the horrors he had witnessed, from the smell of human feces in the jam-packed freight cars without toilets that did not stop for days, to the lingering scent of burnt flesh and the warmth of the dead bodies he was ordered to move — fresh out of the gas chambers.

"Teach your children to love, not hate. If you don't like someone, don't invite him over to dinner at your house," he said, drawing loud laughter from his audience. "Just don't hate."