This spring, Dalhousie will get a taste of a unique theatrical experience thanks to a visiting Fulbright student's interest in our region's history.

Quanda Johnson is currently hard at work putting together Beyond the Veil of the Sorrow Songs, a theatrical "event" concert for this spring that explores the rich and often untold history of the Underground Railroad as it relates to Atlantic Canada.

"I've woven dance, spoken word, drama, instrumental music, vocal performance, multimedia, and visual art … all together to pay tribute to fugitive slaves escaping from the United States to Atlantic Canada via the Underground Railroad," says Johnson. "Ten signature spirituals W.E.B. DuBois claimed defined the Africans experience in the 'Americas' will be the glue holding it all together, thus: Beyond the Veil of the Sorrow Songs."
A global journey

Originally from Philadelphia but an honorary New Yorker, Johnson comes to Halifax through the Fulbright program. The Fulbright is a prestigious international academic award, allowing scholars to study or conduct research abroad in order to build global understanding and community. Johnson is one of 16 American students working in Canada this year thanks to the Fulbright Student Awards. She is affiliated with both Dalhousie's Departments of Music and Theatre (chairs Jennifer Bain and Rob McClure) and NSCAD University's Media Arts Department (Bruce Barber, David Clark, and Solomon Nagler).

Beyond the Veil of the Sorrow Songs is her Fulbright research and production project that gives testimony to an important event of the African Diaspora in Atlantic Canada.

"The chronicle of the Underground Railroad, escaped slaves, and Atlantic Canada have seemingly been written out of history, and I want to know why," says Johnson.

She says she's been warmly embraced by the greater Halifax African-Canadian community, and has been mentored by Afua Cooper, Dal's James R. Johnston Chair in Black Canadian Studies. She also acknowledges wide support from the Dal community, including the first James R. Johnston Chair Esmeralda Thornhill (Schulich School of Law), History's Jerry Bannister, Russian Studies' John Barnstead, and Music's Jacqueline Warwick and Steven Baur.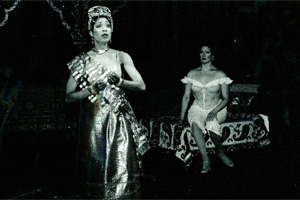 Performing for three seasons at New York City Opera, as well as appearing in Broadway's original Ragtime with Audra MacDonald and the national tour of Hello Dolly (with the legendary Carol Channing), Johnson has travelled the world as a performer.  It was through these travels that the idea for theatrical "event" concerts came to her.

"There was no one to whom I could shop the idea, and still create what I envisioned," says Johnson.  "So … I thought I'd start a company of my own."

She created THE QUEST FACTOR, an arts company/think-tank through which she researches, creates, produces (and often performs, along with other talent) theatrical explorations of persons, events, and/or circumstances in the history of the African Diaspora. Beyond the Veil of the Sorrow Songs will be Johnson's third such work; her others showcase the lives of Langston Hughes and Marian Anderson.

"I read Langston Hughes' two part autobiography, The Big Sea and I Wonder as I Wander. His story was so compelling; I had no idea he'd collaborated with composers, like W.C. Handy and Kurt Weill, writing lyrics to songs." Her original production, Lyrical Langston: His Muse for Music, told the story of his life, weaving his own lyrics, songs, and poetry into the performance. "I wanted to give an innovative take on a person everyone thinks they know, and illustrate an aspect of their life we may not know, but should."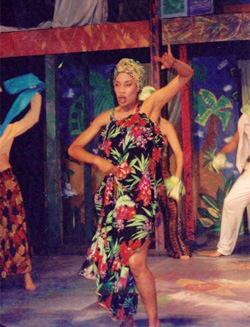 Johnson's journey to the East Coast is part of her overall mission of global awareness of the African experience. "When I lived in Holland, I saw Afro-Dutch, the Surinamese, and I realized, there is an African Diaspora affecting global culture. The impact has not only been in the Western Hemisphere. I want to find a way to bear witness to these lives and histories, people need to be aware of them."
A performance for all senses

Currently, she's working on putting together Beyond the Veil of the Sorrow Songs as a two-part workshop experience at the Murray Studio Theater in the Dalhousie Art Centre in May (12-24). The first part offers students and local talent an opportunity to take master classes with experts to explore a wide variety of artistic forms. Auditions will be held the end of the first week for any available performance slots. The second and final week will be a working of the actual production, culminating in a "workshop" performance.

This unique production is designed to cater to nearly every sense. It will feature multimedia projections of real video and photographic footage; NSCAD students creating art in real time on stage; music, dance and spoken word all happening simultaneously throughout the show.

"I hope the audience will have an emotional connection to the lives and circumstances of these courageous, audacious souls," says Johnson. "I want people of this day and age to understand, racism is not exclusive to another time. There is a residue that still exists.  Explorations like the movie Twelve Years a Slave bring attention to one aspect. I'm trusting Beyond the Veil will continue the conversation."

The Fulbright program is restricted to a single academic year; however, Johnson hopes her time in Halifax will have a lasting effect.

"I would love for all Haligonians to get involved in their history, beyond what is told. There is a deeper history than what is being told. It needs to be plumbed out and explored. The chronicle of the African-Canadian is the chronicle of all Canadians regardless of race, creed, or culture. The history is owned by all. There is room for so much research to be done."