Students, faculty and staff are always looking for new ways to conserve the natural environment on campus, and the university's new rain garden, at the corner of Oxford Street and Coburg Road, is a new addition to the mix.

The Office of Sustainability recently partnered with Facilities Management and the Ecology Action Centre to build the garden last month. Dal's grounds crew and their heavy machinery helped with the construction, completed in a few days.

What is a rain garden, you ask?

"A rain garden is a good way to take stormwater - water running across impervious surfaces like the sidewalks and the roads - and direct it into a garden full of plants where it can slow down and be treated for pollutants," explains Stephen Cushing, natural environment officer with the Office of Sustainability. (He is finishing his MES degree this year.)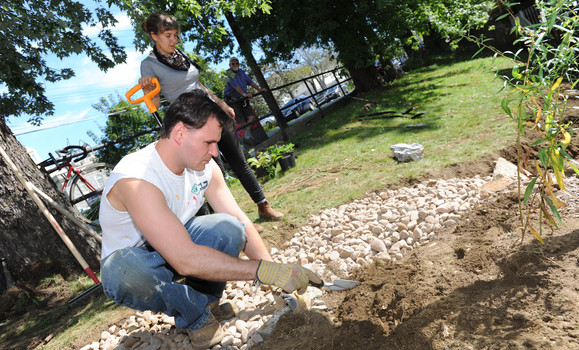 The garden features a channel that acts as a dry riverbed. It takes water from the corner of the road and channels is to a settling bed, filled with gravel. Underneath it is three feet of washed stone. The soil that was dug out of the hole was used to create berms, or raised mounds, which help percolate water through the garden, instead of flowing and flooding the basements of houses in the area. Eventually, when the plants fill in, they will remove pollutants such as road salt and sediment that might otherwise be directed into storm drains.  
Native plants

All the plants in the garden are native to Eastern Canada, including goat's beard, a variety of fern, iris, serviceberry, bayberry, rudbeckia and asters. Dalhousie's Natural Environment Policy emphasizes the use of native plants whenever possible. The policy also calls for the consideration to alternative stormwater management systems that use plants, like greenroofs, rain gardens, and swales.

"This rain garden is the first one on the Dalhousie campus and the second or third in Halifax," says Cushing, who says vegetative options for controlling stormwater are good options for directing water away from otherwise overloaded storm drains.

"It's not something that's done very often, but it's something that if people wanted to do, can be done at home."

So go visit Dalhousie's rain garden, at the corner of Oxford Street and Coburg Road. For more information you can check out the Sustainability Blog.