(Halifax, NS) Dalhousie University presents our G2 Athletes of the Week for the week ending Monday, October 28, 2013.
Desiree Nouwen, Volleyball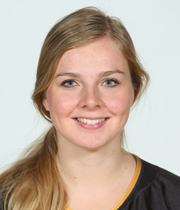 First-year outside hitter Desiree Nouwen led the Tigers to their first victory of the regular season against Acadia Friday night in Wolfville.
Nouwen had 14 points in the match collecting 13 kills and 13 digs as the Tigers rolled over the Axewomen in three straight sets.
A native of Weert, Netherlands, Nouwen is a first-year arts student.
Other nominees: Tessa Stammberger, basketball; Ellen Chappell, cross country; Megan O'Neill hockey; Joanna Blodgett, soccer
Kristen O'Brien, Volleyball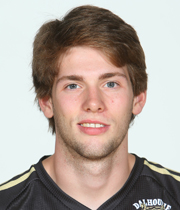 Second-year outside hitter Kristen O'Brien helped guide the Tigers to a 3-0 sweep of the AUS-RSEQ Interlock tournament this past weekend at Dalhousie.
O'Brien tallied 14 kills and 8 digs in the Tigers 3-0 victory over the CIS reigning champion Laval Friday night. On Saturday, he added 12 kills in the Tigers 3-1 victory over Montreal and another 18 kills in their 3-1 defeat of Sherbrooke. He led all AUS players with 4.0 kills per set and 4.3 points per set and tallied 47 points over all three matches.
A Truro, NS native, O'Brien is a second-year kinesiology student.
Other nominees: Matt McNeil, cross country; Kashrell Lawrence, basketball; Chris Ivanko, hockey; Nathan Rogers, soccer