The Atlantic Science Links Association (ASLA), a registered charity headquartered at Dalhousie, helps teachers and students explore the sciences. Coordinated by Biology and Environmental Science sessional professor Rajesh Rajaselvam, the program is so popular that it is challenging to keep up with demand.

Governed by a Board of Directors including representatives from, universities, research institutions, and businesses in Nova Scotia, ASLA coordinates outreach programs for students in grades primary to twelve. ASLA's mission is to bridge the gap between the scientific community, schools and the public.

"We give Nova Scotia's young people opportunities to explore the sciences," explained Rajaselvam. "We hope to inspire them to consider careers in science and technology."

To reach every school board in Nova Scotia (including the French board), ASLA relies on a network of passionate volunteers to meet growing program requests.

"Professors, scientists and engineers do all the presentations so students and teachers are exposed to a high level of scientific knowledge," said Rajaselvam. "We reached nearly 5,600 students last school year. Many teachers want to be involved with ASLA, but we can't do that without lots of volunteers."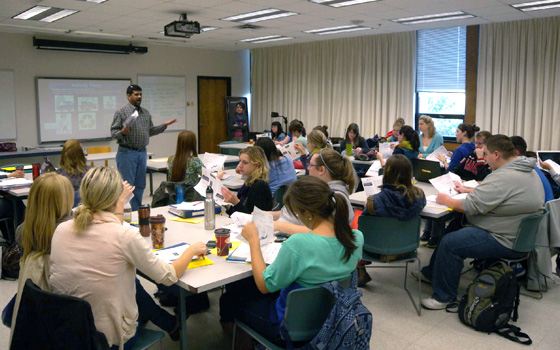 ASLA offers youth and teachers programs and tools including the Scientists in the Schools (SITS) program, class visits to Dal and other academic institutions, resource packs, teacher training, science fair mentorship and judging, and the "Ask a Scientist" program.
Dalhousie campus visits

For many school students, a field trip to Dal marks their first time in a university lab. Classes spend a half-day touring Dal's Life Sciences Centre and examining biological and geological phenomena.

School groups select one of three programs: geology, plant biology or animal biology.

In geology, students identify rocks and minerals, many of which they've likely never seen. In plant biology, groups become acquainted with the world of cells and use a microscope to see the most basic unit of life. In animal biology, students handle marine animals during a trip to the touch tank.

"Students get to see what university's like," said Rajaselvam. "Participants learn more about science and tour Dal's teaching and research facilities."
Scientists in the Schools (SITS)

What began as a small group of scientists fielding requests for presentations from schools and the community has grown into SITS, reaching hundreds of schools and thousands of students each year. Through ASLA, teachers request SITS presentations, which connect students to experts in the field.

"When students meet someone at the forefront of research, it can show them that a career in science is exciting," explained Rajaselvam. "SITS presentations highlight how scientists can solve real-world problems."

In an effort to make science education equitable, ASLA pays special attention to targeting rural schools for the SITS program.
Ask a Scientist

In the age of Google, it may seem like any question can be answered with a few clicks of a keyboard. But there are certain scientific questions that can't be easily answered online. Ask a Scientist helps students answer those types of difficult questions.

When someone submits a question, Rajaselvam receives an email and begins the search for an appropriate expert to consult. Once found, that expert responds to the request.

"Ask a Scientist is a direct link to expertise," explained Rajaselvam. "That link makes knowledge more accessible to Nova Scotians."
ASLA at the science fair

To give local students the best chance at winning science fairs, ASLA prepares Nova Scotian youth for stiff competition at the national level.

"We recruit and coordinate judges for regional and school fairs," said Rajaselvam. "The judges always give feedback; constructive feedback helps prepare students to compete at the next level."

On top of judging science fairs, ASLA also connects students with mentors for their fair projects.
Teacher education

As a partner of the Nova Scotia Department of Education, ASLA develops and delivers workshops and resources for teachers.

Workshops include PD Day science training and presentations to Bachelors of Education students.
Teachers can also access two resource packs: Ecosystems (for elementary, junior high and high school) and Climate Change Action (for elementary and junior high). These packs are mailed to Nova Scotia teachers free of charge, by request.

Providing resources for free can be costly to an organization, but sponsorship makes it possible. ASLA's partners include Dal's Faculty of Science, the Natural Sciences and Engineering Research Council, the Nova Scotia Department of Education, EnCana, Engineers Nova Scotia, and Maritimes and Northeast Pipeline.

With approximately 300 volunteers, ASLA is still looking for more scientists and engineers to assist with programs.

"The only requirement is an eagerness to be involved in science education with Nova Scotian students," explained Rajaselvam.

To apply, visit http://atlanticsciencelinks.dal.ca/volunteer.html.

For more information about ASLA, visit its website.