You may have noticed a vivid green, waist-height post appear recently on the southwest corner of Spring Garden Road and South Park Street. This simple, unobtrusive bike repair stand is part of the Dalhousie Student Union's effort to make Halifax a more cyclist-friendly city.

The bike repair stand consists of a place to suspend a bike off the ground, a universal pump, and a collection of tools that a cyclist in need can use to make any necessary adjustments. There's a stand on campus as well, near the Ocean Sciences Building, and there will be seven more stands to follow, through a partnership between the DSU, HRM and the university.

"The stands are a great way to make cycling a more accessible means of getting around," explains Matthew Worona, DSU Bike Coordinator. "There can be a lot of costs associated with bike repair, and this helps bring down that barrier."

Not only do the stands give cyclists a place and the physical tools to work, but also educational resources. A QR code on the top of the stand can be scanned to get step-by-step instructions for most common repairs.
"When you break it down, the bicycle is a pretty simple piece of technology," says Worona. "All people need is a bit of guidance and education to understand what needs to be done."
Keeping it simple

Originally, Worona and his team were considering one or two stands near campus. But when HRM Councillor Waye Mason held a participatory budgeting meeting for citizens to vote on not-for-profit funding projects, Worona and other students with the Dal Bike Centre made their pitch in front of community members and HRM representatives. The idea was so simple and so popular that the city decided to order four additional stands to be installed at the ferry terminals and the MacDonald Bridge bike lane.

"It has been great working with the city from the beginning," says Worona. "Everyone agrees that the stands need to be in safe locations with high bike traffic and we are working together towards that goal."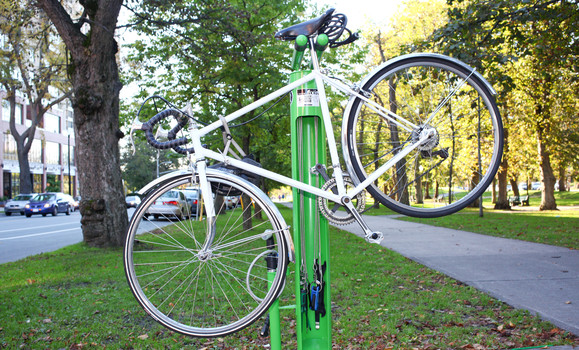 With one existing repair station on Studley Campus near the Ocean Sciences Building (installed last year by the Office of Sustainability) and one planned to go in front of the SUB, proponents of the initiative brought the idea to the Faculty of Engineering. The Faculty has enthusiastically agreed to fund two additional stands to be installed on Sexton Campus.
Cycling resources

The stands are just one way Dal is working to make travel by bike more accessible in Halifax. The Dalhousie Bike Centre on Studley Campus, staffed by student and staff volunteers, also offers a repair shop with at-cost parts and repair guidance, workshops, and three-day bike loans to try out cycling in the city, free of charge.

"It's great to see how empowering students to take transportation into their own hands makes a difference," says Worona. "We see so many people that try it out on a loaner bike come into the shop the next week for help fixing up a bike they have purchased for themselves."

If you would like to use a repair stand, there are currently two available – one installed by the Sustainability Office near the Ocean Sciences Building, and one on the southwest corner of Spring Garden Road and South Park Street. The remaining seven stands, including one in front of the SUB, will be installed within the next few months.

For more information regarding the Dalhousie Bike Centre, visit its website.