For the past 10 years, Kevin Hewitt has been helping provide African Nova Scotian students from grade seven onwards with the hope, inspiration and resources to believe in themselves and their futures.
Now, it's time for him to take a step back and let others continue this important work.

The Imhotep's Legacy Academy began as an after school program, led by a volunteer board of directors from the university and community. It promotes the educational, social, and personal development of young African Nova Scotian learners (grades seven, eight and nine) by engaging them in STEM (science, technology, engineering and mathematics) enrichment activities with a vision to improve on the representation of African Canadian professionals in the various fields of science.

"We pair mentors who are of African decent with students and deliver fun interactive science activities within the schools every week for about two hours," he explains. "On alternate weeks they give math enrichment and homework help."
Lifelong inspiration


The approach is a very personal one: a ratio of one mentor to five students. There are five different sites throughout the province: Caledonia Junior High and Oxford Junior High in HRM, St. Andrew Junior High and John Hugh Gillis High in Antigonish, and Whitney Pier Memorial Junior High in Sydney.  

Dr. Hewitt emphasizes that it's quantity and quality of interaction that makes Imhotep effective — getting students to build relationships with mentors who demonstrate the possibilities of science.

"A lot of groups are interested in spending a week with a thousand students. Our approach is to spend a thousand hours with a few students to really help them. You can't just intervene at one point and think that everything is going to be fixed. It's slow arduous process, but it's the most effective way to make an impact."

A few years ago, Imhotep started a virtual tutoring program. Students log on from across the province to get homework help and connect to post-secondary student mentors at computers in the Killam Library.

"We found there were students who wanted to be tutored face-to-face, so we have weekly sessions for that," Hewitt says. "We also provide additional science enrichment through tours to local business that employ scientists and use science. For example, one of the activities we have is making plastics from milk. The group in Truro went to Scotsburn. These additional programs provide even more exposure to science."

This year, students were involved in the first Lego League competition, and Imhotep also partners with local science education organization SuperNova.
A look back


The program was born out of a one-day workshop Dr. Hewitt prepared in Vancouver for students from kindergarten all the way to grade 12.

"What motivated me was my own interest in demonstrating… [I thought about how I'd] present physics principles to my own kids. I knew that if I were standing up there lecturing they'd tune out right away. It shouldn't just be an abstract thing on the board; they should be able to relate to it."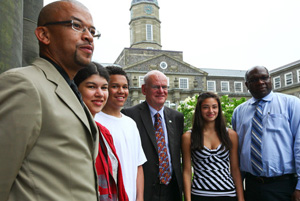 Dr. Hewitt (left, joined by Scott Mullin of TD Bank Group, Pemberton Cyrus and the first recipients of the TD Bank Opportunity Scholarships through Imhotep) explains that when he came to Nova Scotia he noticed the large African Nova Scotian population and wanted to connect with people in the community. He immediately became involved in a summer science camp that was organized by the council of African Canadian education, through which he met his collaborator Wyan Hamilton.

Wyan contacted Barb Hamilton, Dal's Black Student Advisor at the time, and together they launched a one-week summer camp where students were drawn from different schools to come to campus. Patrick Kakembo of the African Canadian Servcies Division provided support to help get it off the ground, and has increased support since then. By the fall, they settled on the after-school program.
"The high school tutoring and all the programs for post secondary are all recent — within the last couple years," says Dr. Hewitt. "We've slowly amped up over the last few years, but we've really hit our peak over the last two years."

He notes that all of the Imhotep board members are volunteers. "We're all trying to give of ourselves, because we have all been apart of the community. We have benefited from others [and to me it's about] giving back what we have been privileged to have."

When asked about the program's biggest accomplishments, Dr. Hewitt speaks of the unbreakable bonds that are created between students and teachers of all ages.

"In our closing ceremony we celebrate the students participation," he says. "Inevitably, I'm in tears because the students who are participating form such a strong bond with their mentors that continues beyond the program. And those relationships help them overcome the barriers that they are faced with. I remember one student in particular wrote a poem to her mentor entitled 'Before You.' Each year there is just more of that thanks that you hear from the students."
Moving on


This year Hewitt is stepping down as president of the program after 10 years. He said that the results of the robot competition — particularly that the Oxford School First Lego League team won "best technical presentation" (below, left) — that made him feel there was tangible evidence of the program's success.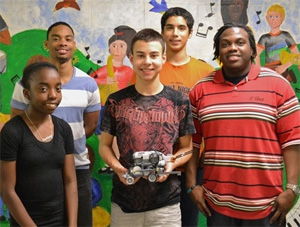 "It exemplified all of the things we'd been saying qualitatively," he says.

Dr. Hewitt likes to think of the age-old saying that it takes a village to raise a child; it's a mantra that he puts into action with this program. "If I was born in this environment, maybe I too would have thought that I couldn't achieve certain things. I grew up in the Caribbean where the teachers, politicians and scientists all looked like me so I didn't have any thought in my mind that I couldn't achieve whatever I set out to do." For this reason, Dr. Hewitt knew that he wanted to give back and provide students with that support system, and instill encouragement and a safe environment to thrive in.

Even though Dr. Hewitt is no longer going to be president of the program doesn't mean that he's saying goodbye to it entirely, of course, or to his role as a community leader.

He speaks of a serendipitous moment that occurred when watching a presentation given by the brother of Keith Taylor, former dean of science and currently associate vice-president academic. Dr. Taylor's brother has been involved in a program for grade four students in St. Vincent where Dr. Hewitt grew up.

"[During the slideshow] one of the pictures was of my old school. I looked at them and thought, 'I was one of them,' and if it were not for the fact that my mom was able to bring us to Canada I wouldn't have the opportunity that I have to be here."

It is Hewitt's hope to travel in September to his hometown to speak with the Department of Education to create something similar to Imhotep within the school system.

Imhotep partners with many stakeholders, including the African Canadian Services Division (ACSD) - NS Dept of Education, TD Bank, Encana Corporation; Office of African Nova Scotian affairs, Council on African Canadian Education; Dalhousie through the President's Office, VP Student Services, Physics and Atmospheric Science, Faculties of Science, Engineering, Medicine and Agriculture; St. FX; CBU; administrators at partner junior high and high schools, SuperNova.