Each and every grad has a story about the experience that kicked off their Dal journey: a spark of imagination that led to their convocation moment, crossing the stage.

For two nursing students, Janice During and Shanice Bennett, that moment can be traced back to a junior high summer camp spent at the School of Nursing close to a decade ago. Today, they become the first two alumni of the camp to graduate with their Bachelor of Science Nursing degree.
Engaging an under-represented community


Susan Youden, an assistant professor with the school, was involved in starting the camps for black Nova Scotian youth in 2004.

"They're our largest visible minority in Nova Scotia but vastly underrepresented in the nursing profession," she explains. "If you go into the hospitals, you don't see very many black nurses. That's something we wanted to help change."

In 2003, for example, out of an incoming Nursing class of 135, there were only three black students. The camp was part of a broader program within the School of Nursing to increase interest in and awareness of nursing as a career within Nova Scotia's black communities. It targeted junior high students because, as Prof. Youden explains, it was the age at which the students still had time to prepare themselves to get into a nursing program.

"When the high school students would ask me about pre-requisites, I would say 'chemistry, English, math and biology' and often you'd see their faces drop off. And that was fairly common among students of African descent. We realized that if we wanted to increase interest and support students, we needed to go back and connect with students while they were still in junior high."
Turning interest into possibility


Janice attended the camp in 2004, its inaugural year; Shanice came two years later. Run by faculty and current students in the school, the camp was an intense four days of activities designed to introduce students to the profession in a fun way. They got to tour campus and the hospitals, meet nurses at work, take part in fun social activities like African dancing, and even got to apply a finger cast during their daily sessions in the nursing skills lab.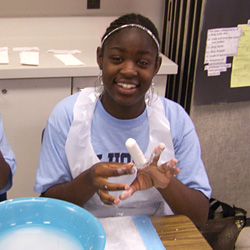 "I remember the cast for sure," says Shanice. (See photo, left.) "I remember going around the campus, seeing the sights like the meal hall, the dorm, the School of Nursing. It was nice — I'd been on the campus for events, but didn't know anything else about it, really."

"I remember the first day, doing first aid in the Skills Lab in the Forrest Building," says Janice. "I loved touring the hospitals, meeting the nurses and other health professionals."

"It had to be engaging, fast-paced," adds Prof. Youden of the camp schedule. "We didn't do too much talking; we tried to fill it with activities, and almost everything was hands-on."

Both Shanice and Janice had thought about nursing in passing — Janice's mom, in fact, was a nurse herself — but it was the camp that solidified their interest.

"Before, when I thought of nursing, I thought of the really 'gross' hospital stuff," says Shanice, with a laugh. "It wasn't until I interacted with nurses in a clinic that I actually had an interest. What they did looked a lot different than what I thought."

Janice wasn't quite as sure — she tried science for a year but was drawn back to nursing and quickly found her calling.

"I didn't expect that I would enjoy it as much as I did," she says. "At first I was more focused on what the job would be at the end, but as I was doing my coursework, I found I really enjoyed it."
Becoming role models


While the numbers change year by year, Shanice and Janice's incoming cohort of 185 students (2009) has had more African Nova Scotian students (15) than any other — a five-fold increase from six years earlier.

The camp hasn't been running for the past two years, but its legacy lives on in its first alumni. Both Shanice and Janice are planning to work in adult medical surgical nursing after graduation. The school is currently exploring new initiatives to enhance diversity within the school.

When asked if she wants to be a role model for younger black students looking to get into nursing, Shanice answers simply, "Absolutely."