To say that Andrea Landriault was a bit out of her element would be an understatement.

She's no lawyer, after all, and the International Development Studies and Psychology student currently has no ambitions of becoming one. And yet there she was, thrown in with some of the top law students in the world, trying to convict Uganda's Joseph Kony of war crimes.

Well, not exactly: Joseph Kony wasn't really on trial at the Harvard World Model United Nations conference in Melbourne, Australia last month. But at the most prestigious Model UN assembly in the world, one where the final proceedings are shared with the actual United Nations, the level of detail and accuracy to real procedure is daunting. And Landriault, part of a team of lawyers, was helping prosecute a case against not one, but two of the world's most famous supposed war criminals at a mock International Criminal Court.

Oh, and it was also her first ever Model UN event.

How did this all happen?
Starting from scratch


The current incarnation of Dalhousie's Model UN Society is a relatively new creation; Landriault was approached to be on its executive last year just as it was getting up and running. As someone who confesses a "not-so-secret dream to be Secretary General someday," it was a logical fit.

"I've always wanted to change the world, and what makes me get up every morning is thinking that I can," she says. "As much as I'd love to be the kind of person who can stand outside an institution make a lot of noise, I like to change things from the inside. And though it could use a few reforms, the UN is the best medium to do that. I agree with the organization: its ideals, its conventions. It has so much potential."

Though the society's members were all new, they've been quite successful in their efforts to date. At an assembly in Costa Rica's University of Peace earlier this term, two Dal students — Adam Barrett and Amy Berry — won the "Best Delegates" Award while a third, Lauren Andrew, won the "Most in Character" Award for the delegate who most effectively played their particular role (in her case, a UN ambassador from Argentina).

One of the society's goals was to send a student to the World Model UN in Melbourne. The society was accepted and, to her surprise, Landriault was chosen as one of only 15 applicants from more than 500 chosen to serve with the assembly's International Criminal Court. Together with two other prosecutors, she would be taking part in two mock trials: one for Joseph Kony, the other for Syria's Bashar al-Assad.

"I threw myself out of my comfort zone head-first," she says. "I had absolutely no legal experience; my focus is a lot more hands-on development."

For three months she worked with her legal team, spread across three continents, to prepare the case. Then, with Australia mere days away, she got thrown for a loop.

"We had been fundraising since October, and a week before I was about to leave we found out that a key piece of funding we had applied for wasn't coming through: we were getting $200 instead of $2,000," she says. "I was desperate, so I wrote nearly everyone I could think of at Dal to explain what happened and ask for help. And the support came in. I was humbled."
Overcoming obstacles


It's not the first time Landriault has had to overcome unexpected challenges in her time at Dal.

Three years ago, she was diagnosed with bipolar affective disorder. She's careful when talking about it, because she understandably doesn't want to be defined by her diagnosis, but acknowledges it has shaped her university experience.

"There's this horrible media stereotype that you can turn on a dime and get depressed or angry; it doesn't work like that. It goes in waves: you'll be really low for a few weeks then have these high points. For the first few years of university it was about surviving the wave, and then trying to quickly get all my work done when I was more balanced."

Now, she manages those waves just fine. She compares it to being diabetic: "It's a chemical situation that I manage with medication; the medication doesn't change you, but gives you the freedom to be yourself and all you can be, all the time."  And says that gathering the courage to ask for help made all the difference in the world.

"It takes a lot to walk into an office and say, 'I need help.' You fight with it for years, and for something where the typical onset is late teens, early 20s, it can be terrifying to ask. But it's so important to do so."
Bridging perspectives


Focused, prepared and, after some hurdles, ready to roll, Landriault was inspired pretty much from the moment she hit the ground in Melbourne.

"You had these 2,000 people who all wanted to change the world," she says. "For me, it's all about passion. When you're passionate about something, that's how you learn. It's amazing… you had all these people from different areas coming together: lawyers, economists, physicists talking nuclear disarmament, and more."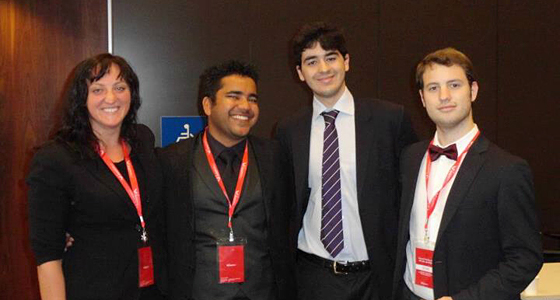 In her case, working with two lawyers meant balancing her passion for the human rights  — we're talking about someone whose main research interest is in child soldiers, after all — with a need to build a clear, logical case against the suspected war criminals.

The result: two guilty verdicts.

"We all signed each other's placards at the end of the conference, and one of the prosecutors wrote on mine: 'Evidence that heart is equally as important.' He, from a really strict law perspective, was acknowledging what I had brought to the team from an entirely different viewpoint. I was left with this heartwarming sense that this is what the UN could be all about."