Other than an appreciation for the might of the natural world, you'd be forgiven for thinking that Revolution and The Disappeared don't have much in common.

But the films, currently playing in Halifax cinemas, each have a Dalhousie connection. Revolution, the second documentary feature from Sharkwater director Rob Stewart, prominently features Dal biologist Boris Worm, and The Disappeared is written and directed by Dal alumna and award-winning author Shandi Mitchell.
When everything gets stripped away


The idea for The Disappeared, Mitchell's first feature film, came from a conversation with a 92-year-old fisherman, who told her of the one time he was truly afraid of the sea: when his ship had gone down and his crew desperately rowed back to shore.

Mitchell, a Theatre and English alum who won the 2010 Commonwealth Writers' Prize for her debut novel Under This Unbroken Sky, spent her formative years in the Prairies — a world away from the ocean. She found the tale harrowing.

"It stuck with me, that idea of what it would be like out there, in that place I look at as a metaphor of somewhere between the living and the dead," she says. "Who would you be out there, if everything was stripped away?"


The Disappeared recreates the scenario from that story, stranding six fishermen in two dories with no hope of rescue who make the daring decision to try for the shore. Starring Shawn Doyle (currently on CBS's Vegas), who won best actor at the Canadian Film Festival for his performance, and Billy Campbell (The Rocketeer, Once and Again, The Killing), the film was shot on the open ocean off the coast of Lunenburg over three short weeks.

"Film is all about control, and being on the water is about giving up control, to some degree," explains Mitchell. "You have to be very prepared, very safe, and you have to try to do all you can [to anticipate things]. But when you go out in the day, what I might have written on the page for weather conditions might not be at all what's out there. You have to know the story so deeply to react to that."

The film had a gala premiere at last fall's Atlantic Film Festival, and after an 11-stop tour across Canada, it has made its way back to the East Coast for a proper theatrical release.

"It's been so rewarding, really, and somewhat overwhelming at times," Mitchell says of audiences' reaction to The Disappeared. "It's a film that asks an audience to invest, to give themselves to it, to get into the boats. The responses are very emotional. It's the most rewarding thing as a filmmaker or a storyteller of any kind when your work connects with people and they carry it with them, talking about it, thinking about it."
Inspiring a new generation to action


Revolution, similarly, is a conversation starter in its own right.  And while Dr. Worm is in front of the camera, not behind it, he actually played a key part in the film's genesis.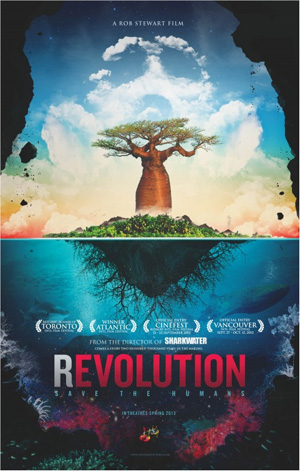 The movie opens with director Rob Stewart taking his acclaimed documentary Sharkwater, an expose of the shark fishing industry, to China. During a post-screening Q&A, a student asks him what the point of saving sharks is when the global seafood supply could collapse within 50 years — a reference to Dr. Worm's famous 2006 article in Science.

Without a good answer to the question, Stewart starts his new film by speaking with Dr. Worm, who was also interviewed in Sharkwater, setting off a personal journey across 15 countries, exploring the implications of ecological collapse not just for the planet, but for humanity itself.

"We had a lengthy interview on a wide range of topics, from ocean conservation to the state of the planet and what everybody can do," says Dr. Worm. "As with Sharkwater, this film was really a learning process for [Stewart] as well. He's on a genuine journey of discovery, trying to get to the bottom of what's wrong with the planet and what the role of young people will be in steering the planet in the right direction."

Dr. Worm believes that Stewart's personal touch is what makes both Sharkwater and Revolution so effective in connecting with a new generation of ecological citizens — the very students Dr. Worm sees in his classroom.

"What I tell my students is: 'This world is literally in your hands. It's not anyone else's. It's not so much the people before or after you; it's you who will make or break this.' I truly believe the next 20 to 50 years will be incredibly important in setting the trajectory that our environment will be on for many years — hundreds, maybe thousands."

The Disappeared is currently playing in Halifax (Park Lane), Bridgewater and St. John's (Avalon Mall). Revolution is now in theatres across Canada, including Halifax (Bayers Lake, Park Lane, Dartmouth Crossing).